If today wasn't my husband Mark's birthday I would have no idea that it's also Pi Day. But, thanks to him I'm well aware and every year, I have a great excuse to make him a pie. Last year, it was chicken pot pie. This year, it's silky, dreamy chocolate heaven on a plate!
I'm no baker, so my search for a simple recipe that didn't include Jell-O or a pre-made crust was no easy task. But, I eventually landed on this recipe, originally from Gourmet magazine, and knew I was in luck. This chocolate cream pie and its crust, baked from scratch top to bottom, was a piece of cake (or, pie) to make and absolutely delicious!
. . . Well, I only know that from a few finger swipes into the chocolate filling, which was like a subtly sweet chocolate mousse. But, I'm thinking that the whole thing together probably does taste pretty darn good!
Tonight, I'll cook him a nice dinner, probably sing a pretty bad rendition of "Happy birthday", complete with earplugs for all, and we'll go out for drinks to ease any pain inflicted. He'll open his gift and enjoy this pie with me and hopefully be happy with how his big 2-8 went down. This weekend, it's a celebration in San Francisco with his family, filled with good wine, food and lots of fun!
All my love, appreciation and happy birthday wishes to the sweetest guy I know. You get the big slice tonight, honey!
Craving more? Keep in touch on Facebook, Twitter, Pinterest and Instagram for new post updates and more. You can also check out my FAQ page, or contact me with any questions or inquiries!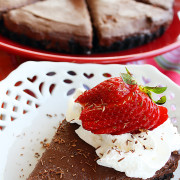 Chocolate Cream Pie
Yield: Makes 8 to 10 servings
Ingredients:
For crust
1 1/3 cups chocolate wafer crumbs (from about 26 cookies such as Nabisco Famous Chocolate Wafers)
5 tablespoons unsalted butter, melted
1/4 cup sugar
For filling
2/3 cup sugar
1/4 cup cornstarch
1/2 teaspoon salt
4 large egg yolks
3 cups whole milk
5 oz fine-quality bittersweet chocolate (not unsweetened), melted
2 oz unsweetened chocolate, melted
2 tablespoons unsalted butter, softened
1 teaspoon vanilla
For topping
3/4 cup chilled heavy cream
1 tablespoon sugar
Directions:
Make crust: Put oven rack in middle position and preheat oven to 350°F.
Stir together crumbs, butter, and sugar and press on bottom and up side of a 9-inch pie plate. Bake until crisp, about 15 minutes, and cool on a rack.
Make filling: Whisk together sugar, cornstarch, salt, and yolks in a 3-quart heavy saucepan until combined well, then add milk in a stream, whisking. Bring to a boil over moderate heat, whisking, then reduce heat and simmer, whisking, 1 minute (filling will be thick).
Force filling through a fine-mesh sieve into a bowl, then whisk in chocolates, butter, and vanilla. Cover surface of filling with a buttered round of wax paper and cool completely, about 2 hours.
Spoon filling into crust and chill pie, loosely covered, at least 6 hours.
Make topping: Just before serving, beat cream with sugar in a bowl using an electric mixer until it just holds stiff peaks, then spoon on top of pie.
Enjoy!