Talk about an irresistible morning treat! These muffins are super soft, with creamy chocolaty goodness and fresh summer zucchini. Odd pairing, you think? Try it for yourself and you will be hooked on this scrumptious hack for sneaking in your veggies!
This is a sponsored post written by me on behalf of Kraft. As always, all opinions are my own.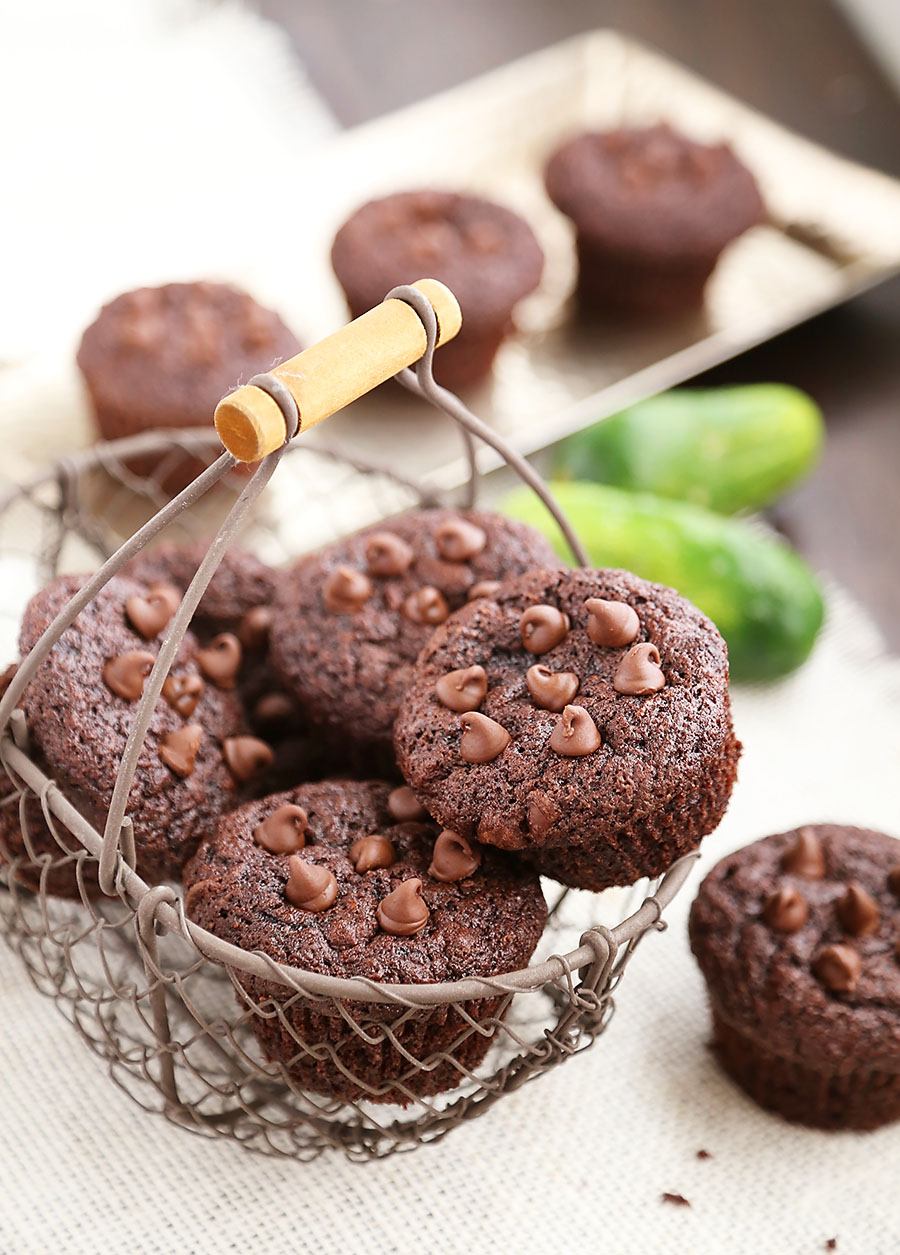 Zucchini has been a longtime favorite veggie of mine, but until recently, I never dabbled with adding it to my baked treats. I am all for sneaking in a little green wherever possible, and this proved a worthwhile kitchen experiment! The dark cocoa powder and chopped Baker's chocolate made an irresistible mask for the mild shredded zucchini… which, surprisingly, added a perfectly moist texture to these muffins.
Baker's chocolate squares have been a longtime favorite of mine, especially since they melt so beautifully into baked goods like muffins and cupcakes. A rough chop and toss into your mixing bowl yields the most gooey, creamy chocolate pockets once the muffins have puffed up in your oven. Just be careful when you snatch them hot off the pan!
There are so many options for using fresh summer zucchini, and they don't stop with savory! I think, next time, I will try adding it to cornbread, cake, or even a citrusy lemon bread, or sweet banana bread. This delicious looking recipe for zucchini bread is next on my to-try list!
When mixing up the batter for these beautiful zucchini muffins, I was initially worried it would be too thick to yield an airy, fluffy muffin. However, it turned out I was wrong! This yummy batch burst out of the muffin cups and rose beyond my expectations. Each muffin was full of rich, creamy chocolaty goodness while still having a very cake-like and light texture on the inside. Let's just say, I got the seal of approval from more than one eager taste-tester!
I like to use an unsweetened dark cocoa powder for many of my baked treats, especially these muffins, since the chocolate addition provides plenty of sweetness. Grab the best one you can find – it truly takes cocoa treats (and drinks) over the edge!

To make your own double chocolate zucchini muffins, the steps are simple! In a large bowl, whip up a mixture of sugar, oil, vanilla and eggs. Blend it thoroughly with an electric mixer, until all of your ingredients are smooth and creamy. In a separate bowl, combine flour, cocoa powder, baking soda, and salt. Whisk it well! Then, pour your dry ingredients into your wet sugar-oil mixture, and stir together until all of the ingredients are happily married. Aw.
Now comes the fun part! Shred your zucchini (no need to peel it first) onto a cutting board or plate, and gently pat it dry with some paper towels to remove excess water. Plop the pulp into your bowl. Roughly chop up your chocolate squares into small pieces, and toss those in, too. Give it all a good stir to incorporate the zucchini and chocolate, and try not to lick the spoon too much. It will be tempting!
With a big fat cookie scoop, add about 2-3 tablespoons worth of batter into your lined muffin cups. Bake for about 20 minutes, and you're done! What you're left with are gorgeously gooey, plump chocolate muffins that are begging to be yours for breakfast. Or, any time of the day!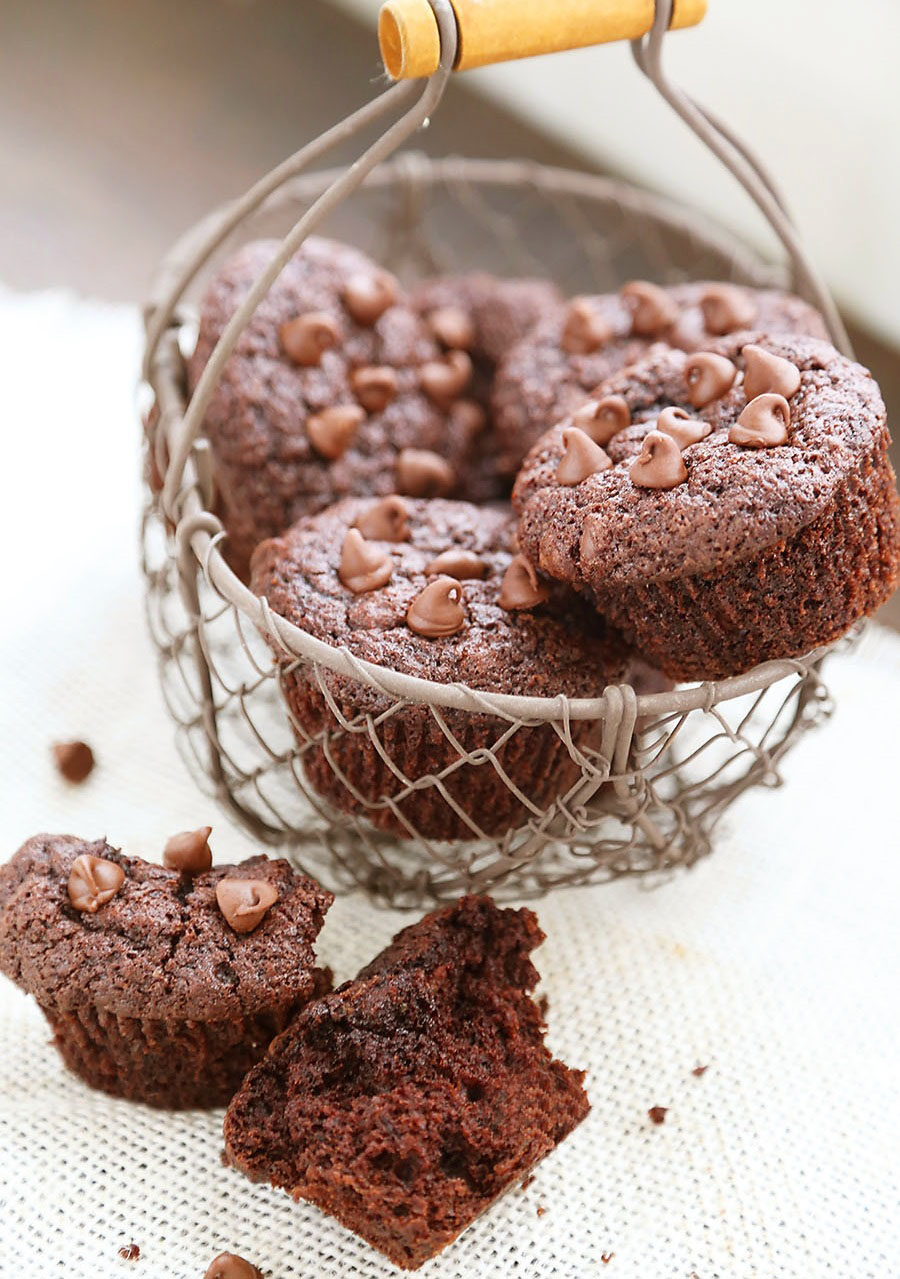 Bake a batch today to share this special (secret ingredient) treat with family and friends. They will never guess that these heavenly chocolate treats contain a fresh summer veggie!
Click here for the full recipe: Double Chocolate Zucchini Muffins