Cook a light, clean and colorful Mediterranean meal tonight! Baked white fish with tomatoes, zucchini and chickpeas on top of salad makes a healthy, hearty dinner.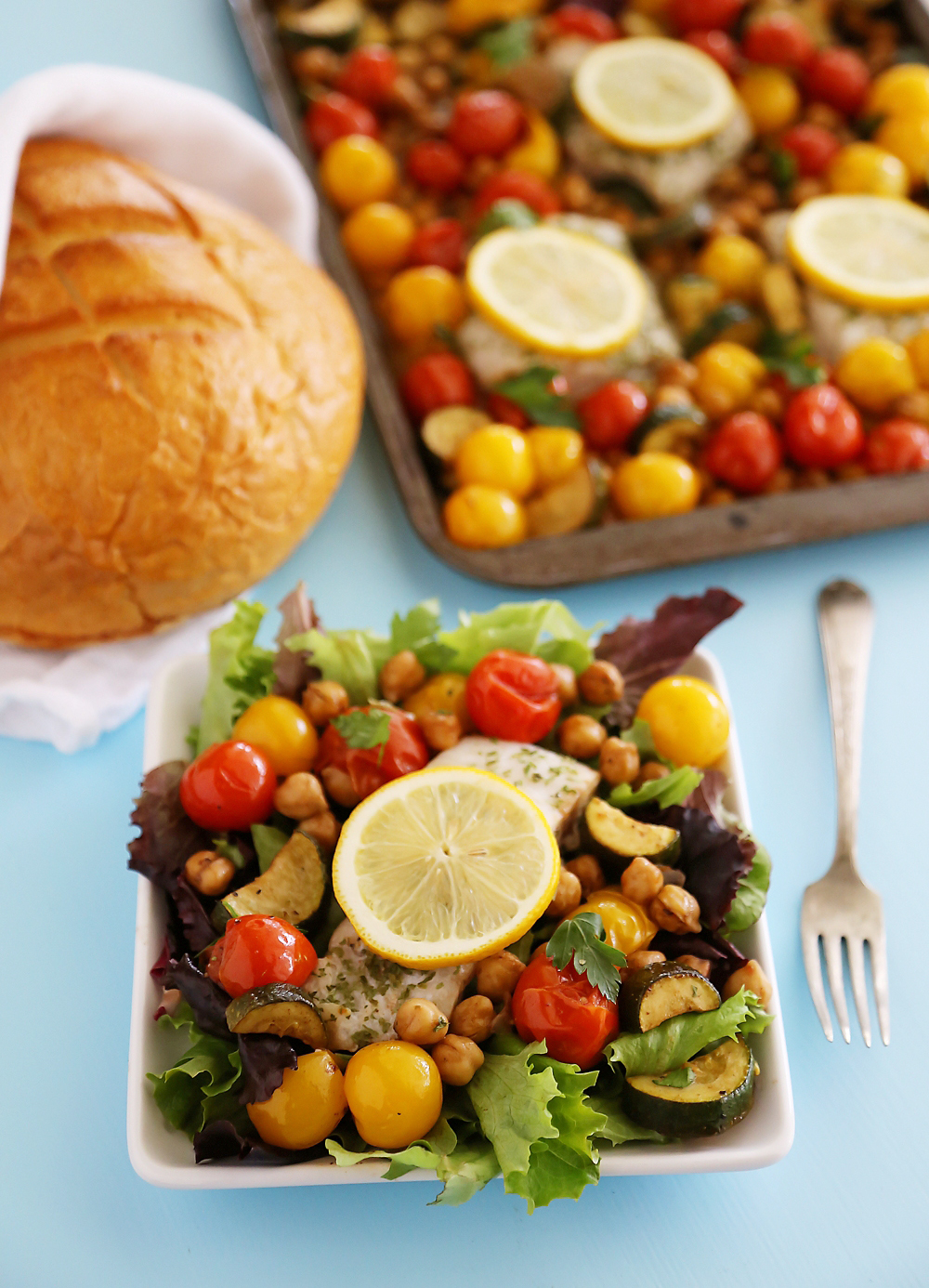 When I feel like I've been over-indulging (read: Christmas, New Year, Superbowl… can I still use those as excuses?), I turn my attention toward cleaner eating. More fruits. More veggies. More color! And there's no leaner protein than a fillet of flaky, buttery white fish to round out this healthy meal.
With fish, I love to bake it in a big pan with whatever veggies I have on hand – this time, it was juicy, jewel-colored tomatoes and zucchini from the farmer's market. Not only a gorgeous combo, but nutritious and delicious roasted in balsamic, with creamy, nutty chickpeas to add some depth.
With these colors and flavors, you would think it's summertime up in here!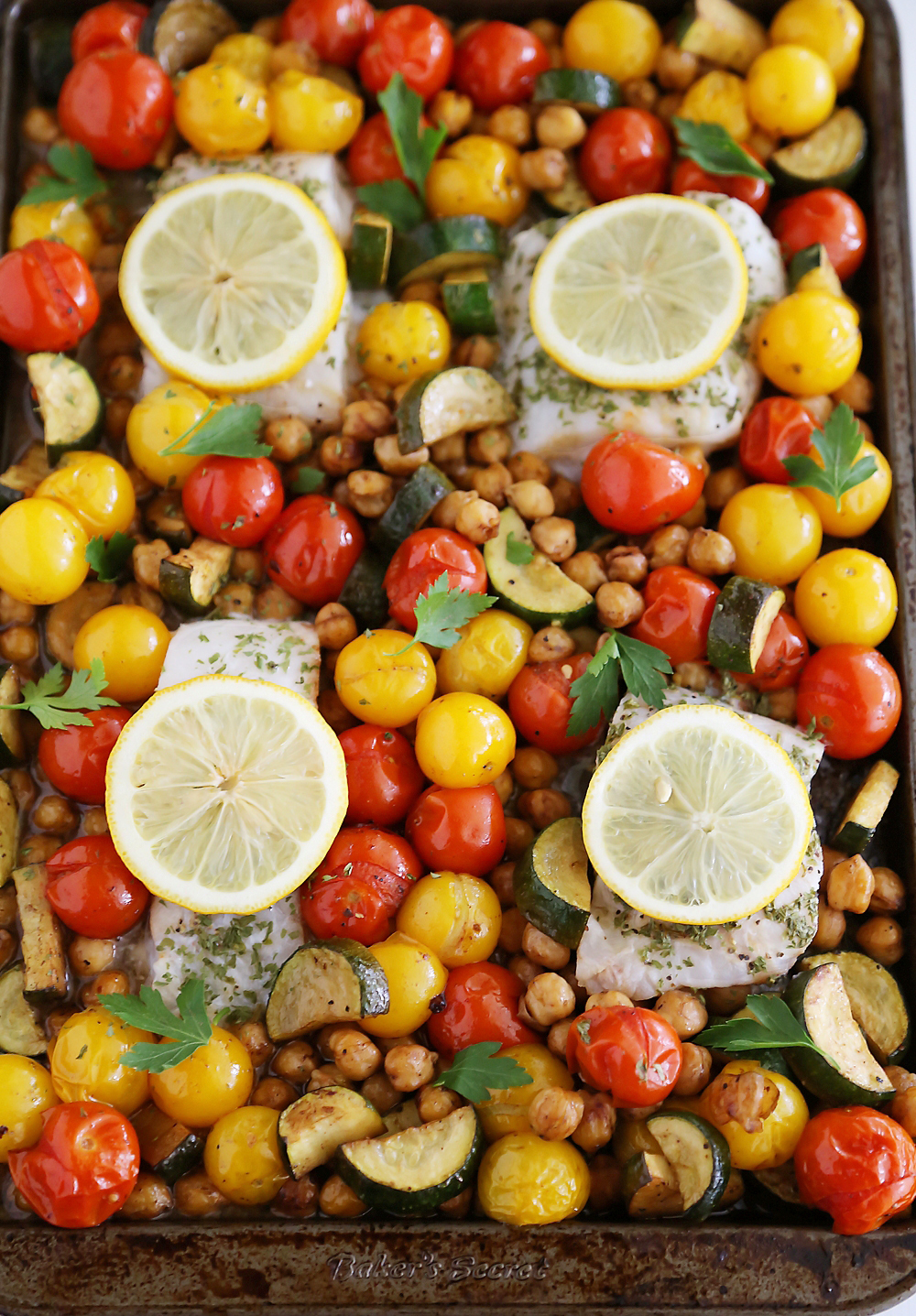 With a quick and easy lemon-herb marinade that can also act as a salad dressing, this fish dish is bursting with fresh citrus flavor! Just use a variety of McCormick dried herbs and seasonings, along with lemon juice and olive oil, to marinade your fish for at least 30 minutes. (Well worth the wait, I can assure you!) Bake your veggies and chickpeas, then nestle the marinated fish fillets into the middle. After about 10 more minutes of baking, your simple and scrumptious Greek-inspired dinner is done!
Can't you just feel the sea breeze in your hair? … No, just me?
Amidst occasional indulgences, healthful living is a goal I constantly keep in mind. By keeping active and eating clean as often as I can, I learn how to be more creative with my food and appreciate how good food makes me feel. And it's always a good time to focus on cutting out the bad… especially with Lent on the horizon!
Top a bowl of leafy greens with this gorgeous baked fish-and-veggie medley, and do up a delicious, healthy dinner for yourself tonight!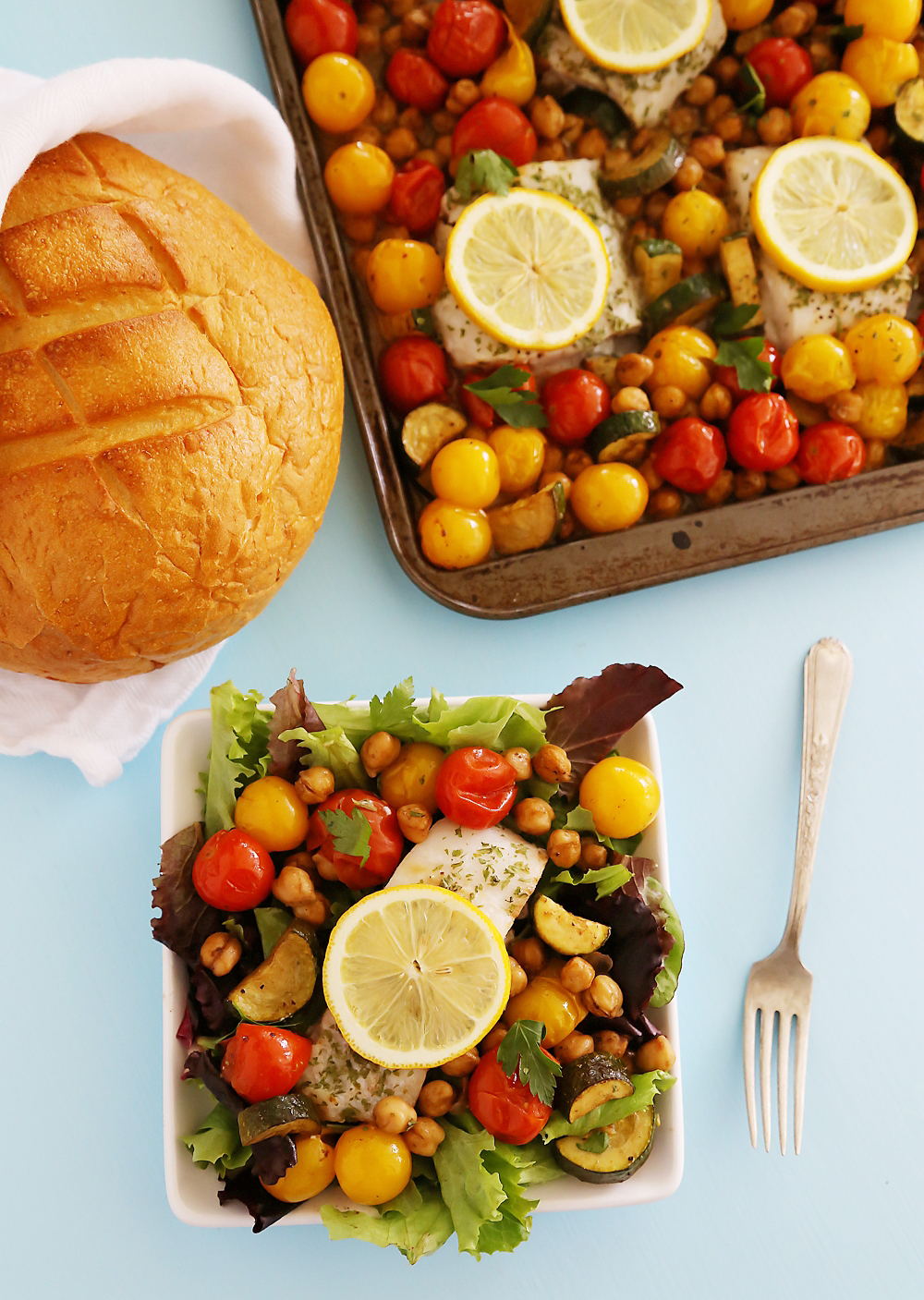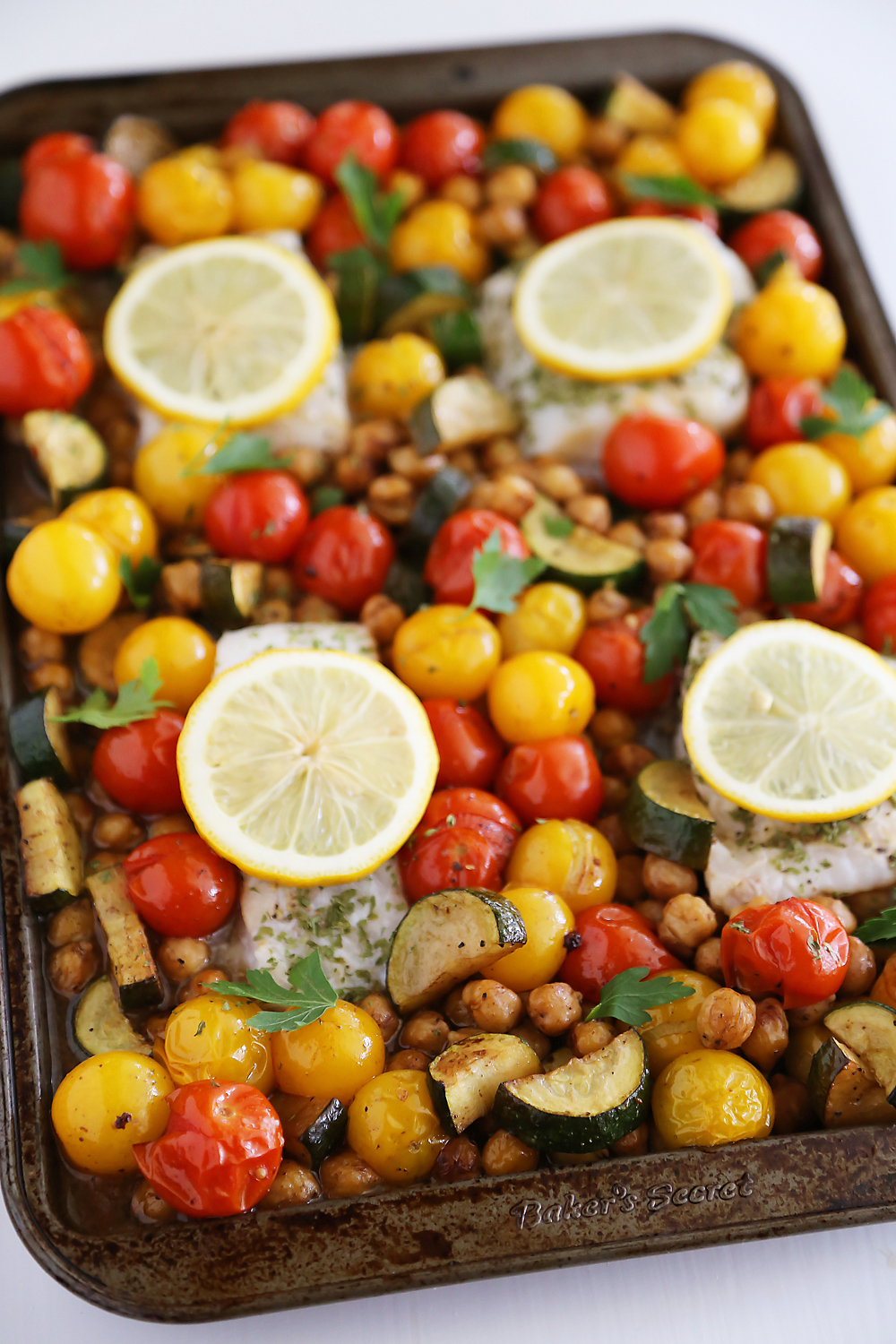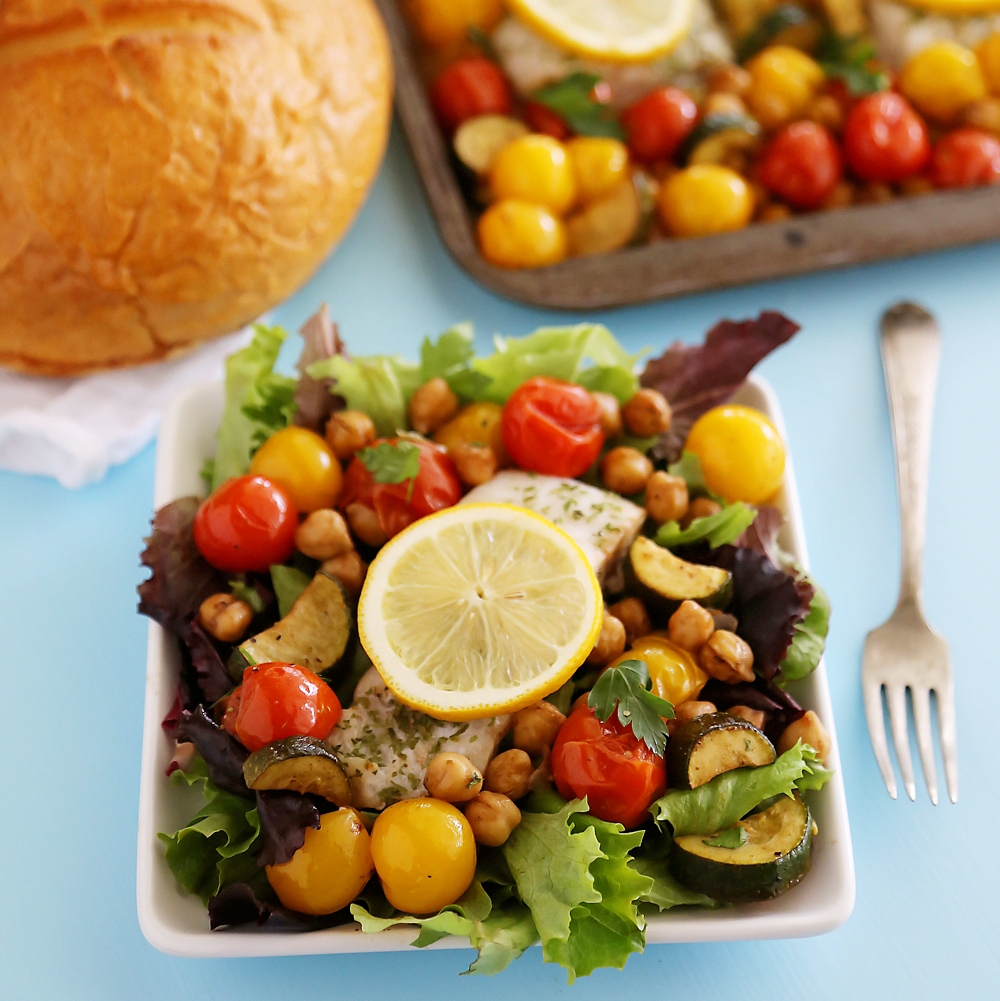 Greek Lemon Baked Fish with Tomatoes, Zucchini and Chickpeas
Ingredients
For the Greek Lemon Roasted Fish:
Instructions
For the marinade:
In a medium bowl, whisk lemon juice, olive oil, salt, thyme, pepper, garlic powder, oregano and rosemary. Add fish fillets and toss to coat. Marinade at least 30 minutes in a sealed plastic bag, up to 1 day.
To cook:
Preheat oven to 400 degrees F.

Toss cherry tomatoes, zucchini and chickpeas onto a large baking sheet. Add olive oil, balsamic vinegar, salt, pepper and garlic powder, tossing to coat. Bake for 10 minutes.

Remove from oven and place fish fillets on pan, surrounded by vegetable mixture. Place 2 lemon slices on top of each fish fillet. Cover with aluminum foil and bake for 10 minutes, until fish is opaque and fully cooked. Garnish with chopped parsley before serving.

Enjoy!