These fresh, healthy salads are a totally refreshing way to indulge without the guilt! Included are 18 salads hearty enough for weeknight dinners, both vegetarian and non-vegetarian. You can even use your leftover Thanksgiving turkey in the chicken salads!
Welcome to fatness. Welcome also to stretchy pants, a fridge full of leftovers and that I'm-never-eating-again feeling. It's the day after Thanksgiving and something tells me you could use a salad. I definitely could.
What bothers me even more than the current tightening of my waistband, however, is that most salads are pitiful. They're flat and flavorless, without color or zest, and lack irresistible ingredients that get you in the mood to feast on forkfuls of greens. If you share that viewpoint, the 18 beautiful, scrumptious salads in this list will change your mind.
Most of these salads are vegetarian (for the ones that aren't feel free to sub with leftover turkey!), but they are all knock-your-socks-off delicious. Fresh and hearty, healthy and easy to make a light weeknight meal. Or an impressive addition to a dinner party feast.
Sorry, I didn't mean to say "feast." I know you can't handle that right now.
Grab the ingredients and get to salad-ing yourself up. I know you'll find at least a handful you love. They're all easy and absolutely delish. Just… I apologize in advance for how many times the word "caprese" is included in this list. I'm sort of a fan.
 1. Easy Tomato, Cucumber and Red Onion Salad
2. Crispy Eggplant Caprese Stacks
3. Chopped Cucumber Caprese Salad
4. Texas Caviar
5. California Cobb Salad
6. Creamy Caesar Salad with Herb Grilled Chicken
7. Crispy Chicken Salad with Apples and Bacon
8. Tomato, Avocado, Corn and Basil Salad With Lemon-Balsamic Vinaigrette
9. Summer Strawberry-Peach Salad with Goat Cheese
_____________________________________________________________________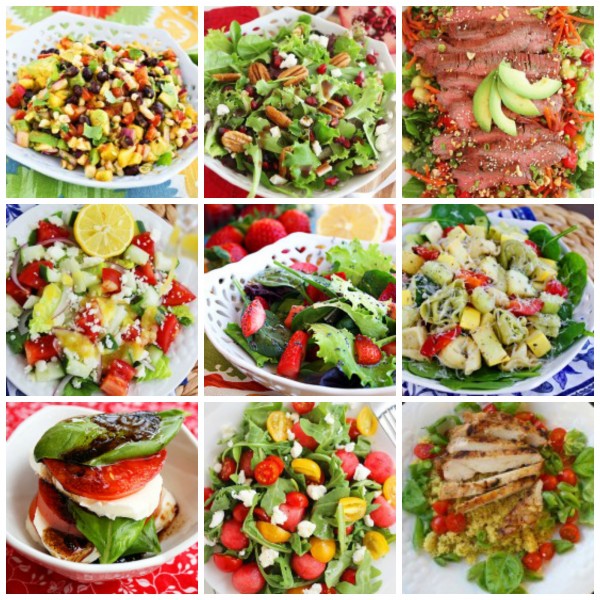 10. Avocado, Corn and Mango Salad
11.  Mixed Green Salad with Pomegranate Seeds, Feta and Pecans
12. Spicy Thai Steak Salad
13. Greek Salad with Lemon Vinaigrette
14. Strawberry and Mixed Green Salad with Poppy Seed Vinaigrette
15. Tortellini Spinach Salad
16. Caprese Salad with Balsamic Dressing
17. Watermelon & Feta Arugula Salad with Honey-Lemon Vinaigrette
18. Spiced Chicken with Couscous Salad