These super soft, buttery salted chocolate chip blondies are made with a few surprise ingredients. So simple, so irresistibly good and also protein-packed, vegan and gluten free!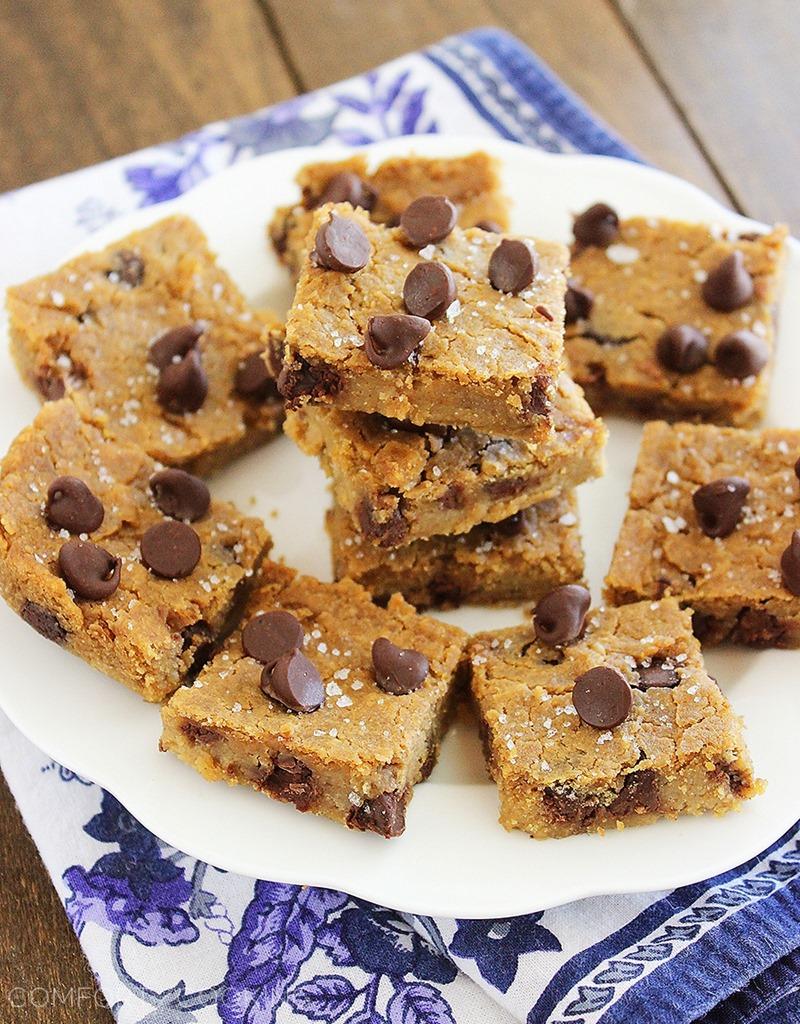 I've always thought, if there's one comfort food that shouldn't be messed with, it's the chocolate chip cookie. Sure, stuff it with caramel and sprinkle it with sea salt. Mix in peanut butter, pretzels, M&Ms and sandwich a scoop of vanilla ice cream between two. Those are safe choices.
And I was a safe kinda girl… until now!
I don't bake very often, but when I do, I want my treats to be GOOD. I don't like wasting time, ingredients, and especially not chocolate. So, I was naturally skeptical of adding chickpeas to a chocolate chip cookie bar. But! It was a day that called for a little adventure.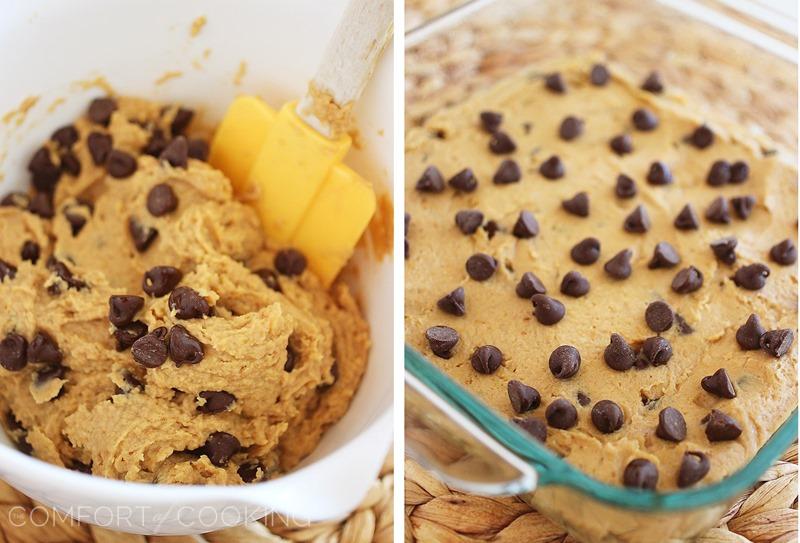 I cracked open a can, added some peanut butter, maple syrup, and vanilla extract, and got to mixin' with my food processor. What resulted was a super-soft, rich dough that tasted JUST like chocolate chip cookies! It easily pressed into my 8×8 pan and baked into beautiful golden bars that pulled quite the disappearing act after I pulled them warm from the oven.
My skeptical sweet tooth was pleasantly surprised!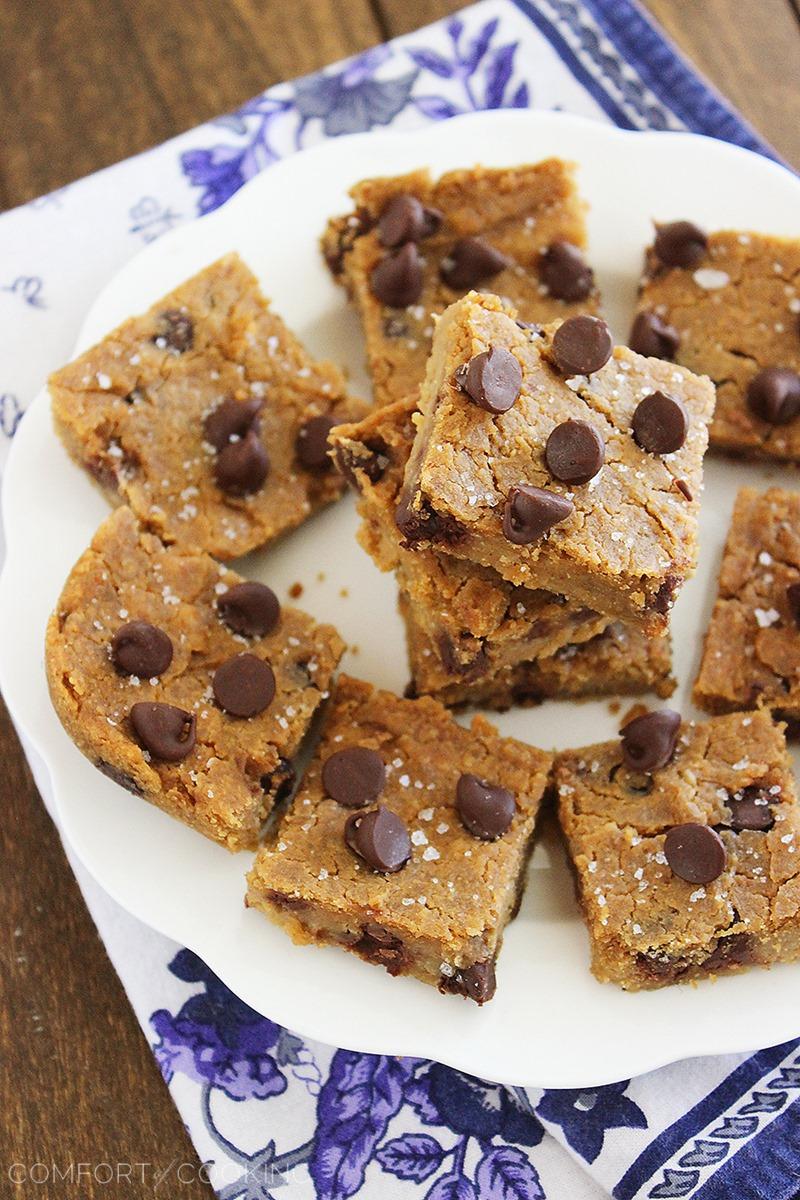 All you need is a handful of pantry staples and about 10 minutes of prep to whip up these buttery soft, gluten-free blondies! They taste just as good as any chocolate chip cookie I've ever baked, but with a punch of protein from the peanut butter and chickpeas. A sprinkle of sea salt on top really brings out the sweetness, but leave it out if you prefer.
These delicious and decadent bars are also vegan-friendly! However, if you prefer a little thicker bar, add an egg to the batter. Mix in some nuts or dried fruits, if you'd like, too.
They're basically foolproof!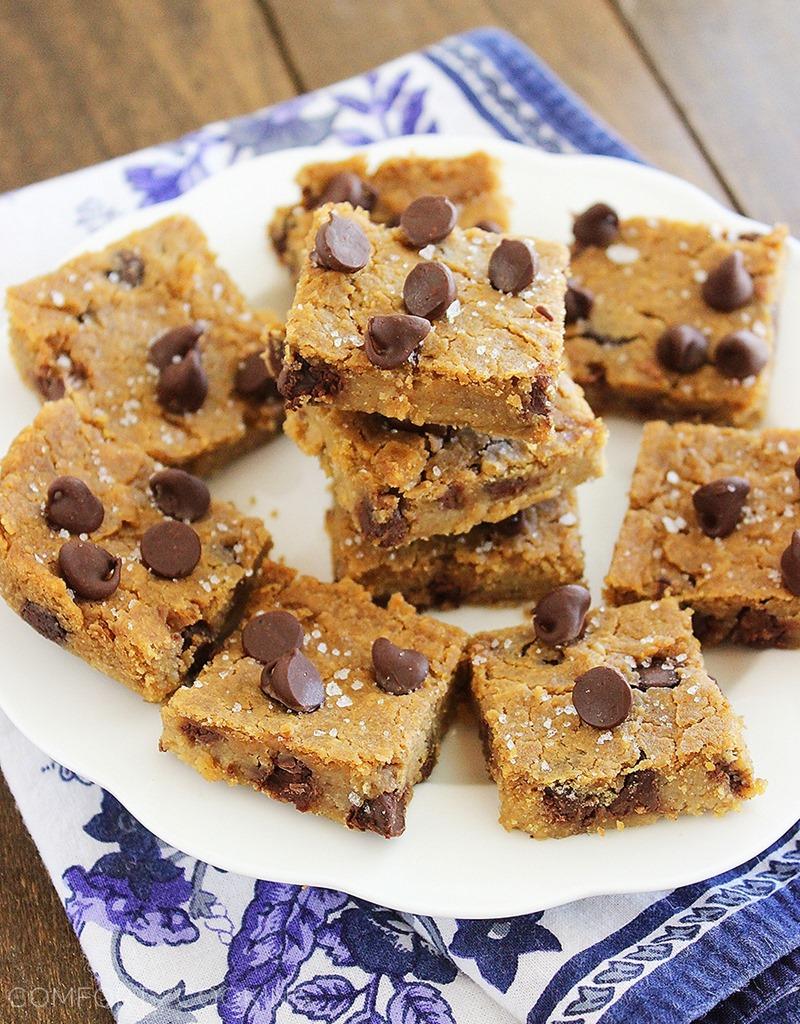 Flourless Chocolate Chip Chickpea Blondies with Sea Salt
Ingredients
Nonstick cooking spray
1 15 oz. can chickpeas/garbanzo beans, rinsed and drained
1/2 cup natural peanut butter, almond butter, or your favorite nut butter
1/3 cup pure maple syrup, honey or agave nectar
2 teaspoons vanilla extract
1/2 teaspoon kosher salt
1/4 teaspoon baking powder
1/4 teaspoon baking soda
1/3 cup + 2 Tbsp. semisweet chocolate chips
Sea salt, for sprinkling
Instructions
Preheat oven to 350 degrees F. Coat an 8 × 8-inch pan with nonstick cooking spray.
In a food processor, add all ingredients except chocolate chips. Process until batter is smooth. Fold in 1/3 cup chocolate chips and spread batter evenly in prepared pan with a buttered spatula. Sprinkle 2 tablespoons chocolate chips over top.
Bake for 20-25 minutes, or until a toothpick comes out clean and edges are very light brown.
Let cool completely on a wire rack. Sprinkle with sea salt and cut into 16 squares.
Enjoy!