Twirl your fork around this simple, scrumptious linguine dish full of fresh summer veggies and creamy feta!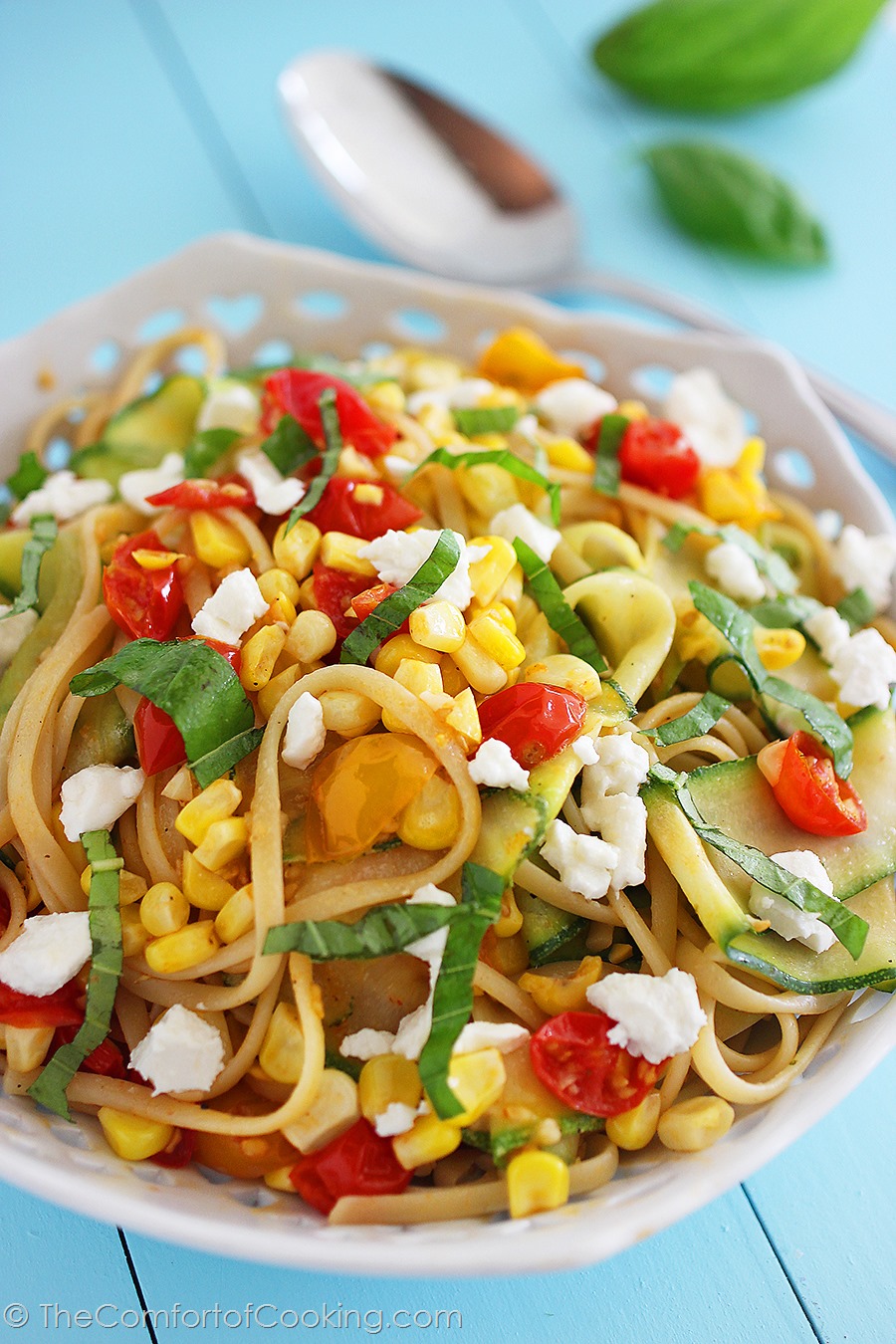 I told you the goat cheese was a problem. I just can't get enough of those creamy, soft crumbles!
Save me? Or rather, save my husband… He's about had it with the goat, I think. The man is a mozzarella and parmesan lover to the grave!
In this summer vegetable linguine, the feta melts effortlessly into with the warm linguine to create a rich, scrumptious sauce. It is divine. I mean, I don't mean to get all uppity on you, using a word like "divine," but that's just what it is. Accept it.
Diviiiine, dahling.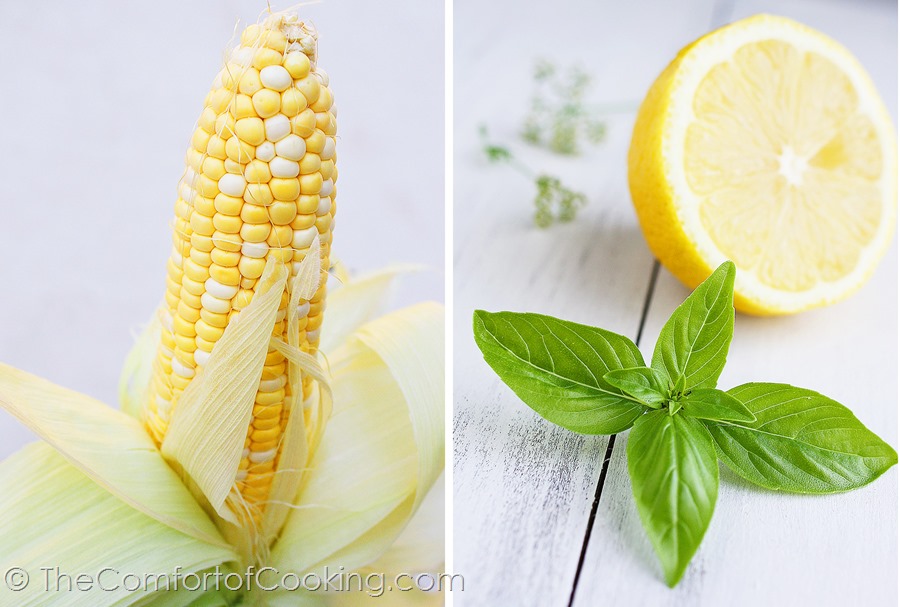 And while we're on the topic of divine, can we talk sweet corn for a second?
There is nothing better than a stalk full of golden, plump kernels waiting for shucking and shimmying their way into a delicious pasta, salad, or salsa. Not to mention, it is ridiculously fun to tear into them – it's like revealing a big, shiny prize inside. Not fun? Getting those silks off. But it just takes patience.
Moral of the story: Go for the gold, baby. That is, spend 50 cents an ear and toss the frozen stuff. Just this once?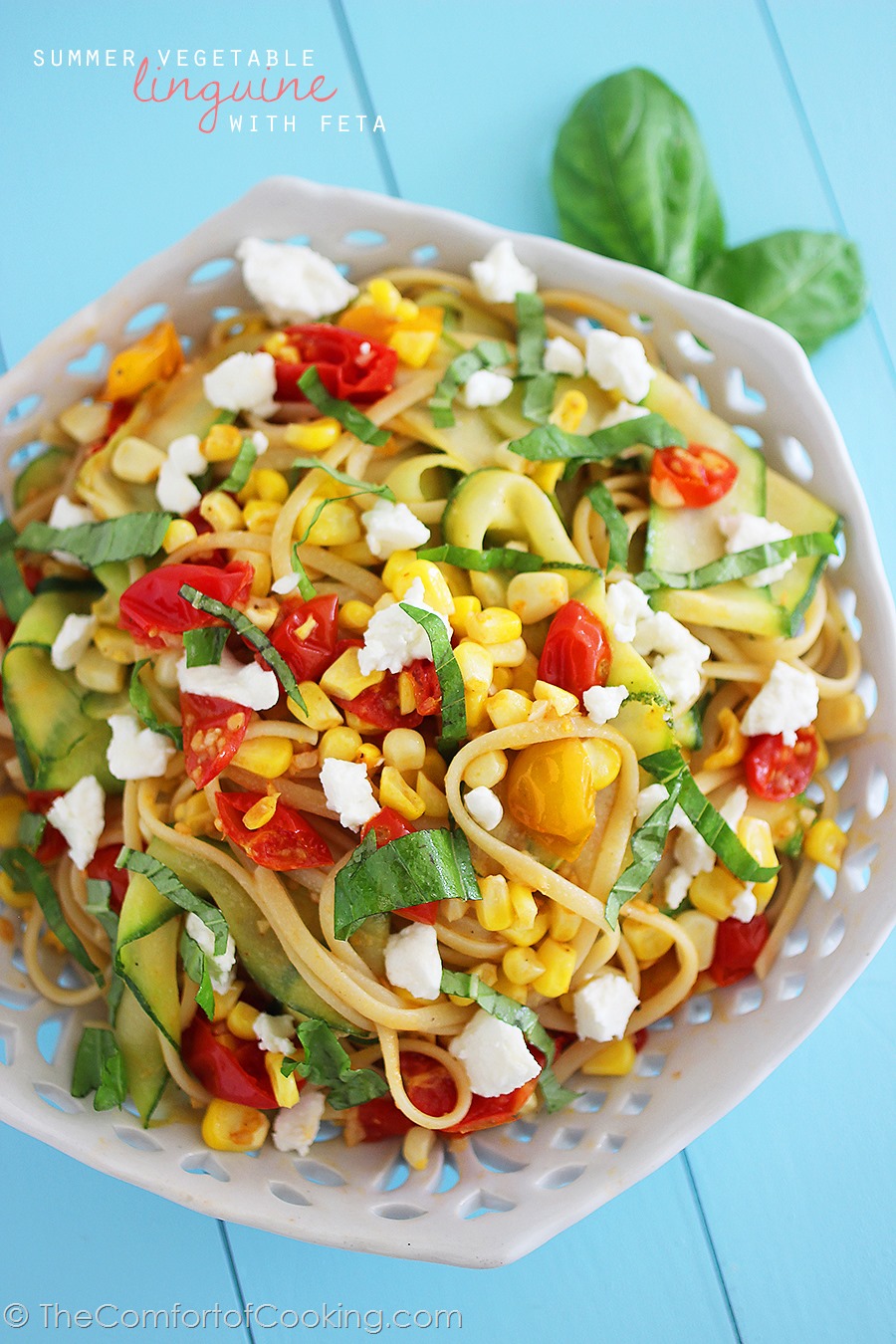 While we enjoyed this on the side of a crispy roast chicken, it could have easily been a full meal for me! Pour me a glass of rosé, scooch a salad alongside, and dinner is served. Total chick food, says hubby. Totally amazing, says I!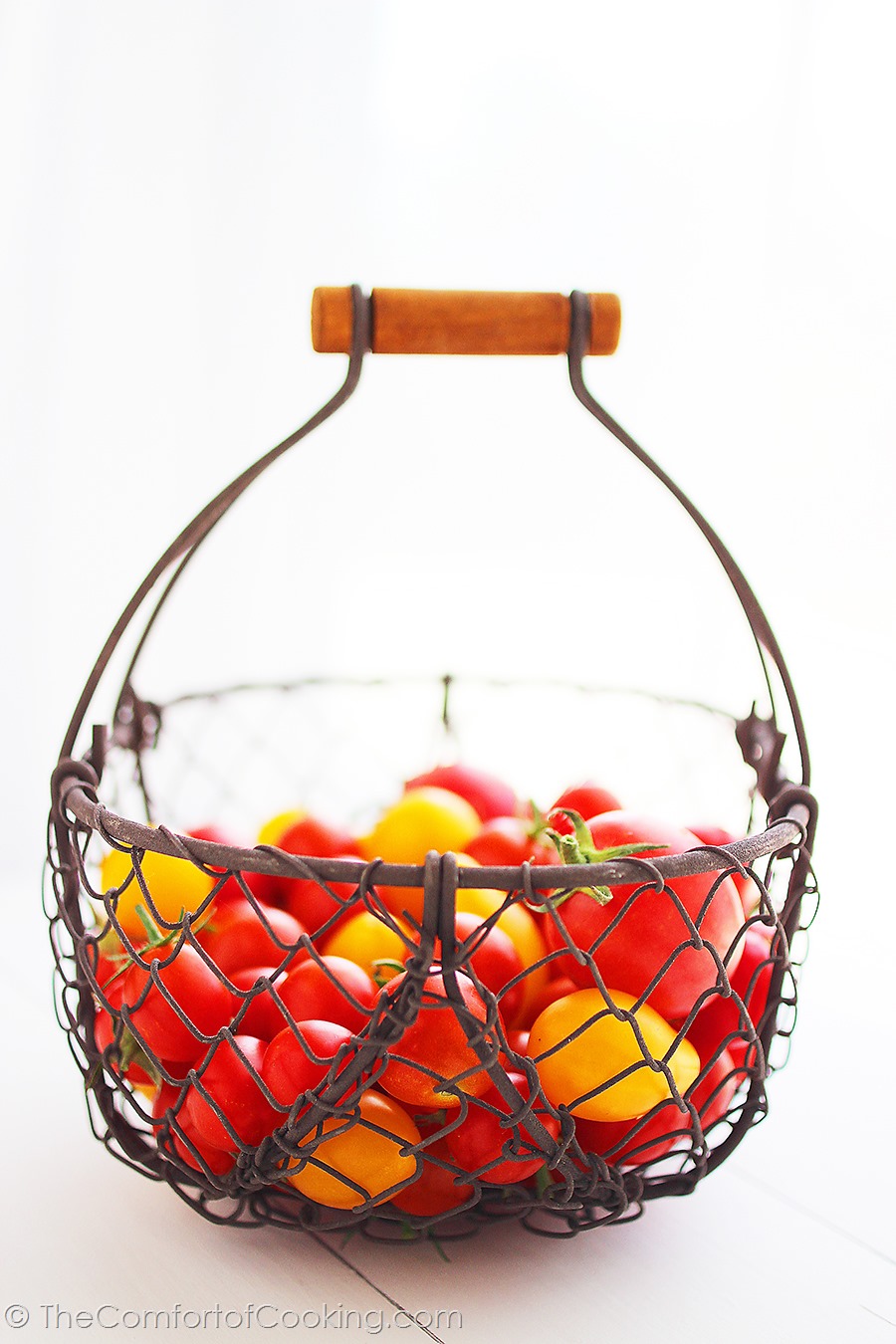 This linguine would make for a scrumptious Mediterranean-style meal for summer dinner guests. With juicy tomatoes (thanks again, Brien!) and corn, zucchini ribbons, garlic and fresh basil, I don't think anyone could resist this colorful and impressive, yet oh-so easy, pasta dish.
And for the kicker, it tastes even better than it looks! Yes indeedy, this meal's got all kinds of goodness going on…
Whip up this light, luscious dish some weeknight for yourself and someone special, and you'll see what I mean. With a little lemon juice squeezed over top, each forkful of creamy, sweet and salty deliciousness gives you the feeling of truly enjoying summer comfort food… without the added waistline. Clean eating doesn't have to be bland and boring, after all!
I hope you enjoy this recipe and let me know how it turns out if you try it!
Summer Vegetable Linguine with Feta
Ingredients
3/4 pound whole wheat linguine
3 tablespoons olive oil
2 pints cherry or grape tomatoes, halved
2 cups fresh corn kernels, from 2 ears
2 small zucchini, about 1 pound, cut into thin ribbons with a vegetable peeler
2 cloves garlic, sliced
1/4 teaspoon each kosher salt and black pepper
2 tablespoons chopped fresh basil leaves
4 ounces goat cheese, feta, crumbled
2 lemons, halved
Instructions
Cook pasta according to package directions. Strain into a liquid measuring cup, reserving 3/4 cups of the cooking water. Return pasta to the pot.
Heat oil in a large skillet over medium heat. Add tomatoes, corn, zucchini, garlic, salt and pepper. Cook, tossing occasionally, until vegetables are tender, 4-5 minutes.
Add cooked pasta and 1/2 cup of the cooking water to the skillet. Cook over medium heat, gently tossing, until the liquid is slightly thickened and coats the pasta, 2 to 3 minutes (adding more cooking water as needed to loosen the sauce).
Serve sprinkled with fresh basil and goat cheese. Squeeze a little lemon juice, to taste, from halved lemons over each portion.
Enjoy!