These crab cakes with spicy mayo are easy to make, absolutely delish, and a huge hit at parties. Everywhere I bring them, they disappear in an instant!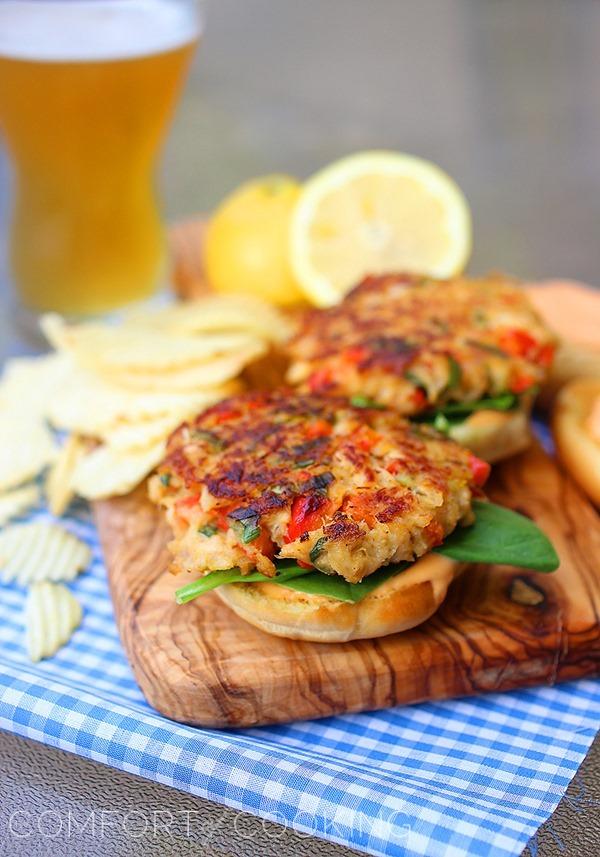 For almost 10 years, I called Maryland's Eastern Shore home. We lived on a 5-acre farm surrounded by fresh produce, lots of animals and crab lovin' friends. So, it completely escapes me as to why I haven't shared crab cakes up until now! They are my favorite (and I'm talkin' favorite) food ever.
Just ask anyone who's ever gone to a restaurant with me. I am seeking their crab cakes, and you better bet I will FIND! Heh. But, no, seriously… It's a problem.
In this journey of seeking and finding, it's safe to say I've had my share of bad, good and incredibly good crab cakes over the years. What I'm sharing with you today is one that captures the flavors of the incredibly good, my favorites, all in one.
Whether you serve 'em with buns and beer, or topped with sprouts and a sparkling cocktail, it's up to you! We're just keeping it weeknight-style casual today and showing you how an Eastern Shore gal does it – nothing fancy here. Just a pile of potato chips and a cold brew!
If you love crab like I do (lotsa meat, little breadcrumbs) you will just flip for these. The crab is the true star, but spicy and citrusy notes make it really shine. The spicy mayo is simple and scrumptious too – just mayo, lemon juice and a little Sriracha. Or a lot, if you can take the heat!
Oh, and it's worth mentioning that these were gone in 10 minutes at the party I brought them to. Just sayin'.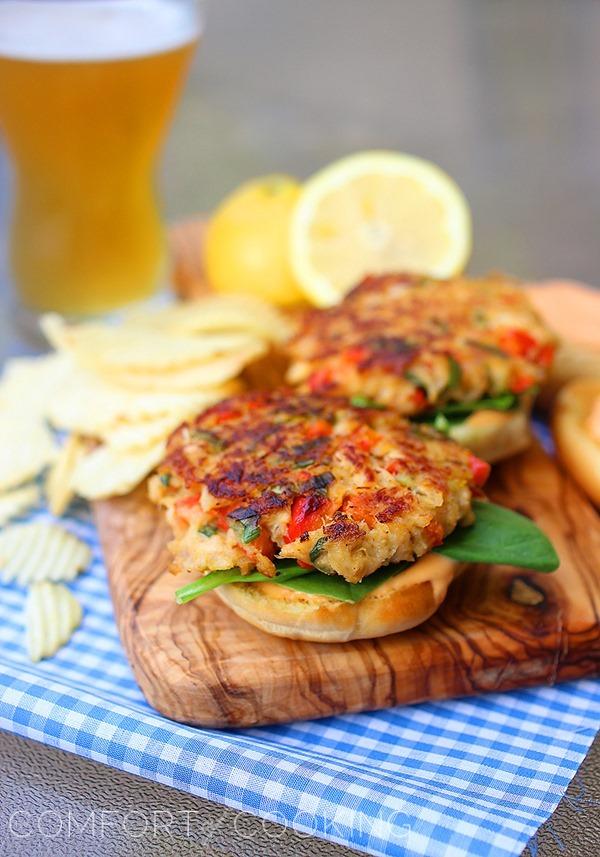 Crab Cake Sliders with Spicy Mayo
Ingredients
Crab Cakes:
1 pound crabmeat, I used Bumble Bee fancy lump crabmeat
1/2 red bell pepper, small diced
5 scallions, finely sliced
2 garlic cloves, minced
1/2 lemon, juiced
1/2 cup finely crushed crackers or panko breadcrumbs
1/4 cup mayonnaise
1 large egg
2 teaspoons Worcestershire sauce
1 teaspoon dry ground mustard
1 teaspoon onion powder
1 teaspoon salt
Dash cayenne pepper
For Cooking & Serving:
Olive oil
15 slider buns or halved dinner rolls
1/2 cup spinach, arugula or sprouts for topping
Spicy Mayo:
1/2 cup mayonnaise
1 1/2 Tbsp. lemon juice, from about 1/4 lemon
1 1/2 Tbsp. chili sauce, such as Sriracha
1/4 tsp. kosher salt
1/8 tsp. freshly ground black pepper
Instructions
Prepare a large baking sheet lined with foil or parchment paper. In a large bowl, combine all crab cake ingredients. Mix ingredients with your hands. Shape into small patties and place on the baking sheet. Cover with plastic wrap and refrigerate until ready to cook. (Can be made 1 day ahead)
Meanwhile, make your spicy mayo. Combine all ingredients in a small bowl and stir to blend. Cover and refrigerate until ready to use. (Can be made 1 day ahead)
When ready to cook crab cakes, drizzle about 1 1/2 Tbsp. oil in a large skillet over medium-high heat. When oil is hot, carefully place crab cakes, in batches, in pan and fry until browned, 4-5 minutes per side. Carefully flip crab cakes and fry on other side until golden brown, another 4 minutes.
Place sliders onto buns. Top with mayo and greens, and serve.
Enjoy!