Today, I'm teaming up with McCormick and one of my favorite bloggers, Monet from Anecdotes and Apple Cores, to share with you two very special cookie recipes! First up are her delectable Pignoli Cookies, and I've also shared some spicy, sweet Gingerbread Whoopie Pies, which you can check out on her blog.
So, give her a warm welcome and get drooling over these good lookin' pignolis. Take it away, girl!
Can you believe it's already December? I'm so honored to be guest posting for The Comfort of Cooking. I've been a big fan of Georgia's blog, and I've been lucky enough to live in the same city as her for the past year! Because December is all about friends, family, and good food, we thought a cookie-swap would be the perfect start to this month.
We're partnering with McCormick to bring you two original cookie recipes using some of our most favorite baking products. Spices like nutmeg, ginger, and cinnamon are must-haves when it comes to holiday baking. Not only do they make house smell like Christmas, but they impart that wonderful spicy kick we've all come to love in our holiday cookies.
For my cookie recipe, I took a traditional Italian treat and added some Anecdotes and Apple Core flair. The pignoli is an almond flavored cookie that is accented by toasted pine nuts. Most recipes leave spices out of the mixture, but I found that a dash of cinnamon, nutmeg, and ginger takes these classic pignolis to a new level of delicious.
These are perfect additions to a holiday tray of cookies or as gifts for teachers and friends. While little ones may not be able to help you during the baking process, they can certainly aid in what my niece likes to call, "Sugar time!" Open a bag of powdered sugar and let your children have fun sprinkling the cooled cookies with a little bit of "snow."
Thanks for reading along. I hope you enjoy these cookies as much as we did. I can't wait to make another batch!
To see more of Monet and my Gingerbread Whoopie Pies in a scrumptious guest post, head on over to her blog! Scroll through an amazing assortment of baked goodies, ogle over her pretty pictures, and take a peek at personal stories of her day-to-day life, which she loves to share.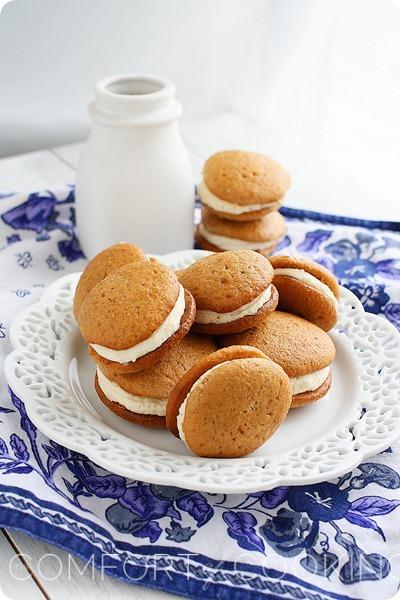 Monet's Pignoli Cookies & My Gingerbread Whoopie Pies
Ingredients
My Gingerbread Whoopie Pies
3 3/4

cups

all-purpose flour

1

teaspoon

salt

1

teaspoon

baking soda

1 1/2

teaspoons

McCormick Ground Ginger

1 1/2

teaspoons

McCormick Ground Cinnamon

1/4

teaspoon

McCormick Ground Nutmeg

3/4

cup

1 1/2 sticks unsalted butter, at room temperature

3/4

cup

light brown sugar

1

large egg

3/4

cup

molasses

3/4

cup

buttermilk
Filling
1/2

cup

1 stick unsalted butter, softened

2-3

cups

powdered confectioners' sugar

sifted

1/4

teaspoon

McCormick Pure Vanilla Extract
Instructions
Monet's Pignoli Cookies

Preheat oven to 300 degrees F. Line two cookie sheets with parchment paper. In a small bowl, combine pine nuts and almonds. Set aside.

In a food processor, pulse the almond paste into small pieces. Add flour, sugars, and spices. Process until finely ground.

Add in egg whites and process until dough forms. Using a cookie scoop, or a tablespoon, place rounded pieces of dough on prepared cookie sheets. 2 inches apart. Sprinkle each cookie with the almond and pine nut mixture.

Bake the cookies for 20 to 25 minutes, until lightly golden. Allow to cool completely before dusting lightly (or not so lightly) with powdered sugar.

My Gingerbread Whoopie Pies

Preheat oven to 350 degrees. Prepare two baking sheets with parchment paper.

In a medium bowl, whisk flour, salt, baking soda, ginger, cinnamon, and nutmeg.

In a large bowl, cream the butter and brown sugar with a mixer until light and fluffy, about 3 minutes. Beat in egg, scraping down sides of bowl after. With mixer on low, add molasses and buttermilk. Add flour and mix only until blended; do not over-mix.

Using a small scoop or teaspoon, portion batter onto the baking sheets, spacing each about 2 inches apart.

Bake for 10-12 minutes, rotating baking sheets halfway through. Let cookies cool for 5 minutes, then transfer to wire racks to cool completely.

To make the filling: With a mixer, beat butter and powdered sugar on medium speed until fluffy, about 3 minutes. Add vanilla extract and beat for 1 more minute, until frosting is smooth and fluffy.

Make sure cookies are cooled completely then pair cookies by size. Transfer filling to a piping bag. Onto the flat side of one of each cookie pair, pipe a bit of frosting. Sandwich the cookies together.

Enjoy!