When I'm cooking on weeknights, I usually go for dishes that keep the dishes to a minimum. After enjoying a delicious dinner with my hubby, the only thing I want to do is lay on the couch with a glass of wine and talk about our days. Or watch reality TV. Both are favorite pastimes.
Point being, I don't like doing tons of dishes but I DO like to adapt recipes to use as few as possible. In this case, all you need is one large pot or Dutch oven. Use it to boil your gnocchi, and afterward just set it aside in a strainer. In the same pot, sauté your asparagus, onion and shrimp. Once they're cooked, add the gnocchi back to the pot and toss it all with fresh basil pesto. Pour a glass of wine, make a salad for the side, and enjoy!
With my pesto made ahead of time, this whole dinner was ready in less than 10 minutes. The combination of the pillow-soft gnocchi with the flavorful asparagus, shrimp and pesto topped with freshly grated Parmesan was so delicious, and a welcome change to our dinner routine. I know you'll enjoy it just as much as we did, and maybe even go back for seconds!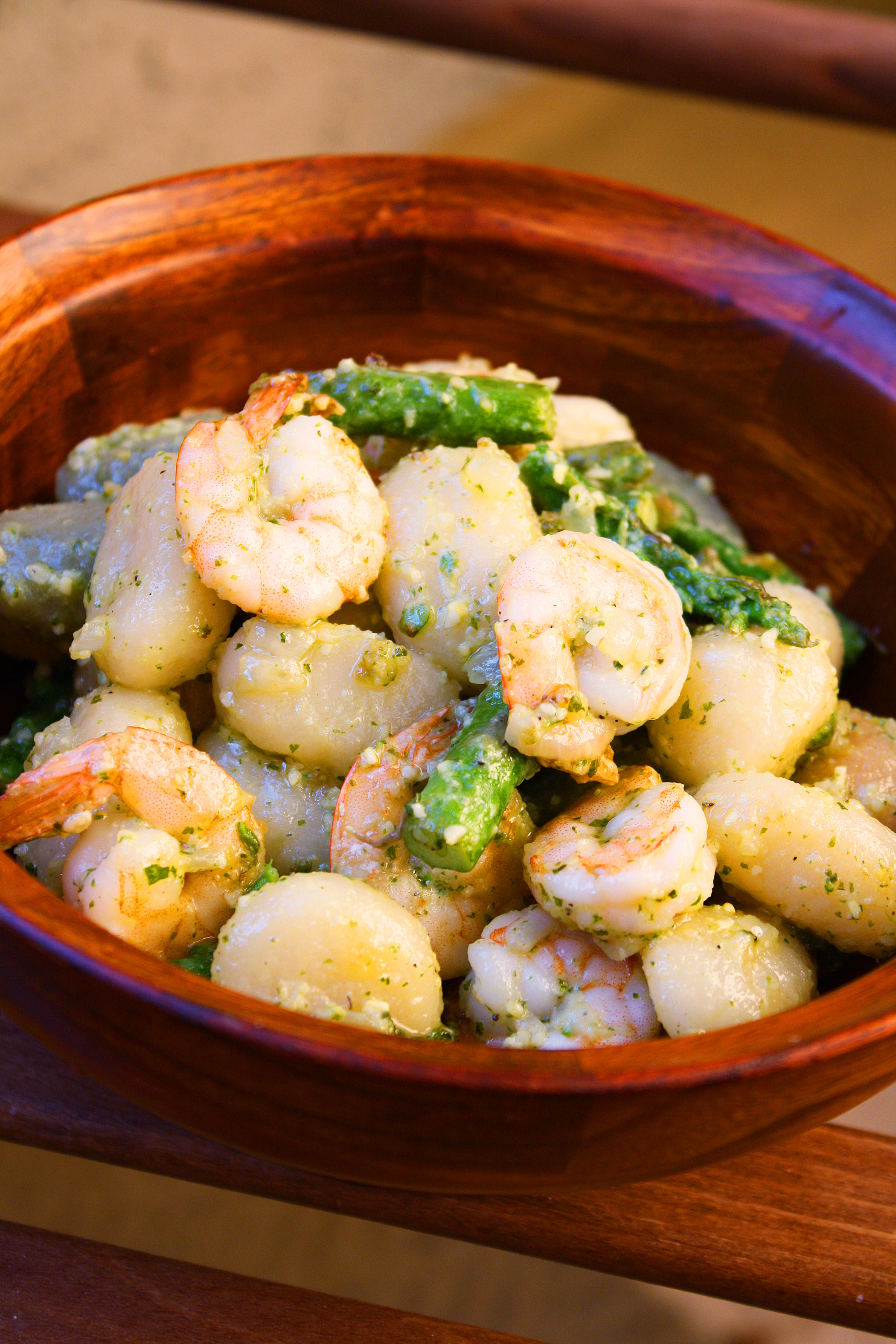 Gnocchi with Shrimp, Asparagus and Pesto
Ingredients
1/2

cup

basil pesto

here's my recipe

1 16

oz.

package gnocchi

1

tablespoon

olive oil

1

bunch (about 1 lb.) asparagus

cut in 1-inch slices

1/2

yellow onion

chopped

1

pound

peeled and de-veined shrimp

coarsely chopped

Salt and pepper

Parmesan cheese
Instructions
Prepare the basil pesto and set aside.

In a Dutch oven, bring water to a boil. Add a pinch of salt. Add gnocchi to pot; cook about 3 minutes or until gnocchi rises to the top. Strain and set aside in the strainer. In the same Dutch oven, heat olive oil over medium heat. Add asparagus to pan. Cook 2 minutes.  Add chopped onion and continue to cook another 2 minutes. Add shrimp and cook until heated through, about 3-4 minutes.

Add gnocchi and pesto to the pot, and toss until combined. Salt and pepper to taste. Serve immediately. If desired, grate over some fresh Parmesan.

Enjoy!