I have never made chocolate truffles before but have always enjoyed them at holiday parties. However, truffles are easy to make in your own home, and they make for a decadent and elegant dessert!
When Walker's Shortbread contacted me recently about sampling some of their delicious, buttery shortbread (it's a hard life), I jumped at the opportunity and started thinking of how I could incorporate one of the cookies into a recipe. After doing a little searching, and a little experimentation of my own in the kitchen, I came up with these little babies.
Oh, yes.
But, like I said – EASY! So, come on, follow along and I'll show you the simple steps….
The center is a mixture of ginger shortbread crumbs and cream cheese, which, after mixed together, make a "dough" that is chilled in the fridge. After about 20 minutes, roll the dough into small balls, and set them aside.
Now, let's take our milk chocolate which has been heated and stirred into creamy, dreamy bliss….
Mix in a little good-quality whiskey and almond extract…
And roll the shortbread balls around in the chocolate mixture…
Set them on a baking sheet….
Top with a sprinkle of cocoa powder…
Then, set your truffles in the fridge to chill for at least 30 minutes, so the chocolate can harden into a nice, hard shell.
You did it! See? Easy.
Try these truffles for yourself sometime, or for guests, and prepare to fall to your knees in chocolatey heaven! They're perfect with a cup of tea as an elegant, after-dinner dessert, or as a sweet treat to share with friends and family this holiday. You can also make them with kids and omit the whiskey. Or, keep the whiskey. Just don't share.
Please enjoy these if you make them, and if you come up with any variations of your own, feel free to share them with me!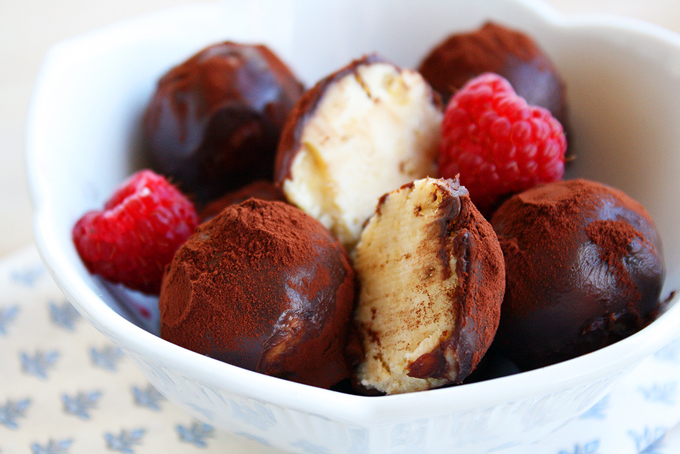 Chocolate and Whiskey Shortbread Truffles
Ingredients
5

oz.

milk chocolate

1

Tbsp.

water

1

Tbsp.

whisky

1/8

tsp.

almond extract

4

oz.

cream cheese

1

cup

finely crushed Walkers Pure Butter Shortbread
Instructions
Melt the chocolate and water in the microwave, about 1 1/2 minutes on high, or until softened. Mix until thoroughly blended. Stir in whisky and almond extract. Set aside.

In a separate bowl, combine cream cheese and shortbread crumbs. Mix well with your hands and form a ball. Chill in the refrigerator to firm up. After about 20 minutes, shape heaping teaspoonfuls of the dough into balls. Roll in melted chocolate and set on a baking sheet lined with wax or parchment paper.

Refrigerate the truffles for at least 30 minutes, or store in the refrigerator until ready to eat. Top with chocolate sprinkles or cocoa powder.

Enjoy!