If I was ever asked to epitomize fall in a handful of smells, I would say it smells like wood crackling in a fireplace, damp leaves after a recent rain, and a hearty bowl of beef stew that warms you to the bone. To me, there isn't anything better than fall, or anything better than those smells.
Fall has always been special to me, not only because my October birthday is smack-dab in the middle of it, but because where I grew up, pumpkins would grow bigger than beach balls, the cute farm boy would always putt-putt by on his tractor, and the smell of a simmering stew were some of the happiest memories of my childhood.
All it took was a quick Google search to find this recipe, but though I'm sure my mom has an old, dog-eared stew recipe of her own, I figured it was about time to make some fall memories of my own and try something new. I can already tell this one will be a longtime favorite.
In this recipe are all the typical ingredients you'd find in beef stew: tomatoes, onions, rosemary and red wine. But, while the directions are minimal the simmer time is a tomato-softening, meat-tenderizing two hours. So, while it's not a weekday meal, it will give you a reason to stay in on a Saturday, watch re-runs and let the delicious smell saturate your walls.
I hope you enjoy this one, or at least drool a little over the photos! As always, I'd love to hear your thoughts on the recipe, and if you make it, how it turns out for you!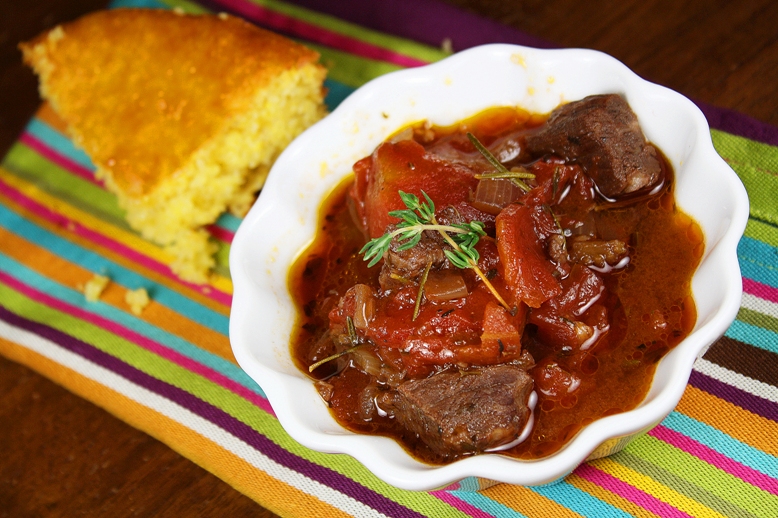 Tuscan Beef Stew with Honey Cornbread
Ingredients
Beef Stew

3

tablespoons

olive oil

1

red onion

cut into medium dice

3

stalks celery

cut into 1/2-inch pieces

2

pounds

stew beef

such as boneless chuck, trimmed of excess fat and cut into 1-inch cubes

2 1/2

cups

dry red wine

4

sprigs fresh rosemary

8

sprigs fresh thyme

3

cloves

garlic

minced

1 28

oz.

can stewed tomatoes

drained

3/4

teaspoon

kosher salt

1/2

teaspoon

freshly ground black pepper

Honey Cornbread

2/3

cup

sugar

3

tbsp.

honey

1/2

cup

melted butter

2

large eggs

1/2

tsp.

baking soda

1

cup

buttermilk

1/2

tsp.

salt

1

cup

yellow cornmeal

1

cup

flour
Instructions
Beef Stew

In a heavy, large saucepan over moderately high heat, heat oil until hot but not smoking. Add onion, carrot, and celery and sauté, stirring occasionally, until light golden brown, about 10 minutes. Add beef and sauté, stirring occasionally, until brown on all sides, about 5 minutes. Add wine, rosemary, thyme, and garlic, stir well, and bring to boil. Add stewed tomatoes, salt, and pepper, then lower heat to moderately low, cover, and simmer, stirring every 15 minutes, until beef is tender, about 2 hours.

Honey Cornbread

Preheat the oven to 375 degrees.In a medium bowl, stir sugar, honey and butter together. Whisk in eggs. Whisk in baking soda and buttermilk. Add salt, cornmeal, and flour. Do not overmix. As soon as the flour disappears, stop mixing.Add batter to a greased 8-inch baking dish and smooth out the batter. Bake for about 35 minutes, or until top is golden brown. Prick the center with a toothpick and make sure it comes out clean. If not clean, bake for about 5 more minutes.

When beef is tender, use tongs to remove thyme sprigs. Transfer stew to a large serving bowl and serve alongside cornbread.