Rarely does a meatless dish make for a happy husband at the dinner table. But, as Mark has been brave taste-tester and willing participant, he doesn't mind when I change things up a bit, and sometimes even likes the end result.
However, as I was cooking this delicious pasta dinner on Tuesday, I couldn't help but notice his expression go from, "Hot damn, something smells delicious in here!" to "Oh, really?" when I mentioned that there would be no meat involved in that night's meal.
Well, surprise, surprise, the courageous carnivore didn't leave behind a single pine nut on his plate! He gobbled the whole thing up and then went for seconds. Who could blame him, what with the sweet sauteed bell peppers, crunchy pine nuts and tangy capers, topped with freshly chopped parsley, basil and creamy Parmesan cheese. Yum!
The meal was a total hit, totally satisfying and a definite eye-opener for both me and my meat-lovin' man. Maybe I'll try to sneak in some more vegetarian meals and see if he notices before he takes a bite . . . Oh, the possibilities.
In the meantime… It's chicken and steak leftovers for dinner tonight!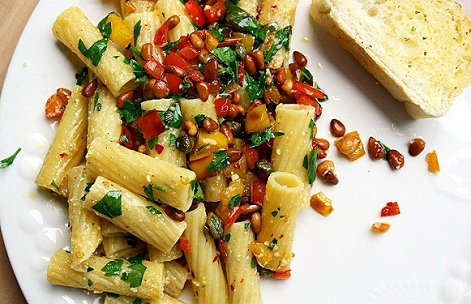 Rigatoni Peperonata
Ingredients
1/4

cup

pine nuts

12

ounces

rigatoni

1/4

cup

olive oil

2

bell peppers

cut into 1/2-inch pieces

2

tablespoons

chopped capers

2

tablespoons

red wine vinegar

1/4

teaspoon

crushed red pepper

kosher salt and black pepper

1/4

cup

chopped fresh flat-leaf parsley

1/4

cup

chopped fresh basil

Grated Parmesan cheese

to taste
Instructions
Heat oven to 400º F. Spread the pine nuts on a rimmed baking sheet and toast, tossing occasionally, until golden brown, 3 to 4 minutes. Cook the pasta according to the package directions.

Meanwhile, heat olive oil in a large skillet over medium-high heat. Add the bell peppers and cook, stirring occasionally, until tender, 5 to 6 minutes. Add the capers, vinegar, crushed red pepper, and ¼ teaspoon each salt and pepper, and cook, stirring, until heated though, 1 to 2 minutes.

Add the pasta and pine nuts to the skillet and cook, tossing, for 1 minute. Add parsley, basil and Parmesan cheese. Serve.

Enjoy!