Let me give you three little nuggets of advice about crepes:
1. Don't expect your first one to turn out perfectly, so even if you're trying to make them just for the hell of it, like I was, make a decent amount of batter.
2. They're really not as scary and complex to make as those fancy celebrity chefs may have you believe.
3. At least once, your pan will contain what looks like the most perfectly golden and delicate crepe you have ever seen, but once you attempt to flip it, it will split in half.Not to worry. Assuming there's no one around you're worried about making a good impression on (mother-in-law, little kids, church friends), feel free to swear obscenely for a minute, and then pull yourself together and try the crepe again. And again, until you get it right. Once you do, you'll be jumping for joy and feeling like a gourmet chef. Good for you.
But, honestly, crepes are really not that difficult. I wouldn't be writing about them if it had been an awful experience. My first one looked okay, but there were tiny holes in the crepe where the batter didn't spread. My second was perfect, but it split right down the middle when I flipped it, and well, I guess the third time was a charm, because that's the one you see here.
I really recommend that you give these crepes, as well as the ooey, gooey sweet and tart raspberry compote, a shot. I've had crepes in Paris, but I thought the subtle vanilla flavor in these made them better than anything else I've had. You have nothing to lose, except a few ingredients that you probably already have in your kitchen!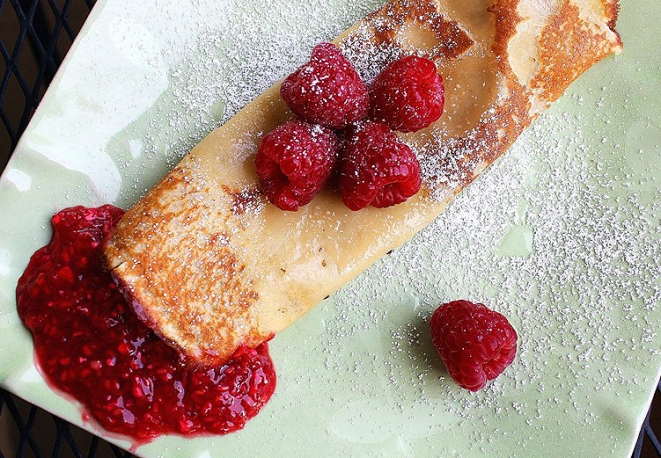 Vanilla Crêpes with Warm Raspberry Compote
Ingredients
Vanilla Crepes
1/2

cup

milk

1

egg yolk

2

teaspoons

vanilla extract

1/2

cup

all-purpose flour

2

teaspoons

sugar

1/8

teaspoon

salt

1

tablespoon

and 2 teaspoons melted butter
Warm Raspberry Compote
3

cups

ripe raspberries

rinsed

1/2

cup

sugar

1

teaspoon

fresh lemon juice
Instructions
Vanilla Crepes

In a large bowl, mix together the milk, egg yolk and vanilla. Sift together the flour, sugar and salt into the bowl. Add the melted butter and stir until well blended.

Heat a round, smooth 9-inch pan over medium heat until hot. Coat lightly with cooking spray. Pour 1/3 cup of batter into the pan, lift up the pan from the heat and tip to spread the batter to the edges; return to heat. When bubbles form on the top and the edges are dry, flip over with a wide spatula and cook until lightly browned on the other side and edges are golden. Repeat with remaining batter.

Place crepe on a plate, fill with ¼ cup raspberry compote, dust with powdered sugar (optional), and serve immediately.

Raspberry Compote

In a saucepan, combine the berries, sugar, and lemon juice. Over medium heat, bring to a simmer, stirring frequently until the sugar dissolves and the berries give up their juices. 

Continue simmering, stirring occasionally, until the juices thicken to a syrupy consistency, about 5 minutes. Remove from the heat. Serve warm with crepes, ice cream, breakfast oatmeal, etc., or cool to room temperature, cover and refrigerate.