At least three times a week, I like to put my and my husband's taste buds to the test at the dinner table and introduce a new dish. It's fun to incorporate something new into our nightly meal together because, like everyone, I've been in a rut before where I fell back on cooking the same seven dishes over and over again. So, I try to keep things lively and fresh, but for every two dishes that send our palates over the moon with pleasure, there's always one that is deemed simply "interesting" and vowed to never be tried again.
Instead of acting disappointed when the new food is a total flop, though, I look at it as an opportunity to go back to the recipes I know by heart and try to improve them even more. This incredibly tasty, three-bean beef chili is one of those recipes. Even though I couldn't tell you where the recipe originated or why the leftovers magically vanish the day after it's made, I can tell you that I've been making it every few months for about six years, and a lot of people have gone back for seconds and thirds.
The three beans – dark and light kidney beans, and white beans – and tender ground beef give the chili a hearty texture and flavor, and the fresh California vegetables and herbs – red and green bell peppers, jalapeno, onion, garlic, lime and cilantro – lighten up the flavors and combine to create this irresistible summer, and winter, favorite. Served with a side of oh-so-simple honey cornbread, this amazing chili is sure to be a hit for weeknight dinners, parties and backyard barbecues for you, too!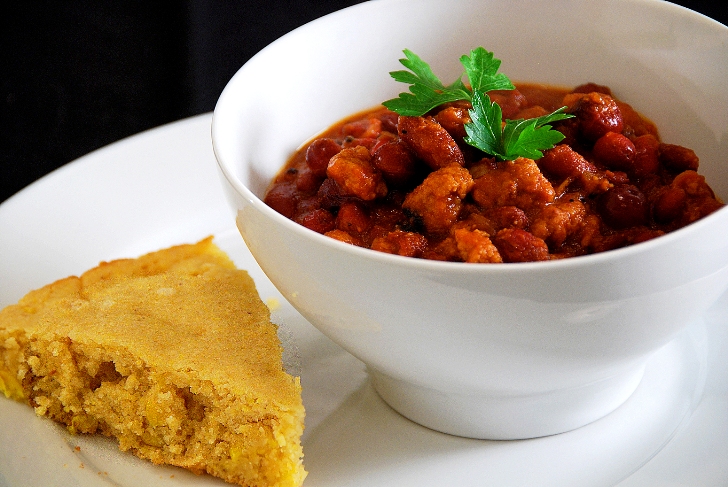 Three-Bean Beef Chili with Honey Cornbread
Ingredients
For the Chili:
2

teaspoons

olive oil

1

pound

ground beef

Salt & freshly ground pepper

to taste

2

tablespoons

ground cumin

2

tablespoons

chili powder

2

tablespoons

crushed red pepper flakes

1

tablespoon

paprika

2

teaspoons

dried oregano

1

green bell pepper

seeded and chopped

1

red bell pepper

seeded and chopped

1

large onion

chopped

4

cloves

garlic

minced

2

jalapeno peppers

seeded and finely chopped

1 28-

ounce

can diced tomatoes

8

sun-dried tomatoes

(not packed in oil), snipped into small pieces

2

bay leaves

1

can dark kidney beans

rinsed

1

can light kidney beans

rinsed

1

can white beans

rinsed

1/4

cup

chopped fresh cilantro

2

tablespoons

lime juice
For the Cornbread:
2/3

cup

sugar

3

tbsp.

honey

1/2

cup

melted butter

2

large eggs

1/2

tsp.

baking soda

1

cup

buttermilk

1/2

tsp.

salt

1

cup

yellow cornmeal

1

cup

flour
Instructions
For the Chili:
Heat 2 teaspoons olive oil in a large pot or Dutch oven over medium-high heat. Add the beef. Season beef with salt, pepper and seasonings, and cook, stirring occasionally, until browned, 2 to 5 minutes.

Reduce heat to medium and add bell peppers and onions; cook, stirring frequently, until onions are golden brown, 8-10 minutes. Add garlic, jalapenos, and more seasonings, as desired. Stir until aromatic, about 2 minutes.

Add diced tomatoes, sun-dried tomatoes and bay leaves. Cover and simmer, stirring occasionally, for 15 minutes.

Add beans; cook, covered, stirring occasionally, until chili has thickened, 30 to 45 minutes. Stir in cilantro and lime juice. Adjust seasoning with salt, pepper and other seasoning and spices, as desired.

Top with sour cream, chopped scallions, and cheddar cheese (optional).
For the Cornbread:
Preheat the oven to 375 degrees.

In a medium bowl, stir sugar, honey and butter together. Whisk in eggs. Whisk in baking soda and buttermilk. Add salt, cornmeal, and flour. Do not overmix. As soon as the flour disappears, stop mixing.

Add batter to a greased 8-inch baking dish and smooth out the batter. Bake for about 35 minutes, or until top is golden brown. Prick the center with a toothpick and make sure it comes out clean. If not clean, bake for about 5 more minutes.

Enjoy!