Today has been a lazy day. Mark and I saw an early movie for $7 (can you remember when a regular movie only cost $7 – or less? I miss those days), and after stopping for some lunch, we came right home and put our pajamas back on. Ah, pajamas at 3 in the afternoon. Can you think of anything more luxurious?
It's days like this where I just want something easy for dinner. Something I already have all the ingredients for and can whip up and throw in the oven, and something that will make my home smell like I've been cooking all day. Some days, it's fun to test yourself with preparing a complicated meal, and the stress of wondering whether it will turn out well is welcomed (For those days, we always have a frozen pizza on standby, just in case). But, like today – a Sunday – I'd like to just stay in my pajamas and spend more time relaxing than in the kitchen, thank you very much.
Well, here's some good news: You, too, can do both and still have a delicious, hearty dinner that will make your home smell so good you'll count the seconds 'til the timer dings.
This roasted chicken recipe is one of the simplest in my stash, and not only can it be prepared in under fifteen minutes (yes, really), but it is so, so good and makes for even better leftovers. The chicken is incredibly tender and flavorful, and the grape tomatoes make a fresh and juicy accompaniment that also saves you the trouble of preparing a vegetable side dish! Tear off a few hunks of warm crusty bread, pour yourself a glass of wine, and dig in. With time to spare, this delicious dinner is served!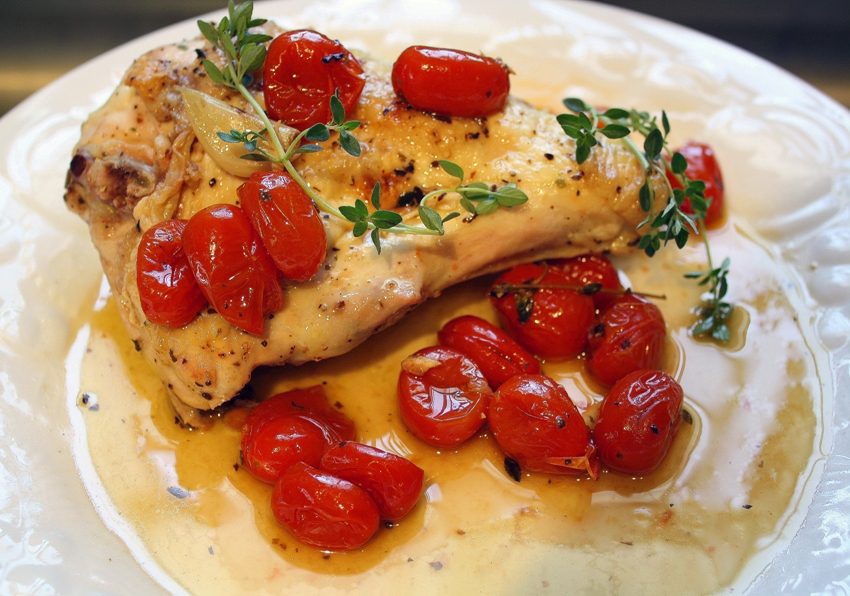 Quick Lemon Chicken with Garlic and Tomatoes
Ingredients
1

lemon

2

pints

grape tomatoes

1

head garlic

cloves separated

8

sprigs fresh thyme

2

tablespoons

olive oil

2

bone-in chicken breasts

or various chicken parts

coarse salt and black pepper

1/2

cup

dry white wine

1

small loaf crusty bread

warmed (optional)
Instructions
Heat oven to 425° F. Zest lemon and set aside.

In a large roasting pan covered with aluminum foil, toss the tomatoes, garlic, thyme, and lemon zest with 1 tablespoon of the oil.

Nestle the chicken, skin-side up, among the vegetables and drizzle with the remaining tablespoon of oil. Season the chicken and vegetables with salt and pepper. Roast until the chicken is cooked through, 35 to 40 minutes.

Remove the chicken from the hot roasting pan. Squeeze the juice from the lemon into the roasting pan and add the wine. Gently stir. Serve the chicken and vegetables with the pan juices and bread (if using).

Enjoy!