When I was first learning to cook, I was hesitant about calling my mother for instructions. Thinking back, I still don't know why. But while I was crossing my fingers that a simple pasta dinner would turn out well and I'd impress my new boyfriend (now husband), he was on the phone with his mother jotting down the specifics of her most delicious dishes – a classic Italian meatloaf being one of them.
I never got my hand on my mom's recipe – possibly because I was too skittish to ask – but once I got my mother in law's bacon-topped meatloaf down, I made it at least once a month every month for quite a while. Then, I never made it again – for quite a while. It's not like the loaf wasn't loved… I guess I was just too busy trying other things!
Well, after digging through some old recipes a few months ago, I came across the recipe for meatloaf. I got to work mixing, mashing and molding it, and our love of the 50's-era classic dish was born again! But this time, it was mini.
And what's better than a mini meatloaf? I've never been a big fan of the big slab o' meat, and not only does this one taste wonderful, but it looks ten times cuter on your plate, makes meatloaf sandwiches easier to assemble, and the smaller portions are better for kids and those watching their wasteline!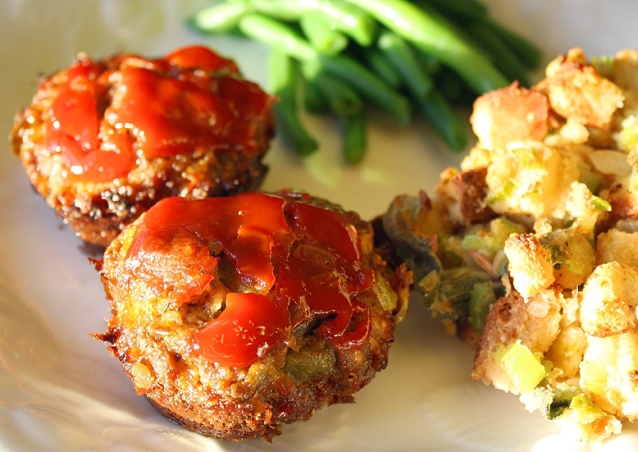 Mini Meatloaves
Ingredients
1

tablespoon

olive oil

1

cup

chopped yellow onion

1

cup

chopped green pepper

1

teaspoon

chopped fresh thyme

1

teaspoon

salt

1

teaspoon

freshly ground black pepper

2

tablespoons

Worcestershire sauce

1

tablespoon

tomato paste

1.5

pounds

ground beef

1/2

cup

plain dry bread crumbs

2

large eggs

beaten

1/2

cup

ketchup
Instructions
Preheat the oven to 350 degrees.

Heat the olive oil in a medium saute pan. Add the onions, green pepper, thyme, salt, and pepper and cook over medium-low heat, stirring occasionally, for 8 to 10 minutes, until the onions are translucent but not brown.

Remove the pan from the heat, and add the Worcestershire sauce and tomato paste. Allow to cool slightly.

In a large bowl, combine the ground beef, onion and green pepper mixture, bread crumbs, and eggs, and mix by hand until the ingredients are well distributed.

Place foil liners into a 12-cup muffin pan and shape individual portions of meatloaf to fit each muffin cup. Spread about a tablespoon of ketchup on the top of each portion.

Bake for 40 to 45 minutes, until the internal temperature is 155-160 degrees and the meatloaves are cooked through. Serve hot.

Enjoy!