Five days per week, my husband eats the same breakfast again and again. Well, okay, it's not exactly the same if you count different flavors of the same thing as "variety." But still, whether apples or cinnamon or maple-flavored, it's oatmeal. Every single day. And, as a wife who works from home and has the option to eat a breakfast of ice cream sandwiches on Monday and a whole basket of fresh fruit on Tuesday, I feel pretty awful about this.
So, as much as he says he's fine, I've been thinking of ways to kick his Monday-through-Friday oatmeal habit and introduce something a little more yummy, and a whole lotta homemade. Enough of this just-add-water junk.
These fluffy, flavorful little muffins full of hearty sausage, bell peppers, sweet onions, and gooey cheddar cheese were my first idea, and are, so far, his favorite. They are incredibly tasty and can be easily frozen and reheated for breakfast at the office, or as a quick bite for breakfast on-the-go. You can even leave out the sausage, or replace it with ham, turkey, or bacon, and these would still be delicious!
While Mark may have been getting a decent breakfast from his oatmeal packets, nothing quite compares to enjoying your morning joe with a muffin made from fresh, filling ingredients. Now that's sure to put a smile on your face!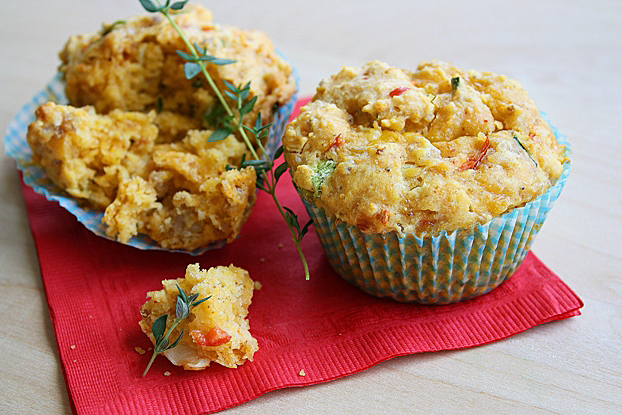 Savory Breakfast Muffins
Ingredients
12-14 oz. raw breakfast sausage

1 tsp. chili powder

½ tsp. salt

½ tsp. pepper

2 cups Bisquick

1 cup cornmeal

3 large eggs

1/4 tsp. garlic powder

1 3/4 cups milk

1/4 cup chopped green bell pepper

1/2 cup minced onion

1 1/2 cups shredded cheddar cheese

3 tbsp. fresh thyme leaves

finely chopped
Instructions
Preheat oven to 375 degrees F.

Line one medium-sized-cup muffin tin with paper liners, spray each liner with a little cooking spray, and set aside. Saute sausage with chili powder, salt, and pepper, crumbling the sausage with a metal spoon as it cooks. Drain excess grease with a wad of paper towels or into an empty aluminium can.

Mix together bisquick, cornmeal, eggs, garlic powder and milk. Add sausage, peppers, onions and cheese. Stir well. Add thyme. Add salt and pepper to your taste. Ladle the filling into the prepared muffin tins, filling almost to the top.

Bake for 12-15 minutes. Allow to cool completely.

Enjoy!
Notes
- Two cups of Bisquick can be substituted by a mix of 2 cups flour, 3 tsp. baking powder, 1 tsp. salt, and 2 tbsp. oil or melted butter.
- Store in the freezer in a large, airtight container or a large Ziploc bag.
- To reheat from frozen, microwave on high for approximately 90 seconds.