One of the things I most look forward to every Sunday night – other than watching our recorded episode of The Soup – is thinking about what to make for dinner in the coming week. I try to keep the dishes reasonably-sized, seeing as Mark and I are only a tiny two-some, but whatever ends up on the stovetop inevitably ends up feeding a good six to seven people.
Case in point: This chicken.
I don't think I've ever tasted such a delicious roast chicken, and I mean it. In making this recipe, I found out that the secret to crispy skin is slipping the butter UNDER the skin, as well as above, and roasting the bird at high heat. This also helps the meat underneath the skin become ten times more flavorful (Don't you hate when the skin is full of flavor but the meat is lacking? Problem solved!)
Along with the sweet honey glaze, the lemon-tarragon butter coating all corners of the chicken is a combination that will make your mouth water. And of course, the garlic cloves and whole lemon halves stuffed inside are indescribably aromatic. Actually… I think I have to go see if there are any more leftovers!
I know you'll enjoy this recipe so much. The preparation and cooking are both much more simple than they may look – Just plan ahead and make sure you have a little over an hour to devote to making this bird the best it can be!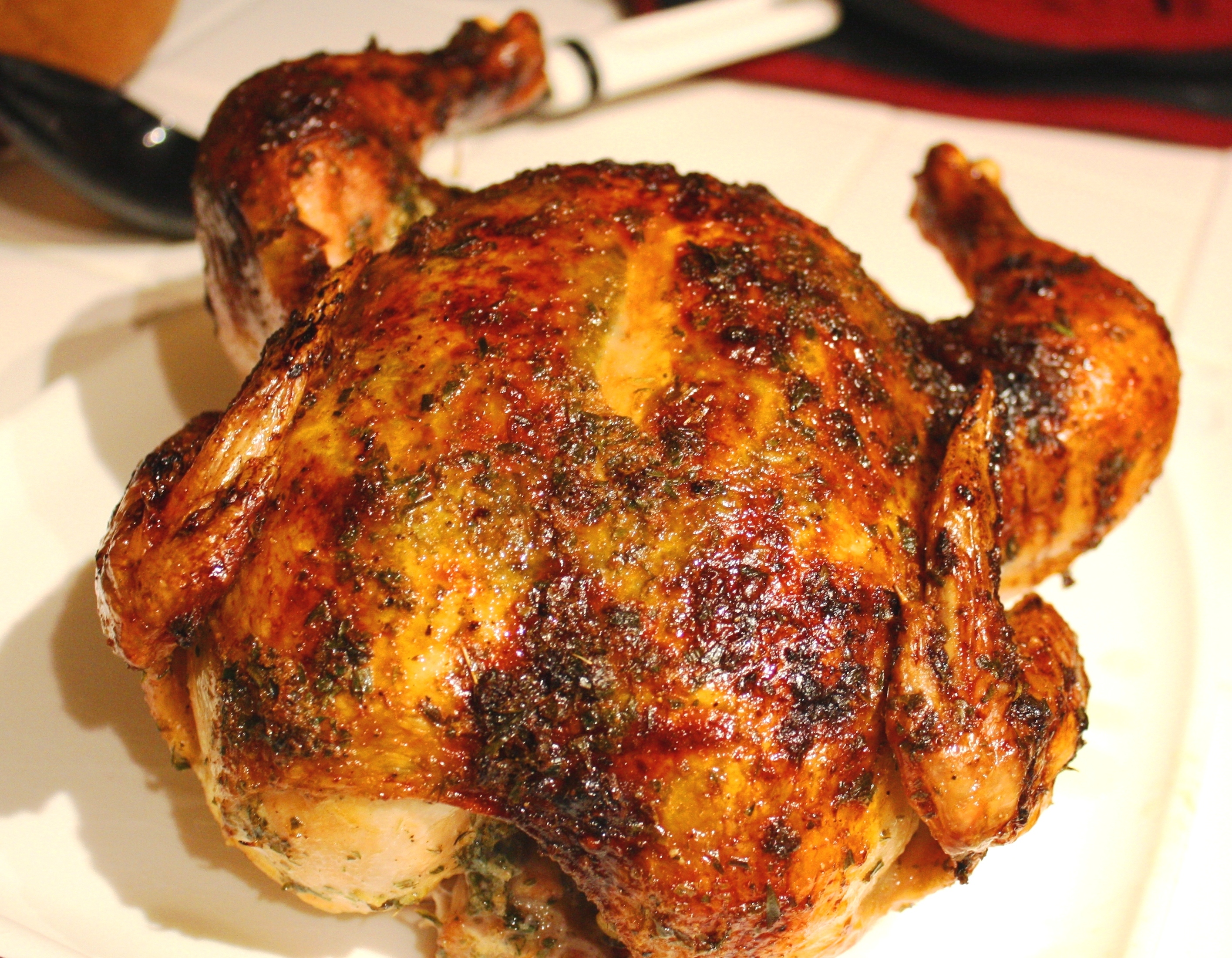 Honey Roasted Chicken with Lemon-Tarragon Butter
Ingredients
2

lemons

2

tablespoons

unsalted butter

softened

2

tablespoons

finely chopped fresh tarragon

3/4

teaspoon

salt

1/2

teaspoon

black pepper

1

3 1/2-lb chicken, rinsed and patted dry

1

head garlic

left unpeeled and halved horizontally

1/4

cup

honey

1

tablespoon

olive oil
Instructions
Put oven rack in middle position and preheat to 425°F.

Finely grate enough zest from 1 lemon to measure 1 tablespoon, then squeeze enough juice from same lemon to measure 2 tablespoons. Stir together butter, tarragon, zest, 1/2 teaspoon salt, and pepper.

Put chicken, breast side up, in a small roasting pan. Starting from neck, work your fingers gently between skin and flesh of breast to loosen skin all the way to thighs without tearing. Put one fourth of tarragon butter under skin of each breast, then rub skin from outside to spread evenly.

Starting from large cavity, loosen skin on both sides of cavity with a paring knife (to provide access to thighs), then work your fingers gently between skin and flesh of thighs and drumsticks. Divide remaining tarragon butter among thighs and drumsticks, rubbing skin from outside to spread evenly. Season cavity and skin with salt and pepper, then halve remaining lemon and put inside cavity along with garlic.

Whisk together honey, lemon juice, oil, and remaining 1/4 teaspoon salt. Roast chicken 30 minutes, then brush pan juices and half of honey mixture over chicken and roast 10 minutes more. Brush chicken again with pan juices and remaining honey mixture and continue to roast until thermometer inserted in fleshy part of a thigh (do not touch bone) registers 170°F, about 20 minutes more.

Transfer chicken to a cutting board and let stand 10 to 15 minutes before carving. Skim fat from pan juices and serve juices with chicken.

Enjoy!