A week before our recent dinner party, I was flipping through magazines, blogs, and recipe books trying to find a perfectly elegant but easy appetizer. It couldn't be too filling because dinner would be a hearty stuffed pork loin, and it couldn't be too light because I was only planning on setting out two trays of appetizers before dinner. Which, to be honest, is very few compared to how many appetizers I wanted to make (Two guests? Well, the logical idea would be to make six appetizers!). I'm working on that.
I eventually decided that, because Mark and I were preparing a few dishes we were unfamiliar with already, it would be best to stick with what we know for a few others. This is a lesson I can't stress enough, especially when you're feeding a crowd. If you're going to try a new recipe, always practice it first, but remember to make a few tried-and-true foods that you feel confident with. Your guests won't care – They don't eat your cooking every day. Ok, nag over.
Simply stated, these crostini are flavorful, elegant, and can be whipped up in a flash. This is my favorite recipe, but here are some more inspiring ideas. Have fun with it, and remember, your guests are more likely to remember how it tasted than what it looked like!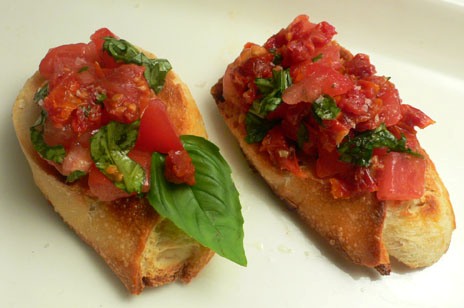 Tomato Basil Crostini
Ingredients
1

cup

chopped plum tomato

2

tbsp.

chopped fresh basil

2

tbsp.

chopped green or black olives

1

tsp.

balsamic vinegar

1

tsp.

olive oil

1

tsp.

sea salt

1

tsp.

freshly ground black pepper

2

garlic cloves

minced

15-20

1-inch-thick diagonally-cut slices French bread baguette

2

garlic cloves

halved
Instructions
Preheat oven to 375 degrees.

In a medium-sized bowl, combine tomato, basil, olives, capers, balsamic vinegar, oil, salt, pepper, and minced garlic.

Lightly coat both sides of bread slices with cooking spray; arrange bread slices in a single layer on a baking sheet. Bake at 375 degrees for 3 minutes on each side, or until lightly toasted.

Rub 1 side of bread slices with halved garlic. Top evenly with tomato mixture and serve.

Enjoy!