Knowing a little more about what we eat and where it came from not only enriches your mind but helps you make smarter choices. That's why, when you cook, it's fun to be able to choose what you put into your food and create it with your own two hands. You know every herb and spice, every lump of butter, every scoop of flour that came together to create what you're eating, and you have the satisfaction of knowing where your food came from!
This was the first focaccia I ever made, and it has already played numerous roles in our meals. It's served as bread for sandwiches, as a side dish to a meaty stew, and as a snack when dipped in olive oil or tomato sauce. Even easier than baking a standard sandwich bread, but ten times more tasty and elegant for every day eating.
I hope you'll give it a try, let me know how it turns out, and as always, have some fun with it (add your own spices, cheese, or top with sauteed vegetables for extra flavor)!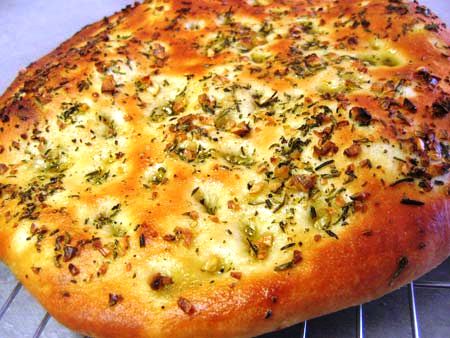 Rosemary Focaccia Bread
Ingredients
For the foccacia:
1

package (1/4 oz.) active dry yeast

(found in any grocery store, usually in three-packs)

1

cup

warm water

2

tbsp.

sugar

3 ½

cups

flour

1

tbsp.

coarse salt

¼

cup

olive oil

extra-virgin or flavored, such as basil

Cornmeal, for dusting
For the toppings:
2

tbsp.

olive oil

1

small onion

diced

2

garlic cloves

minced

¼

cup

shredded parmesan cheese

1

tbsp.

coarse salt

1

tbsp.

freshly ground black pepper

2

tbsp.

fresh rosemary
Instructions
In a large bowl, combine yeast with warm water and sugar. Stir gently to dissolve. Let stand 3 minutes until foam appears. Slowly add the flour to the bowl. Dissolve salt in 2 tbsp. of water and add it to the mixture. Pour in 1/4 cup olive oil. When the dough starts to come together, mix with your hands until the dough is smooth and elastic, adding flour as necessary.

Turn the dough out onto a work surface and fold it over a few times. Form the dough into a round. Spread a layer of olive oil inside the mixing bowl with your hands, and place the dough inside. Turn to coat the entire ball with oil. Cover with plastic wrap or damp towel and let rise in a warm place until doubled in size, about 30 minutes.

Coat a sheet pan with a little olive oil and corn meal. Once the dough is doubled in size, place it on a work surface. Roll and stretch the dough into a rectangular shape about 1/2-inch thick. Lay the flattened dough on the pan and cover with plastic wrap.

In the meantime, heat 1 tbsp. oil in a small saute pan. Add the onion and cook over low heat for 10 minutes until the onions caramelize.

Preheat oven to 400 degrees. Uncover the dough and dimple with your fingertips. Brush the surface with more olive oil and then add caramelized onions, garlic, cheese, salt, pepper, and rosemary. Bake on the bottom rack for 15 to 20 minutes. Let cool about one hour before slicing.

Enjoy!