There we were, thirty-dollar beef tenderloin in hand at the grocery store, excited by the idea of presenting our Valentine's Day dinner guests with a juicy, tender cut of steak, but completely clueless about how to cook it and frankly, suffering a bit of sticker shock.
Naturally, we called Mark's mother then and there, begging for advice. It was plain and simple: Make a pork tenderloin instead. Pork is more quickly and uniformly cooked, you have plenty of options for dressing it up, and it's cheaper by about $25. Sold!
I started looking up recipes right away, and though the only meat I've ever stuffed involved skittishly throwing herbs and garlic into the butt of a chicken, I was intrigued by the possibility of stuffing a pork loin. I was nervous about how it would turn out, but, being armed with a fantastic stuffing recipe and a man who seemed to innately know how to butterfly a pork loin, we were off to a good start.
The end result was a delicious, moist tenderloin bursting with plump berries, herbs and fluffy stuffing, complimented by roasted potatoes, asparagus, and a glass of chardonnay. Easy on your nerves ("stuffing" the meat is not a stressful process), kitchen (little cleanup), and wallet (cheaper than a half tank of gas)!
If you just follow these simple steps, you won't be disappointed.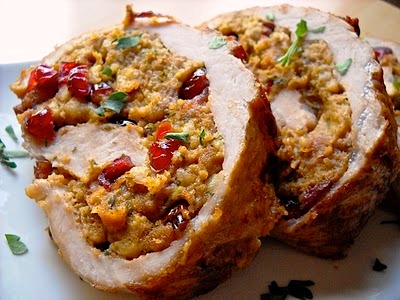 Cranberry-Walnut Stuffed Pork Tenderloin
Ingredients
1.5 to 2

lb.

boneless pork tenderloin

2

tbsp.

extra-virgin olive oil

1

batch homemade Old Fashioned Bread Stuffing
Instructions
Prepare my recipe for Old Fashioned Bread Stuffing, or cook prepared stuffing mix as directed on package, then add 1 cup dried cranberries and 1 cup chopped walnuts. Set aside.

"Butterfly" the pork loin in preparation for stuffing and rolling. Butterflying means cutting it so that the loin lays out flat in a rectangle instead of being in its usual cylindrical shape.

Here is a website

with excellent photos and instructions.

Preheat oven to 350 degrees. Spread the stuffing all over the inside of the pork loin.

Roll the pork loin and its contents all the way up. Secure the opening either with a long skewer (thread it along the edge like a needle) or tie it up tightly using kitchen string.

Heat a skillet with 2 tbsp. of olive oil on medium/high heat. When the oil is very hot, sear the pork loin on all sides until it is brown and crispy. Transfer the seared pork loin to a baking sheet and finish baking until the internal temperature reaches 160 degrees (about 45 min).

When the stuffed loin is out of the oven, let it rest 10 minutes before slicing to allow the juices to redistribute into the meat. Slice the roll into 1-inch thick servings.

Enjoy!