Stuffed mushrooms are one of those bite-sized wonders that you just can't afford NOT to make for a party or casual get-together. Everyone will love them. And I mean everyone as in, no matter how many people you have over and mushrooms you plan to make, you'll probably have to make many more. I challenge that even the guest who detests mushrooms could fall in love with a fungus plump with this buttery bread crumb and creamy crab mixture with a kick of subtle spice. People, these are so damn good.
Wait. Did I ruin it for you with the "fungus" remark? Let's hope not.
You and whoever else has the pleasure of eating them, are going to love these. I'd even say you could skip the crabmeat and make this a veggie-friendly dish. It's guaranteed to be just as delicious!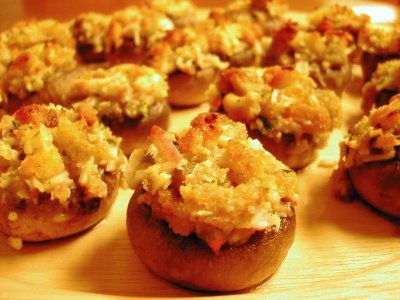 Crab-Stuffed Mushrooms
Ingredients
20

white stuffing mushrooms

1

cup

crabmeat

optional

1/2

cup

cream cheese

softened

1/2

cup

fresh parsley leaves

chopped

1/2

cup

green onions

chopped

4

tbsp.

grated parmesan cheese

1/2

cup

bread crumbs

1

tsp.

salt

1

tsp.

freshly ground pepper

1

tsp.

garlic powder

1

tsp.

red pepper flakes
Instructions
Preheat oven to 375 degrees.

Spray a large baking sheet lightly with nonstick cooking spray. Rinse and de-stem the mushrooms, and set on the baking sheet.

In a medium-sized bowl, combine crabmeat, cream cheese, parsley, green onions and parmesan, and bread crumbs. Season with salt, fresh pepper, garlic powder and red pepper flakes. Stuff the mushroom caps with the mixture and top each with a pinch of parmesan cheese.

Bake for about 20 minutes, or until the filling is hot and melted.

Enjoy!