For some reason, asparagus was a vegetable I was never introduced to as a kid. Sure, we had plenty of corn, broccoli and potatoes, but as far as I can remember, the long, lanky vegetable never made it into my mother's kitchen, and because I grew up not knowing what it tasted like, I was very hesitant but always just a little curious.
It wasn't until sometime in my twenties, after I had met a man with a much more extensive palate than my own, that I discovered asparagus and the ongoing disagreement between him and his sister about which were better… the "tops" or the "bottoms." Being a "tops" man, my husband managed to convince me that they were the best (though still, it's debatable), and since I was introduced I've been sneaking the spindly things into weeknight meals that call for something a little different than corn and potatoes. That, and it always makes for good dinner debate.
Since making this sauce for our dinner party last week, though, I've found a whole new way to enjoy asparagus: SUBMERGED in rich, utterly heavenly, creamy cheesy-ness. How else would it have tasted so good?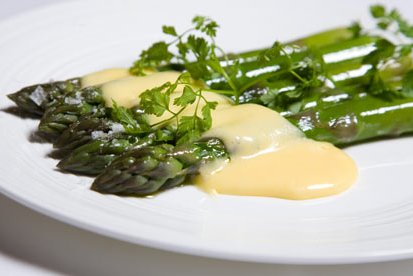 Asparagus with Parmesan & Gruyère Sauce
Ingredients
1

tbsp.

minced onion

1-1/2

tbsp.

butter

2

tbsp.

all-purpose flour

1-1/2

cups

milk

1/4

cup

grated gruyére cheese

1/4

cup

grated parmesan cheese

Salt and pepper

to taste
Instructions
In a large saucepan, cook onion in butter over moderately low heat, stirring until it is softened. Stir in the flour and whisk the roux for 3 minutes. Add the milk, whisking until the mixture is thick and smooth. Simmer the sauce for 10 minutes, or until it is thickened to the desired consistency.

In another large saucepan or tall pot, bring water to a boil for asparagus. Once boiling, add asparagus and boil for 8-10 minutes, or until it slightly droops when you lift it out of the water.

Strain the sauce into a bowl, add the gruyére, parmesan, and salt and pepper to taste. Stir the mixture until the cheeses are melted.

Strain the water from the asparagus, transfer to a serving bowl, or plates. Ladle the sauce over asparagus.

Enjoy!