Nothing says good down-home country cookin' like a pulled pork sandwich. Even if you live in a little city apartment like I do. No matter where you are, no matter the harsh winter weather, you can still get that "summer" feeling with a sweet and saucy sandwich like this.
We've – and I say "we" because I cannot solely take credit for this oh-so-simple and delicious recipe without mentioning my meatmaster extraordinaire husband – have made these tasty sandwiches for just the two of us and crowds of fifteen, and well, usually the dinner table is quite silent except for a few satisfied groans and thumbs-up. Just throw a dozen or so warmed-up buns onto the table, and the next time you turn around they'll be asking when you're going to make more.
The whole recipe is a simple as mixing up a sauce, pouring it in the slow cooker with some pork, and practically setting it and forgetting it.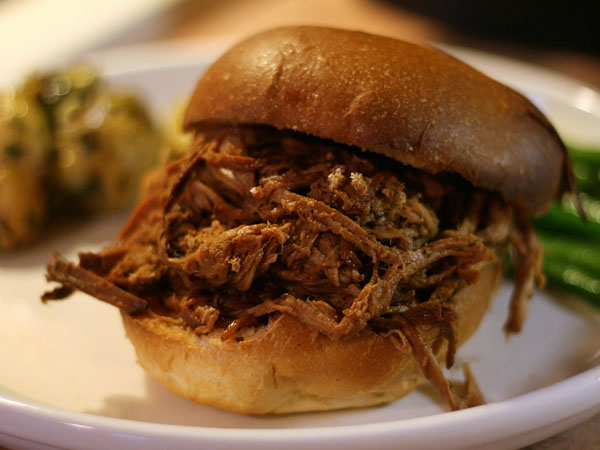 Slow-Cooked Pulled Pork Sandwiches
Ingredients
1

boneless pork shoulder

cut into 2-inch chunks

1

cup

chopped onion

2 14

oz.

bottles of BBQ sauce

1/2

cup

brown sugar

3

tbsp.

Worcestershire sauce

5

tbsp.

chili powder

4

tbsp.

garlic powder

2

tbsp.

salt

2

tbsp.

pepper

1

medium-sized heat-resistant jar or plastic container
Instructions
Place pork into your slow cooker and preheat to low or high, whatever your preference (see cooking times below). In a large bowl, combine chopped onion, BBQ sauce, brown sugar, Worcestershire sauce, and spices. Pour over pork and mix well, so that the pork is covered in the mixture. Cover and cook on low for 5-6 hours, or high for 3-4 hours. About every half hour, stir the pork with a large spoon. Once done cooking, transfer the pork chunks with tongs or a slotted spoon to a large cutting board. Drain the sauce by ladling it into a heat-resistant container, leaving about 1 inch of sauce remaining. Place the container in the freezer to harden the sauce and enable easy disposal.

Pull apart the chunks of pork with two forks, until flaky. Transfer the pulled pork back into the pot and mix with the remaining BBQ sauce. Taste and add more spices, if desired.

Serve on hamburger buns, or separated and halved dinner rolls for bite-sized sliders.

Enjoy!