These creamy, melt-in-your-mouth potatoes are super simple for weeknight sides! Just one pan and one hour is all you need. Cook a big batch for your holiday table, too, for an impressive and easy compliment to roasted meats and fresh fall vegetables.
This is a sponsored post written by me on behalf of Kraft. As always, all opinions are my own.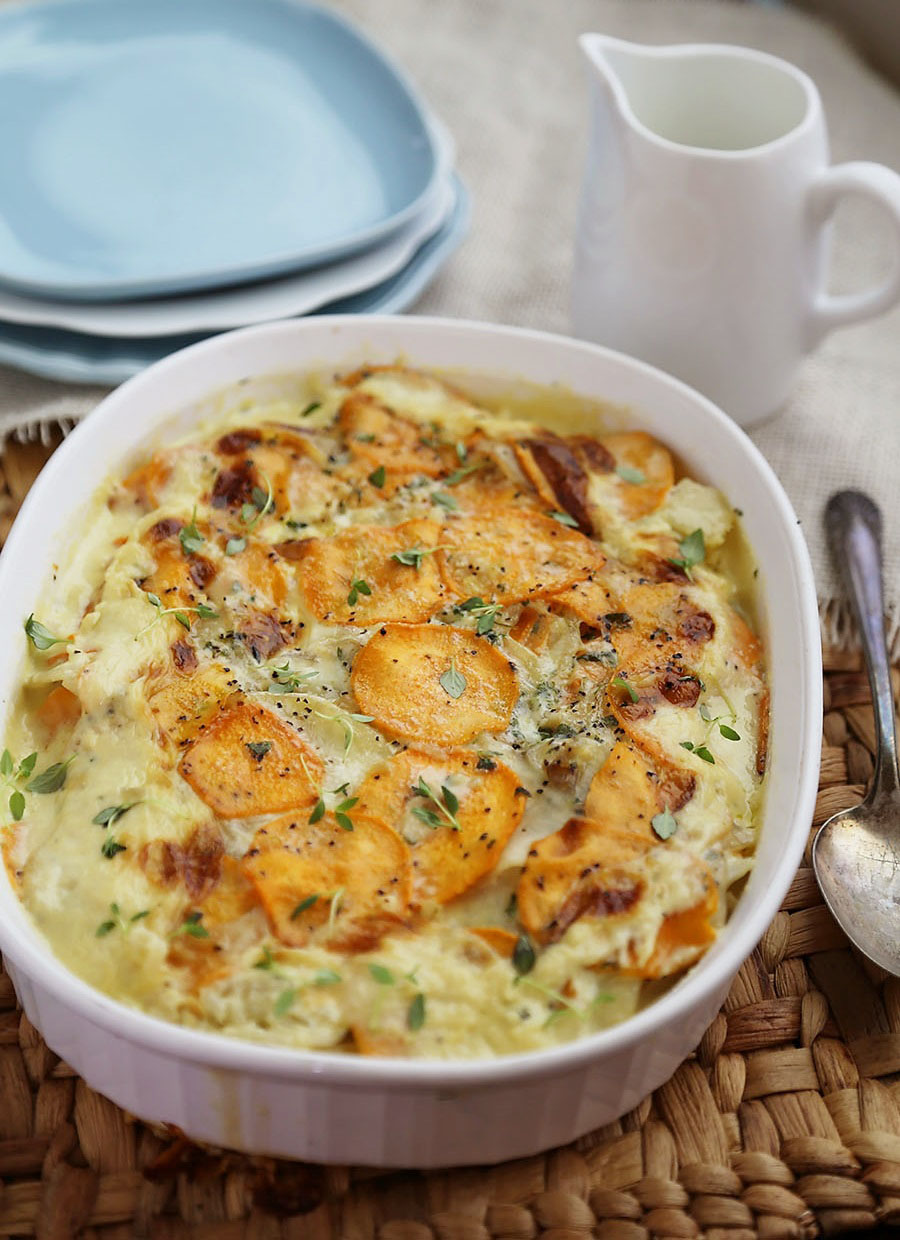 Thanksgiving, and fall cooking in general, is something I think about all year long. Case in point: My boyfriend and I began dating in the spring of 2014. After a couple of months, we were already planning our Thanksgiving menu, making lists, and coordinating sweet and savory dishes to cook for our family and friends. You could say it was love.
For both weeknights and holidays, this easy and delicious scalloped potato dish has been a longtime favorite side. It is rich and hearty, yet delicate and light tasting, with robust flavor from simple ingredients. It plays the perfect pair to roasted meats, chicken, fish and vegetables. Plus, cleanup is a breeze since you only need one pan! That is always a plus in my kitchen.


To make your own mouthwatering scalloped potatoes, grab a couple equal-sized sweet potatoes and russet potatoes. Since sweet potatoes are so delicate once baked, the russet potato helps add a little structure to this dish. It helps if your potatoes are of a similar diameter, to keep the slices around the same size, and hence, they will all cook evenly. None underdone or overdone. That's the key to a perfect layered potato dish!
Once you have sliced the potatoes thinly, toss them in a large bowl with shallots, garlic, thyme, salt, pepper and Kraft Grated Parmesan Cheese. This fluffy grated Parmesan has been a staple in my refrigerator for as long as I can remember. It has a perfectly airy texture and cheesy taste. I consider it the cherry on top of already delicious dinners and side dishes… it just makes them better! When I first learned to cook, I added it to practically every meal I made, and continue to use it on a weekly basis in casseroles, pasta dishes, and garlic knots. My toddler is more simple in her tastes – she loves a little bit of pasta and butter with her Parmesan!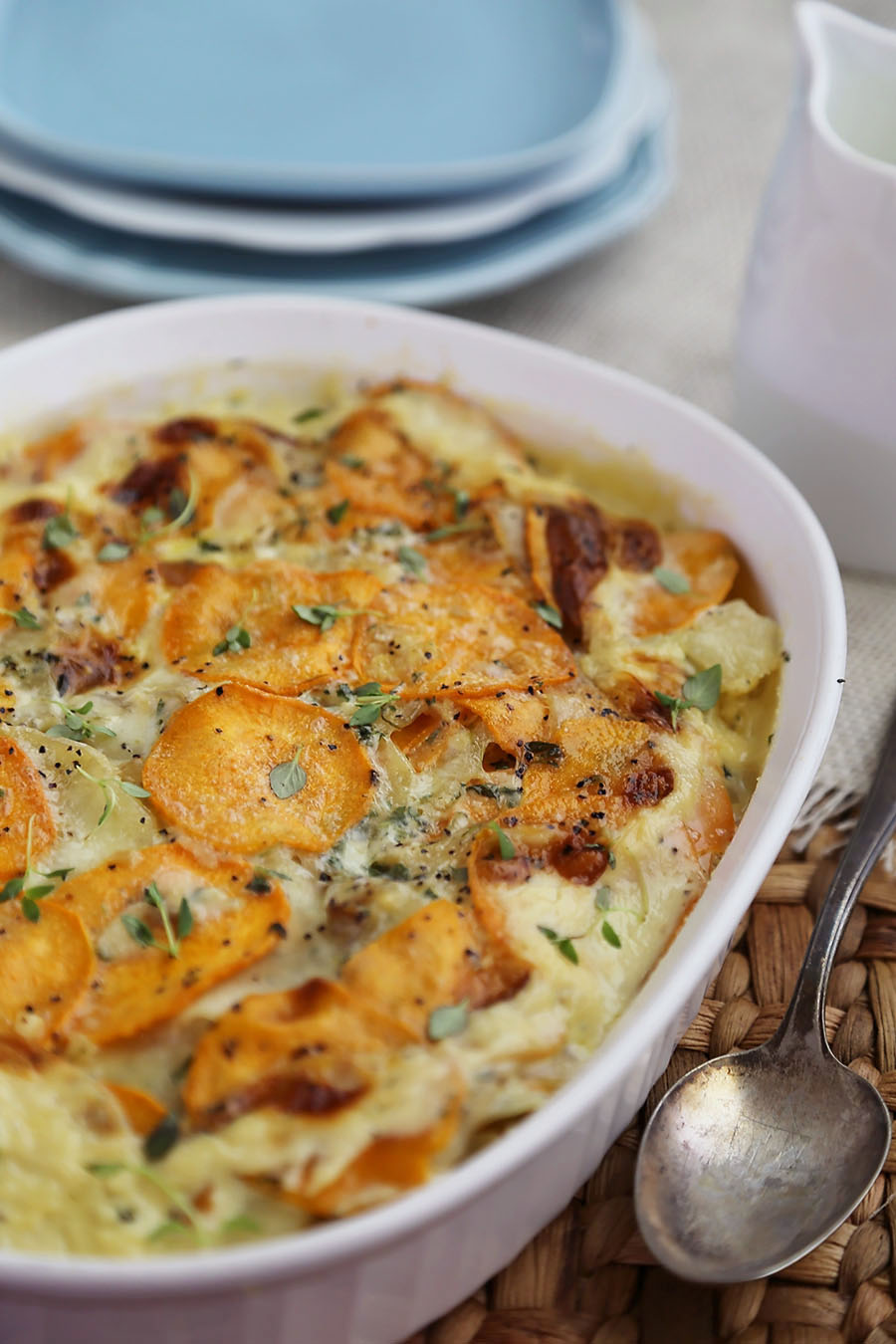 You won't be able to resist snagging seconds of this irresistibly good sweet potato dish! It is so simple to prepare that even your kids will enjoy getting in on the fun… minus the initial sharp potato cuts! Have them toss the potato slices in salt and pepper, layer them into the dish, and pour the cream over top. Let the baking process be a good lesson in patience! Once your potatoes are done, leave it to the adult to grab the dish out of the oven (it will be bubbly and HOT), but let your little ones sprinkle on the fresh thyme… and extra Parmesan, please!
I hope you enjoy this recipe for a quiet evening in, or as an accompaniment to a big holiday feast. I guarantee you will love it, and come back to this recipe again and again!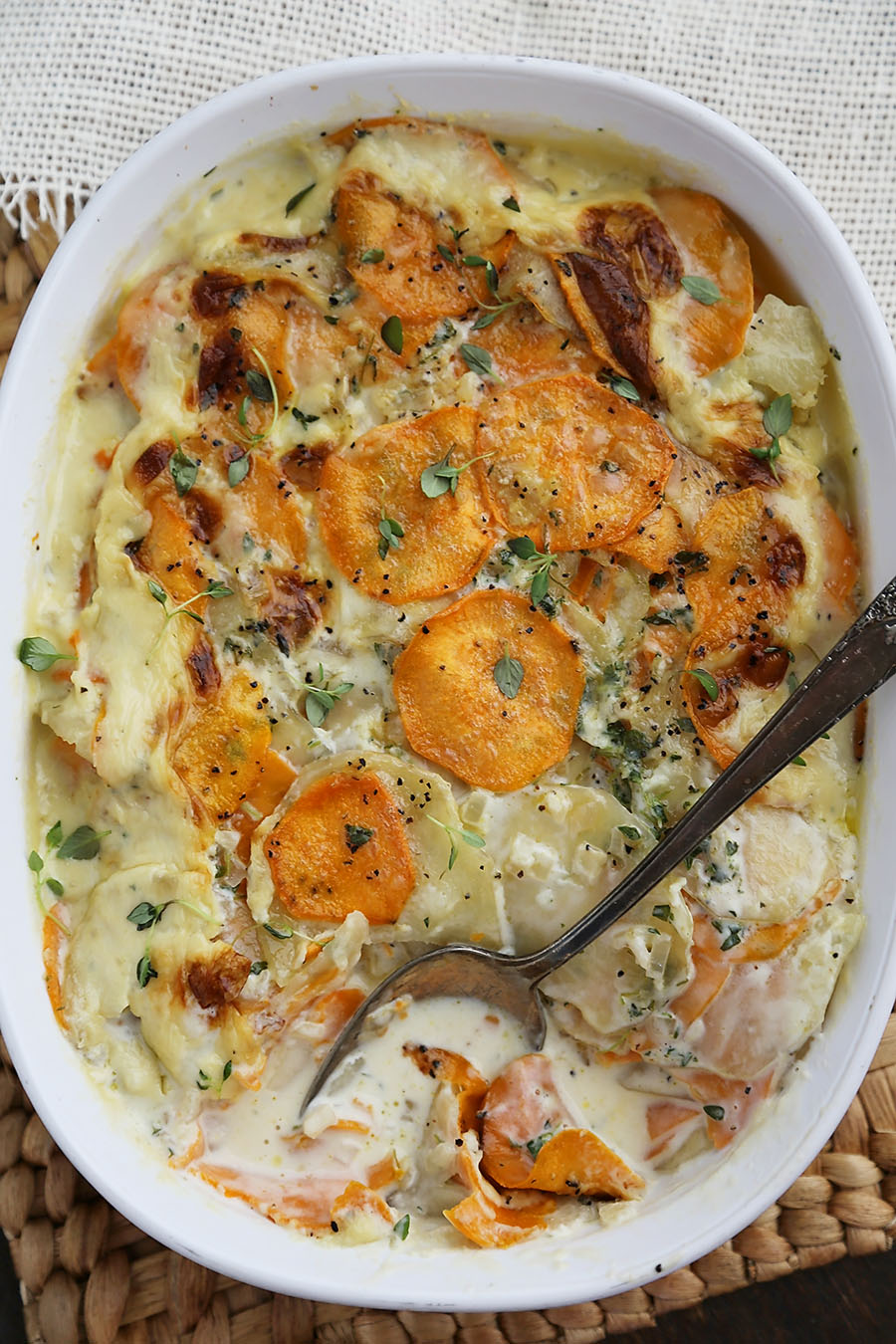 Click here for the full recipe: Parmesan Scalloped Sweet Potatoes with Thyme