Join me at the Fit Foodie 5K this weekend in Austin, Texas (Mueller Lake Park from June 12-14)! This ultimate celebration of fitness, food and fun will be filled with tasty eats and sips, cooking and fitness demonstrations, and a Sunday sweat session featuring yoga, pure barre, and a delicious brunch. Calories burned equals calories earned, after all. What's not to love?
The race is sponsored by Cooking Light & Health magazines, and a percentage of ticket and merchandise sales benefit The American Diabetes Association, a cause very close to my heart. I am so excited to be participating as a Fit Foodie Ambassador, and I hope you will join me there!
Wanna learn more? Keep reading for a 50% off discount code off admission to the race and events!
Here is what you can expect from this exciting Fit Foodie weekend:
Friday, June 12: VIP Cocktail Party
Indulge in delicious sips and bites while mixing and mingling with editors of Cooking Light and Health, and fellow Fit Foodies at the VIP Cocktail Party.
Saturday, June 13: Fit Foodie 5K and Finisher's Village
Will you run for food? Lace up your sneakers and hit the scenic 3.1-mile race before crossing the most delicious finish line ever! Enjoy food and beverage samples, as well as fitness and culinary demonstrations straight from the pages of Cooking Light and Health.
Sunday, June 14: Sunday Sweat Session and Brunch: Yoga and Pure Barre Presented by Fabletics
This one-hour workout is designed to offer an exciting fitness challenge that builds both outer and inner strength. After the morning workout, you are invited to toast their weekend successes and enjoy a brunch by a celebrity chef.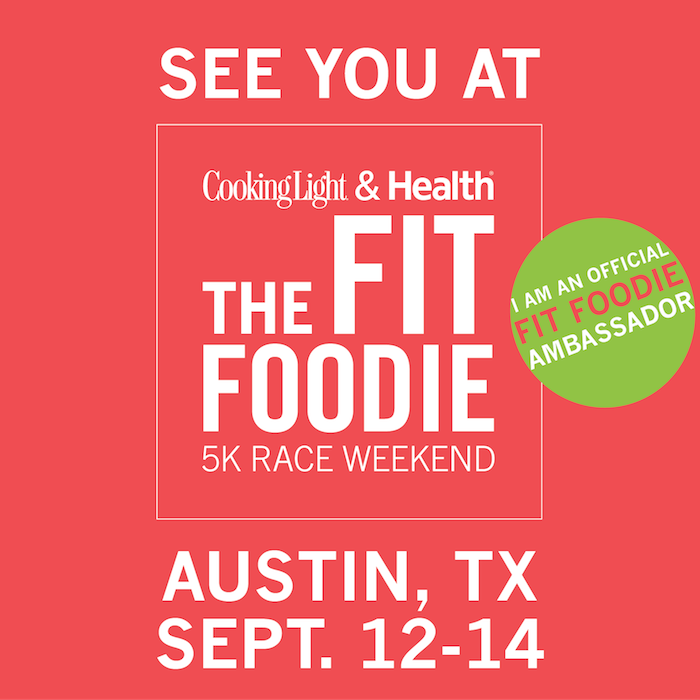 Register for separate days, or make a weekend out of it and attend all three events!
To save 50% off your registration, use the discount code COMFORTCOOKING. How is that for a good offer? You can't miss it!
You can register here and join me this weekend for running, eating and drinking… and soaking up a little Texas sun.
Hope to see you there!