Any day now, I'll be holding our baby girl.
There are no words to describe how happy/nervous/eager I'm feeling about it, but I'm preparing in every way as best I can. That includes sharing with you my plans for taking some time off. As much as I love what I do, I will need to step away soon and focus on my new family. For how long has been what I've struggled with deciding. But, I think I've come up with a pretty good plan.
Next Wednesday, May 21, will be my last post before maternity leave. After baby is born, I'll be back with an announcement. You can then expect 1-2 recipe posts per week, probably until late June, when I'll get back to more regular posting. I'll be popping in and out on social media, so feel free to follow me on Facebook, Twitter and Instagram for updates outside the blog. I can't tell you how much I appreciate your patience and understanding. Thank you for being such wonderful readers!
In the meantime, how about some fun stuff? Since it's a room I pace, prep and lounge around in quite often (omg, that comfy CHAIR), I wanted to share our nursery with you.
Come on in!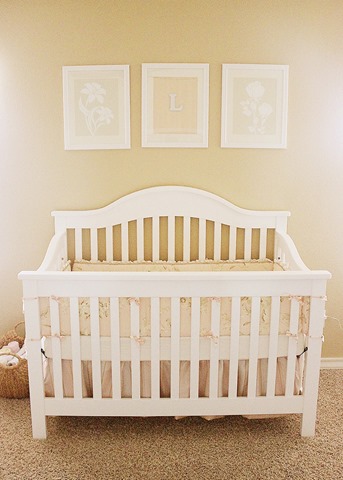 This room used to be our shared office – a big tangle of wires, cables and buzzing electronics. A little shuffling around, and the space has been swapped out for a calming, cozy oasis for baby.
Our crib and bedding have been sitting pretty since late winter. A bit anxious, maybe?
I still stare at it all the time.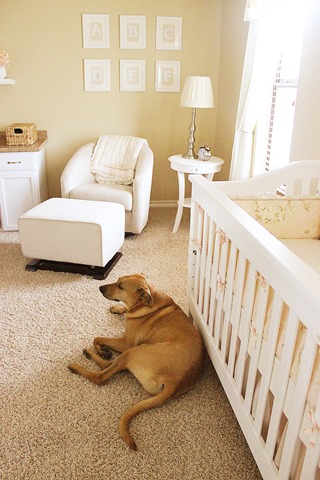 Our faithful pup has already started practicing his guard dog duties. What a good boy!
I purchased the frames from Michaels (such a steal) and measured matching fabric for the inside. Glued white-painted letters on top of that, and voila! A lil' art for little lady's walls.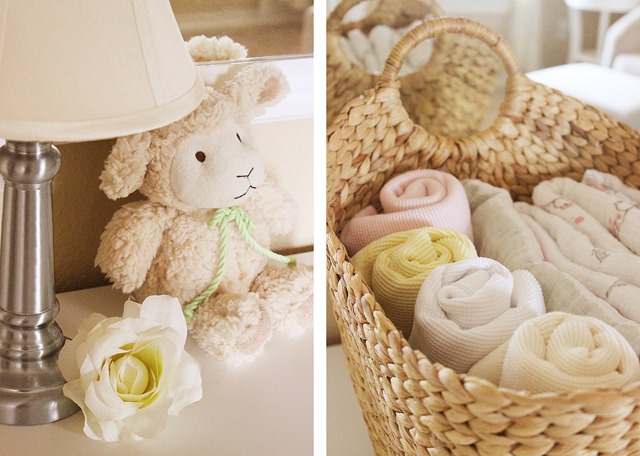 As you can see, there's no real theme going on here – I just wanted it to feel like a cozy, clean space for our sweet girl.
A soft lamb awaiting snuggles and a big basket of swaddle blankets ready for tucking up baby tight? Those are my idea of "decorations." No need for lots of fuss.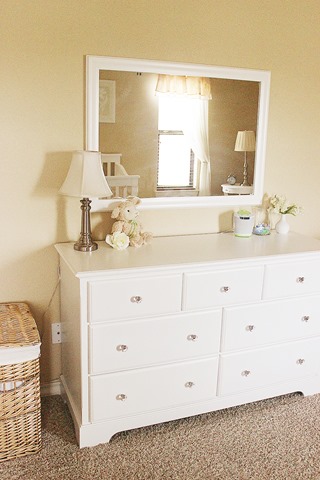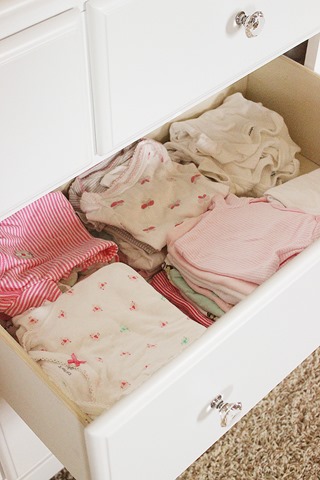 … Except when it comes to the clothes. The clothes. Sigh.
Her dresser is stuffed to the brim with pretty pink onesies, dresses, bows and headbands. It's a bit out of control. But really, can you blame us with the baby girl stuff? It's irresistible. Fortunately, though, I've accumulated most of it from friends' generous hand-me-downs and gifts.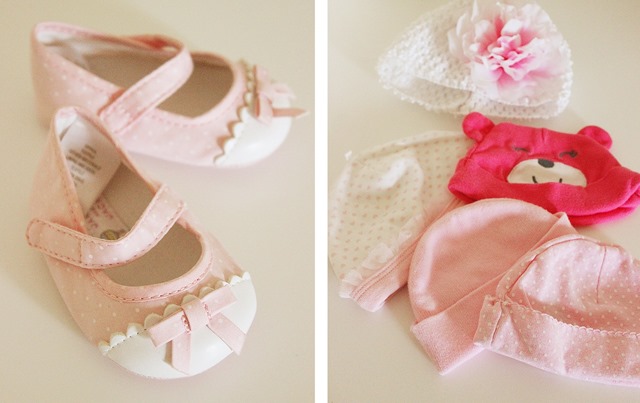 God help this girl if she wants to be a tomboy. I've got enough tiny bow shoes, frilly hats and flowery headbands to see her into teen-hood.
Or maybe that's just wishful thinking.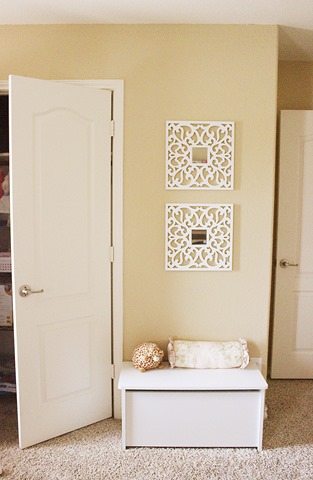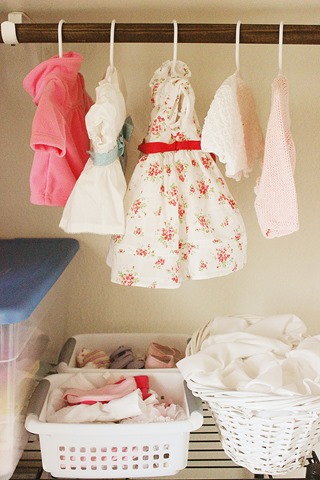 Let's take a step back, shall we? Right ahead of the door leading in you'll find the closet. To the side, a toy chest and a couple of frames that I added mirrors to. It doesn't have much yet, but I've organized the things we need in bins and baskets – blankets, hats, headbands, shoes, mittens, burp cloths have their place. Whether they'll remained organized is up for debate.
And, of course, a couple of cutesy dresses and hand-knit sweaters to swoon over. I think I'll keep them hung in there forever. She'll learn to love it.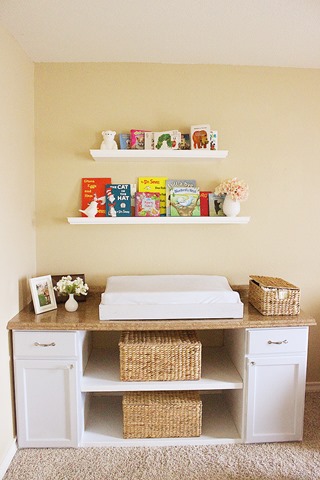 Remember how I said this used to be our office? Here's half the desk. We built it into a changing table, added a fresh coat of paint and a couple shelves inside. I love all the storage!
The changing pad and cover are super soft and comfy. Hubby built the wooden tray it rests on top of.
The wall shelves are topped with classic baby book favorites (lots of Seuss), all found at thrift stores for under $1 each. Gotta love a good deal!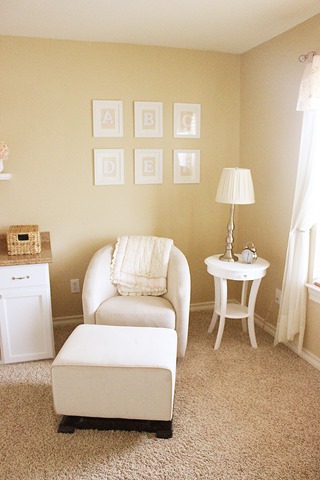 Some things are worth every stinkin' penny, though. That's this glider and ottoman. I wanted something that could still be functional (and cute) after we didn't need it for babies. I'd say it fits the bill! You melt right in, prop up your feet and suddenly it's a chore to get up. Might make nighttime feedings not so hard, after all!
Thanks for coming along for the tour, you guys! Also, if you haven't already noticed, there's a new Baby section of the site where I'll be adding all pregnancy- and baby-related posts.
See you on Monday with a delicious new recipe!