Happy Monday, friends! How was your weekend? I hope it was fab. Mine was a little slice of peach pie! Minus the pie, sadly… but, lovely nonetheless. Hubby and I celebrated our fourth wedding anniversary (and ten years together! Whhaaaa? I'm old) with a fancy pants dinner downtown and some muscle-melting massages at my favorite spa. We capped it off with drinks with friends, good music, and not a single item checked off our to-do list. Fabulous, indeed! You bet I'm refreshed and ready to tackle the week after 48 hours of fun and indulgences. Let me recap some of my favorites lately for you…
food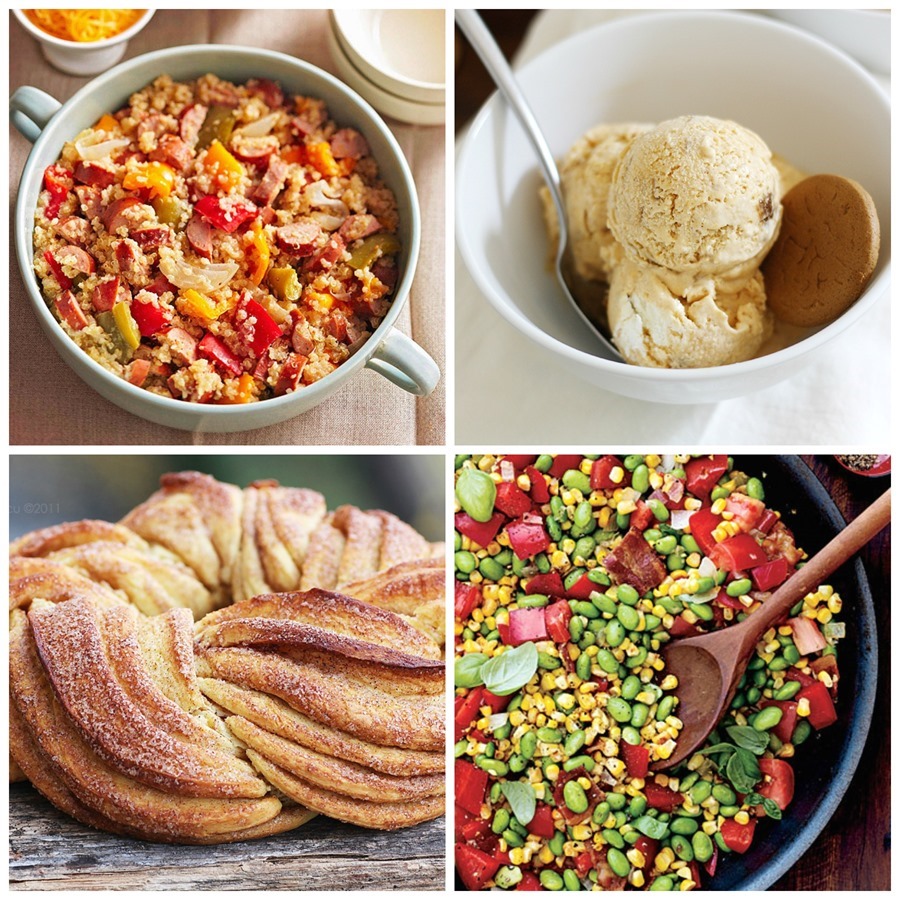 1. Um. These skinny slow cooker recipes look seriously delicious! I wanna dive right into #13 with double forks! Nom nom nom.
2. Pumpkin cheesecake gingersnap ice cream. Perfect for your simultaneous cozy-fall-weather pumpkin cravings and mega melting-from-this-heat feelings. Say goodbye to summer with a fall inspired treat!
3. I want to curl up and live inside this fluffy, doughy cinnamon-sugary pull apart bread. Join me?
4. Do you keep these top 20 ingredients to keep on hand for quick weeknight cooking? This article has lots of easy-peasy recipes, too!
goodies

1. Gorgeous, buttery soft Argentinian leather in a classic shape make this monogram tote bag a fall must-have. Hear that, hubby? Must. have.
2. This Italian olive oil with lots of unexpected flavors is amazing on my salads, roasts and even desserts! Plus, you can "adopt" your own olive tree and have the oil from that tree delivered to your door.
3. Yes! Yes, I would definitely eat this donut wrapping paper before tearing into a present covered in it. You can't stop me…
4. Feeling the "love" with this vintage gold wire bracelet, just 12 bucks and simply beautiful for gifting or adding to your collection.
everything else

1. Country flags made out of the common dishes associated with them. See if you can guess the flags before seeing their captions!
2. The soft, soothing jazz of Stacey Kent has gotten me through so many long editing sessions and stressful plane flights, I can't even begin to tell you. My favorites from her? All I Do Is Dream of You, Tis Autumn, and Manhattan. Have a listen?
3. Flip through these fun 105 home DIY projects for sprucing up your nest on a budget, whether you're entertaining, organizing or decorating.
4. I bet you'll learn a little something from the 22 Food Words You Might Be Pronouncing Wrong – a couple of these caught me by surprise!