These easy, protein-packed granola bites are perfect for snacking on to reenergize your day. Kids and adults alike all love them!
Most days of the week, I stumble in from the gym and into the fridge, looking for a protein-packed snack to help me refuel after a workout. While these granola bites are pretty tiny, they pack TONS of tasty flavor and if you just need a "nosh", they're perfect for filling up fast.
The base is oatmeal, but peanut butter, honey and ground flaxseed also join the mix to make for a well-rounded snack. Flax seed is a taste-free, powdery additive full of heart-healthy omega 3's and fiber. You can find the ground variety at most health food stores, some groceries, and sometimes the food sections of discount retailers like Marshalls and Home Goods. It's also great for sneaking into cereal, oatmeal and yogurt!
Enjoy these nutritious little bites after a workout, stick 'em in the kiddos lunchbox, or snack on them to reenergize your day!
Craving more? Keep in touch on Facebook, Twitter, Pinterest and Instagram for new post updates and more. You can also check out my FAQ page, or contact me with any questions or inquiries!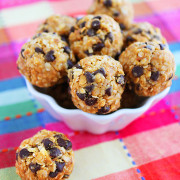 No-Bake Granola Energy Bites
Yield: Makes about 20-25 bites
Ingredients:
1 cup dry oatmeal (I used old-fashioned oats)
2/3 cup toasted coconut flakes
1/2 cup creamy peanut butter
1/2 cup ground flaxseed or wheat germ
1/3 cup honey
1 tsp. vanilla extract
1/2 cup mini chocolate chips, optional
Directions:
Stir all ingredients together in a medium bowl until thoroughly mixed. Chill in refrigerator for half an hour. Once chilled, roll into balls of whatever size you would like. (Mine were about 1" in diameter.)
Store in an airtight container and keep refrigerated for up to 1 week.
Enjoy!