These sugar-free almond berry muffins are packed with protein, delicious for breakfast or a midday snack, and only set you back 130 calories!
I love a morning muffin loaded with the good stuff – juicy berries, fragrant vanilla and crisp almonds – but I'll pass on the sky high calorie and sugar content that comes with the ones you get at coffeehouses! Did you know that a single Starbucks blueberry muffin clocks in 380 calories and 28 grams of sugar?? Same as eating 26 pieces of candy corn, just for a little perspective!
Instead, let's make a batch of muffins bursting with flavor from a banana's natural sugars and your favorite berries! These babies are packed with protein, delicious for breakfast or a midday snack, and only set you back 130 calories.
While these muffins aren't about to satiate your sweet tooth, they will kick start your morning with a bit more energy. Use almond meal for even more protein!
These almond berry muffins are easy peasy to whip up, and easy to freeze for up to 1 month! Zap 'em in the microwave and enjoy right away, or slather on some butter or cream cheese to "naughty" up these nice little muffins a bit!
And, if they're not filling enough for your morning meal, dig into them alongside yogurt or a smoothie, your favorite fruit, turkey bacon, or a hardboiled egg. I love to boil eggs ahead of time, put them back in the carton (shell on), and refrigerate for up to 5 days.
Craving more? Keep in touch on Facebook, Twitter, Pinterest and Instagram for new post updates and more. You can also check out my FAQ page, or contact me with any questions or inquiries!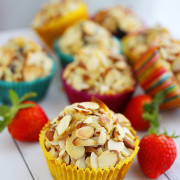 Sugar-Free Almond Berry Muffins
Yield: Makes about 18 muffins
Ingredients:
Nonstick cooking spray
1 cup all-purpose flour or rice flour
1 cup corn meal or almond meal
1 Tablespoon baking powder
1/4 teaspoon salt
1 ripe banana (The riper, the better. Bananas have lots of natural sugars!)
3 large eggs
1/4 cup vegetable, canola or olive oil
1 cup milk
1 teaspoon vanilla extract
1 cup fresh or frozen berries, your choice (I used a mix of strawberries and blueberries)
3/4 cup sliced almonds
Directions:
Preheat oven to 400 degrees F. Line a muffin tin with paper liners and grease with nonstick cooking spray. Set aside. In medium bowl, whisk together flour, corn meal, baking powder and salt. Set aside.
In a large bowl, mash banana with a fork, then whisk in eggs, oil, milk and vanilla. Gradually add the dry ingredients to the wet mixture, being careful not to over mix.
Fold in berries, just until combined. Portion out into the muffin tin, filling about 3/4 full. Top each with 1 Tablespoon of sliced almonds.
Bake until golden brown and a toothpick comes out clean, about 15-20 minutes.
Once cooled, muffins can be stored in a resealable bag or container and placed in the freezer. Will keep for 1 month frozen.
Enjoy!