Dip a chip into this deliciously spicy, cheesy 2-ingredient dip for parties. Feel free to add your favorite toppings!
Hurray, hurrah, it's almost 2013! You know what that means… Fresh starts and fresh foods. But not before a big chip smothered in cheesy, creamy queso dip! Kick your new healthy eating habit for a night and dig in, why don't ya?
A pile of pepper jack cheese and your favorite salsa is all you need for this delicious dip. Zap it in the oven for a bit 'til it's bubbly, throw a bowl of chips alongside and it's a party!
Queso is always a huge hit at my friends' little shindigs, and this is my favorite simple way to serve it. If you feel like using a different cheese, Velveeta and Monterey jack are fine substitutes, but don't buy queso blanco or fresco cheeses; they won't melt well. Keeping it warm in a slow cooker or fondue pot will keep it creamy, but you can always microwave it for a minute here and there between chip-fulls.
Enjoy the remainder of your holidays and the New Year to come, foodie friends! I hope you have a fabulous end-of-year plan, whether it involves toasting with friends or watching the countdown in your pj's. Both sound equally enjoyable to me!
Craving more? Keep in touch on Facebook, Twitter, Pinterest and Instagram for new post updates and more. You can also check out my FAQ page, or contact me with any questions or inquiries!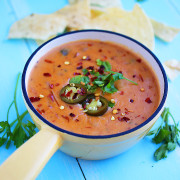 Mexican Queso Dip
Directions:
Preheat oven to 375 degrees F.
In a medium oven-safe dish, combine cheese and salsa. Mix and spread out evenly.
Bake for 15 to 18 minutes, or until bubbly. Garnish with fresh pico de gallo and/or pickled jalapenos, if desired. Serve immediately with cut-up vegetables and/or tortilla chips.
Enjoy!