Our favorite fall cookie! Bake up a batch of these soft, buttery ginger cookies with molasses and fall spices. All you need are basic ingredients and the self control to not eat them all!
Give me a plate of soft sugar cookies, a hot mug of chai tea and a Snuggie, and I can pretty accurately describe my ideal fall day to you. Make it ginger cookies and you've sent me straight to heaven!
Soft, buttery ginger cookies with a kick of molasses and all the best fall spices are my favorite two-bite treat this time of year. Too bad they're so easy to make… then I'd have a better excuse to stop making them!
My cookie lovin' friends aren't complaining, though.
I snatched up this scrumptious cookie recipe from AllRecipes, and I won't deny it because 1) I'm not nearly a good enough baker to just make this stuff up, and 2) the reviews were amazing enough to send me tearing through my cabinets the same minute I found it!
These spiced, soft cookies did not disappoint and honestly, I've never seen a dessert disappear faster from my kitchen. Who am I kidding, these were breakfast some days too!
Whether as a tasty treat to get you in the fall mood, or as a simple dessert for the Thanksgiving table, a stack of warm, freshly baked ginger cookies will hit the spot. Bust out the basic ingredients and get baking – you're going to love these!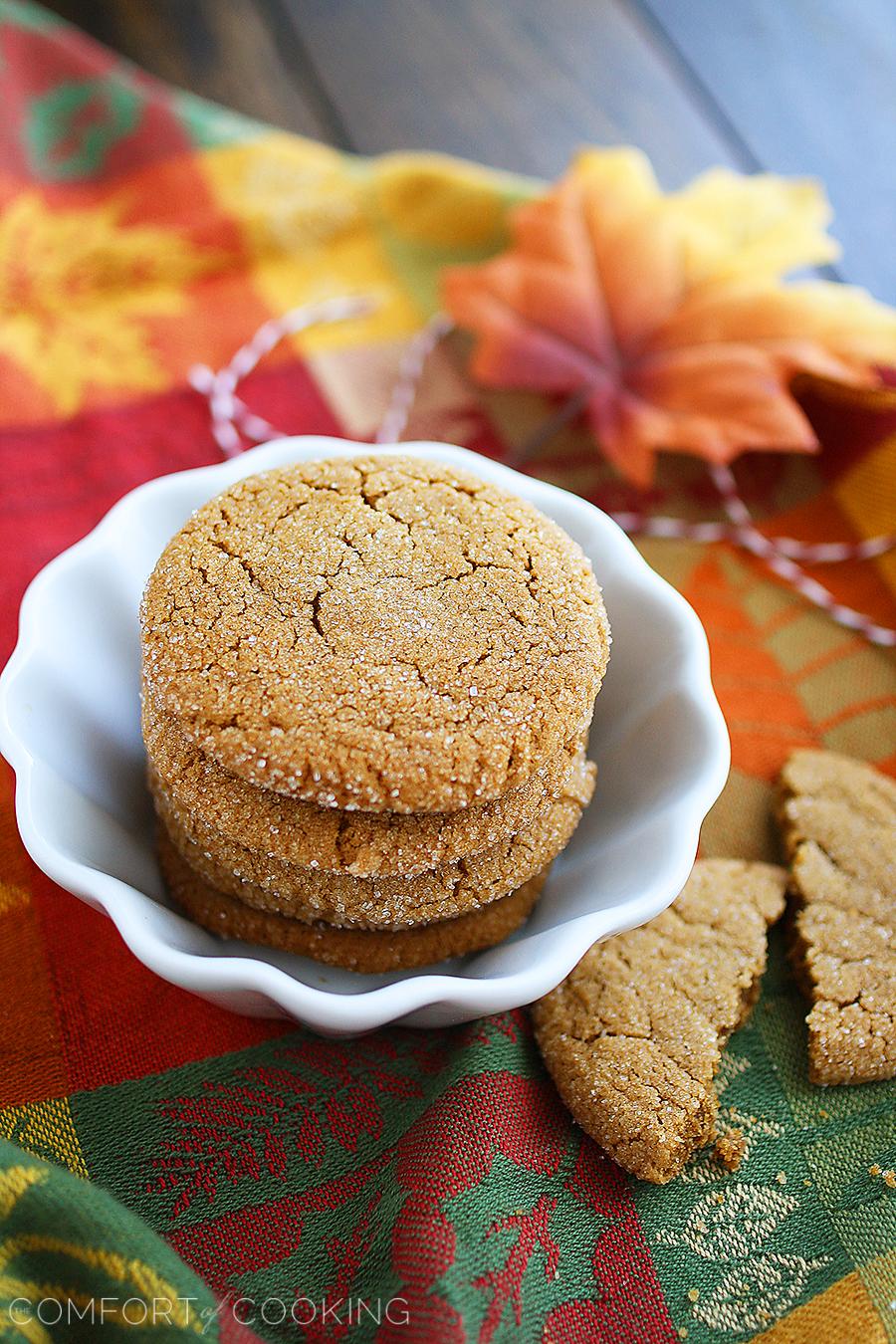 Soft Ginger Cookies
Ingredients
2 1/4

cups

all-purpose flour

1

teaspoon

baking soda

1/4

teaspoon

salt

2

teaspoons

ground ginger

3/4

teaspoon

ground cinnamon

1/2

teaspoon

ground cloves

3/4

cup

unsalted butter

softened

1

cup

granulated sugar

1

large egg

1

tablespoon

water

1/4

cup

molasses

1/3

cup

granulated sugar
Instructions
Preheat oven to 350 degrees F.

In a medium bowl, sift together flour, baking soda, salt, ginger, cinnamon and cloves. Set aside.

In a large bowl, cream together butter and 1 cup sugar until light and fluffy. Beat in egg, water and molasses. Gradually stir the dry mixture into the wet mixture.

Shape dough into walnut sized balls, and roll them in the remaining 1/3 cup of sugar. Place the cookies 2 inches apart on an ungreased cookie sheet, flattening slightly with the bottom of a measuring cup.

Bake 8 to 10 minutes in the preheated oven. Allow cookies to cool on baking sheet for 5 minutes before removing to a wire rack to cool completely. Store in an airtight container for up to 5 days.

Enjoy!