This easy, delicious chicken skillet has all the flavors of a hearty chili and the comfort of a pasta dish! Try it tonight for a scrumptious weeknight meal.
There's a whole lotta pasta and chili always going on in this house, so I find myself craving both unreasonably often. So, I hatched a plan to combine the two into one delish dish that's easy on time and HUGE on flavor!
You're welcome.
This brainchild of my pasta/chili obsession is one of the most mouthwatering meals to come out of my kitchen lately. It makes for a fun way to jazz up weeknight meals, and truly tasty leftovers!
Just look at that ooey, gooey happy marriage of chicken, cheese, beans, veggies, pasta, and a bunch of spicy seasonings… mmm!
Whip up this wonderfully delicious pasta meal for your friends and family some weeknight. It's fun to make and super flavorful!
Craving more? Keep in touch on Facebook, Twitter, Pinterest and Instagram for new post updates and more. You can also check out my FAQ page, or contact me with any questions or inquiries!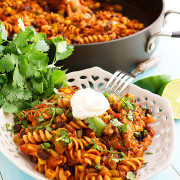 Cheesy Tex-Mex Chicken Pasta Skillet
Yield: Makes 4-5 servings
Ingredients:
1 1/2 cups uncooked whole grain pasta of your choice
1 Tbsp. olive oil
1 tsp. salt
1 tsp. chili powder
1/2 tsp. onion powder
1/2 tsp. ground cumin
1/4 tsp. cayenne pepper
1/4 tsp. freshly ground black pepper
1 lb. (2) boneless skinless chicken breasts, cut into chunks
16 oz. (2 cups) cups chunky salsa of your choice
1/4 cup onion, coarsely chopped
2 garlic cloves, minced
1 green bell pepper, chopped
1 cup fresh or frozen corn
1 15 oz. can black beans
1 1/2 cups reduced-fat shredded cheddar cheese
1/2 bunch fresh cilantro or 4 green onions, chopped
Sour cream, optional
Directions:
Set a medium-sized pot of salted water to boil. Add pasta, reduce heat slightly and cook until al dente, according to package instructions. Once pasta is cooked, drain and set aside.
Meanwhile, drizzle oil in a large skillet set to medium-high heat. Combine salt, chili powder, onion powder, cumin, cayenne and black pepper in a small bowl. Add chicken to hot skillet and sprinkle with seasoning mixture. Cook until no longer pink, 8-9 minutes.
Stir in salsa, onion, garlic, bell pepper, corn and black beans. Bring to a boil and simmer on medium heat for 10 minutes. Add cheddar cheese and pasta; stir to combine. Serve with fresh cilantro or green onions, and top with sour cream, if desired.
Enjoy!