Sausage and Peppers
I always say the essence of Italian cooking is simple ingredients, simple preparation and a whole lotta love! Sausage and peppers fits into that category and then some. Soft, tender veggies and hearty, crisp sausage combine with fresh garlic and a splash of red wine to make for one incredibly tasty, albeit not that beautiful, mess on a bun. It's a hot, delicious mess though!
I always left this type of food up to my meat-hungry manivore, but once the amazing aroma starting wafting through our home, I couldn't wait to roll up my sleeves and dig in, too! The fragrance of garlic, onions and sausage simmering in wine is such a comforting smell. I'd wear it like perfume if I could!
… I think I'd start losing friends and scaring passerby if I were to do that, though.
If you've got basic ingredients and a love for simple, scrumptious weeknight meals then this sausage and peppers recipe is right up your alley! It's quick, easy and a total crowd pleaser. Just remember to serve with lots of napkins!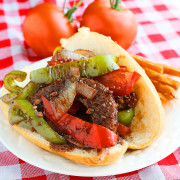 Sausage and Peppers
Ingredients:
4 Tbsp. olive oil
4 links Italian sausage, halved lengthwise
2 large bell peppers, sliced lengthwise
1 large yellow onion, sliced into half moon slices
3 cloves garlic, minced
3/4 cup red wine
Salt and pepper, to taste
Italian seasoning, to taste
4 crusty hoagie rolls
Directions:
Preheat a nonstick skillet to medium-high heat; add olive oil.
To the hot oil add sausage, cut side down; cook for 2-3 minutes on each side, or until golden brown. Remove the sausage to a plate. In the same pan, add the peppers and onions, cooking for 8-10 minutes or until soft and lightly browned.
Add minced garlic and cook for 1 minute. Add red wine and scrape up brown bits from the bottom of the pan. Add the sausage and season with salt, pepper and Italian seasoning. Cook for about 5 minutes.
Remove from heat and serve with warm hoagie rolls.
Enjoy!