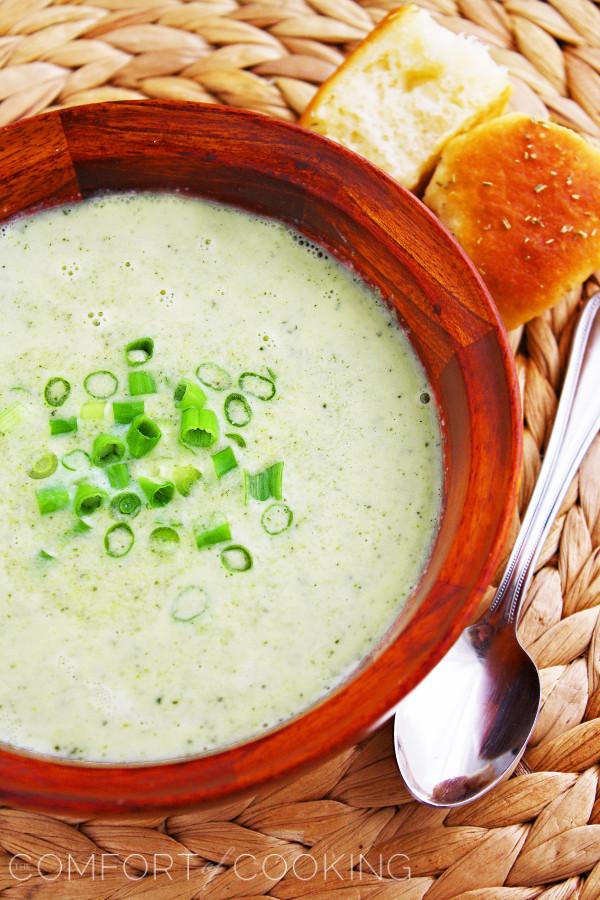 About a week ago, we had some longtime friends come to stay and enjoy four days of delicious food, fun around Austin, and of course a lot of gun shootin' and barbecue eatin'! By Easter Sunday, we were all worn out from the wonderful weekend but determined to make a big lunch before Mike from Massachusetts had to retire his cowboy hat and head on home… though we all thought it suited him all too well!
While I was busy on the pineapple-glazed ham and creamy scalloped sweet potatoes, classic rock strummed through out the house and the guys drifted in and out of the backyard with icy cold beers in hand. When the kitchen got too hot, I quickly followed with a sweaty fresh fruit cocktail of my own and lounged on a chair to chat. It was a perfect – and perfectly warm – way to spend Easter.
With just about twenty minutes 'til our late lunch, Mike got to work steaming broccoli and cauliflower and making a heavenly homemade cheese sauce to top it all off. The veggies were crisp yet tender and the smooth sauce was  scrumptious, but you better believe there were leftovers!
So, I made a soup.
By blending the leftover broccoli and cauliflower with the cheese sauce, some half and half, chicken broth and additional cheddar, the versatile veggie side dish made for a delicious, simple comfort food spinoff the day after. But, since my measurements were anything but accurate in creating this soup I instead shared a broccoli-cauliflower soup I've had great luck with in the past, which you can find below.
With a pile of leftover fluffy Parker House rolls and a sprinkling of sliced green onions, the soup was a creamy and colorful way to welcome spring. As an easy weeknight meal or a special meal for friends and family, this vegetarian soup is super simple and absolutely scrumptious!
Happy spring, everyone. And boys… come back now, 'ya hear!
Creamy Broccoli Cauliflower Soup
Ingredients
1

quart

chicken broth

1

onion

finely chopped

1

head cauliflower

chopped into small florets

1/2

head broccoli

chopped into small florets

1

tablespoon

chicken bouillon granules

Salt and pepper

to taste

1/4

cup

all-purpose flour

1/2

cup

milk

2

cups

shredded Cheddar cheese
Instructions
In a large pot, combine chicken broth, onion, cauliflower and broccoli. Bring to a boil and reduce heat to low. Continue to simmer until vegetables are tender. Add chicken bouillon, salt and pepper.

In a bowl, combine flour and milk. Whisk until there are no lumps. Add mixture to soup, stirring continuously as soup thickens. Blend with an immersion blender, or in batches in a food processor, until smooth. Stir in Cheddar cheese until completely melted.

Enjoy!