Today is the second anniversary of The Comfort of Cooking, and what better way to celebrate than with one of my favorite comfort foods gone light? Delicious and usually very decadent, French onion soup is the ultimate cozy, aromatic comfort-in-a-bowl meal for this time of year. But, seeing as we all have at least one occasion to slip into skirts or suits for this coming spring, I think it's high time to skinny up our favorite indulgences. While still indulging, of course!
This recipe, adapted from Sargento's Easy French Onion Soup, is unbelievably easy and absolutely delicious to warm up to this winter. Plus, using only a tablespoon of butter, low-sodium beef broth and Sargento Deli Style Sliced Reduced Fat Swiss Cheese, it's light on calories, too.
Topped with a slice of French baguette, gooey melted cheese (You can also use provolone, gruyère, or mozzarella if you prefer) and a fragrant, flavorful broth full of white wine and robust herbs like bay leaf and thyme, this is a simple, scrumptious soup you won't want to miss out on this season!
Craving more? Keep in touch on Facebook, Twitter, Pinterest and Instagram for new post updates and more. You can also check out my FAQ page, or contact me with any questions or inquiries!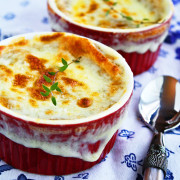 Light & Easy French Onion Soup
Ingredients:
1 Tbsp. butter or margarine
3 medium yellow or sweet onions, thinly sliced
1 (14 oz.) can low-sodium beef broth
1/2 cup dry white wine
1 cup water
2 garlic cloves, minced
1 bay leaf
1/2 teaspoon dried thyme, or 1 teaspoon fresh thyme
1/4 teaspoon sugar
1 French baguette, sliced into 3 small slices
3 slices Sargento® Deli Style Sliced Reduced Fat Swiss Cheese
Directions:
Melt butter in large saucepan over medium-high heat. Add onions and cook 5-7 minutes or until golden brown, stirring occasionally. Stir in beef broth, wine, water, garlic, bay leaf, thyme and sugar; heat to a boil. Reduce heat to medium; simmer 20 minutes.
Divide soup between 3 small ovenproof bowls. Top with slices of baguette and Swiss cheese. Place bowls under preheated broiler 5 inches from heat; broil 2 minutes or until cheese is melted.
Enjoy!