I've had a curiosity for homemade maple syrup for a while now, but since my mood has been tending towards autumn overdrive lately, I decided that I'd like to try a spin on my favorite pancake accessory.
This apple cider pancake syrup is incredibly simple, impossible to mess up and absolutely delicious on a stack of pancakes or any of your favorite fall recipes that may require maple syrup. The flavor is subtly sweet, spiced perfectly with the richness of apple cider, whole cinnamon sticks and ground nutmeg. It would also make a nice gift for the holidays, I think!
Make this as a treat for yourself some lazy autumn morning, or to share with a friends and family as a scrumptious, simple homemade gift alongside a jar of my even easier Homemade Pancake Mix. It's the perfect special something to cozy up to while digging into a plate of pancakes, and just might make your mornings a little sweeter!
Craving more? Keep in touch on Facebook, Twitter, Pinterest and Instagram for new post updates and more. You can also check out my FAQ page, or contact me with any questions or inquiries!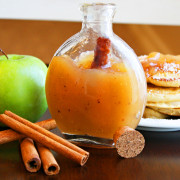 Homemade Apple Cider Syrup
Yield: Makes about ½ cup syrup
Ingredients:
1/4 cup sugar
2 teaspoons cornstarch
2/3 cup apple cider or juice
1 cinnamon stick (1-1/2 inches)
Dash ground nutmeg
Directions:
In a small saucepan, combine the sugar, cornstarch and cider until smooth; add cinnamon stick. Bring to a boil over medium heat; cook and stir for 2 minutes or until thickened. Discard cinnamon stick. Stir nutmeg into syrup. Pour into a bottle with a tight fitting lid and store in the refrigerator for up to two months.
Enjoy!