Mini Pineapple Upside-Down Cakes
A lot of my local Austin grocery stores have food tastings, and one in particular had a tiny slice of pineapple upside down cake on display last week. I gave a polite wave and declined the sweet, freshly baked bite of cake but didn't get five feet before I turned my pushcart around and declared to the stranger behind the booth, "It's been too damn long since I've had a slice of pineapple upside down cake!" And, oh, was that ever true.
The little bite was instant bliss, but I was more interested in trying to recreate this cake myself than paying for instant satisfaction… As much as I wanted to snatch a whole cake up from the bakery right then and there.
If you know anything about me by now, you know that I'm a big fan of making my favorite foods mini. Food is just cuter and more fun to make that way, don't you think? That's definitely the case with these little cakes. They're very easy to make even for a decent baker like me, and absolutely scrumptious. All you need is a muffin tin, a bunch of basic ingredients, and 20 minutes to dedicate to this droolworthy, decadent dessert.
… Or breakfast. Just sayin'.
After the cakes are done baking, just invert your pan onto a cooling rack and they pop right out, smelling sweet and looking golden brown and good enough to eat! The cake is moist, and the sweet pineapple and cherry are perfectly caramelized on top of this pretty, delicious and simple dessert. Make them sometime for party guests, you and someone special, or just yourself… You'll be so happy to taste this heavenly treat!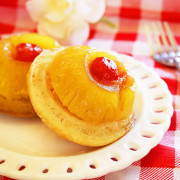 Mini Pineapple Upside-Down Cakes
Yield: Makes 12 mini cakes
Ingredients:
2 tablespoons melted butter or vegetable shortening
6 tablespoons butter
1 cup packed light brown sugar
2 tablespoons light corn syrup
1 small pineapple, peeled, cored and cut into 1/2-inch slices, or 1 can sliced pineapple
12 maraschino cherries, well drained
3 eggs
2 cups sugar
1 cup canola oil
1 cup (8 ounces) sour cream
2 teaspoons vanilla extract
2-1/2 cups all-purpose flour
1/2 teaspoon baking powder
1/2 teaspoon baking soda
1/2 teaspoon salt
Homemade whipped cream, optional
Directions:
Preheat oven to 350° F. Coat the bottom and sides of 12 muffin cups with 2 tbsp. melted butter or shortening. Set aside.
In a small saucepan, melt butter over low heat. Stir in brown sugar and corn syrup. Cook and stir over medium heat until sugar is dissolved. Remove from the heat. Spoon 1 tablespoonful into each muffin cup. Top each with a pineapple slice and a cherry.
In a large bowl, beat eggs and sugar until thickened and lemon-colored. Beat in the oil, sour cream and vanilla until smooth. Combine the flour, baking powder, baking soda and salt. Add to egg mixture and mix well. Fill muffin cups to the top.
Bake for 25-28 minutes. Cool for 5 minutes before inverting onto wire racks to cool completely. Garnish with whipped cream, if desired.
Enjoy!