Since my family and I live so far apart, I cherish my time with them and always try to make the most of it. This includes fattening them up by cooking dinner and baking goodies and hugging them until they can't breathe. But, making a mess in their kitchens is the most fun part. As long as it's delicious, no one ever has a problem cleaning up!
One of the meals I like to cook most, though, is breakfast, since I rarely do at home (hubby usually takes over). I made a frittata similar to this for my mom last summer, served it alongside some toast and tea, and we gobbled it up like it was our last meal. Ever since, I've been enamored with frittatas and how simple, quick and delicious they are for a lazy breakfast, brunch or lunch.
I recently made this frittata with some chopped up leftover Easter ham, a few leaves of basil, and a little red onion – use what you have on hand, though. Grilled chicken, chopped tomatoes and spinach are some of my other favorite add-ins. You could also use sausage, asparagus, potatoes, or anything else you have on hand. Feel free to get creative!
All you do is simply sauté your meat and/or veggies for a few minutes, add in whatever herbs you like, season them a little and pour in a couple of whisked eggs. Stick the whole pan in the oven for 10 minutes, make your toast, pour your tea, and breakfast is served!
When my family visits me in our new house this spring, I can't wait to make a hearty, delicious breakfast for them like this easy country frittata. It's a wonderful, warm meal to wake up to that doesn't take more than 10 minutes and will keep everyone full and energized 'til dinner!
Craving more? Keep in touch on Facebook, Twitter, Pinterest and Instagram for new post updates and more. You can also check out my FAQ page, or contact me with any questions or inquiries!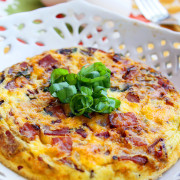 Country Frittata with Ham, Cheddar and Basil
Ingredients:
1 tsp. extra-virgin olive oil
1/2 red onion, finely chopped
1/2 cup diced, cooked ham
6 fresh basil leaves
Salt and pepper
6 eggs
1/4 cup shredded cheddar cheese
Directions:
Preheat oven to 350 degrees.
Gently whisk eggs in a medium bowl and set aside. Chiffonade basil and set aside.
In a high-sided ovenproof pan, heat olive oil on medium. Once oil is hot, add chopped red onion and cook until soft, about 5 minutes. Add ham and cook for 1 minute. Add basil. Add salt and pepper to taste, and stir to combine.
Remove pan from heat and pour in whisked eggs. Place pan in the oven and bake for 12-14 minutes, or until the eggs are fully cooked. Remove from oven, loosen the sides with a knife and place whole frittata onto a cutting board or plate.
Top with cheddar cheese, slice into wedges and serve immediately.
Enjoy!