"This smells like something my mom would cook," my husband and I said in unison as this tender, succulent pot roast was just above ready to make its way out of the oven and into our mouths.
I could have described this pot roast just from the smell: Warm, rich, flavorful, melt-in-your-mouth. On the lazy Sunday that we sat doing nothing special, this roast filled our home with the most mouthwatering aroma and we couldn't wait to dig in to it with a side of steamed broccoli and these buttery rosemary rolls.
I can't mention this roast without mentioning, though, the kindness that a family member showed in giving me the recipe. My stepsister's husband is quite the adventurous cook, too, and around Christmastime, he and his wife surprised me with a cookbook edition of Yankee Magazine, an authority in traditional New England cooking. Not to mention, the food styling in the cookbook is really something else! I was beyond thrilled at the sweet gesture and have had great fun trying many of the recipes. However, this one was just too incredible not to share with you.
The ingredients for this roast are simple and honest but combine to create a wonderfully delicious meal: Carrots, celery, onion, garlic, beef stock and red wine, to name a few. The meat, salted and peppered and tied up with butchers twine, bathed in this mixture for 2-1/2 hours and became incredibly juicy in the process. After it was taken out to rest and tented with foil, my handy dandy new immersion blender pureed the vegetables and liquid into a brown gravy for pouring over the delicious meat.
It was heaven!
To take the chill off, impress a special someone, or just to have a meal that provides a lot of yummy leftovers, this wonderful Yankee pot roast is the perfect comfort food. Just thinking about the tender, juicy meat draped in warm homemade gravy made with carrots, celery, wine and beef stock is getting me hungry again!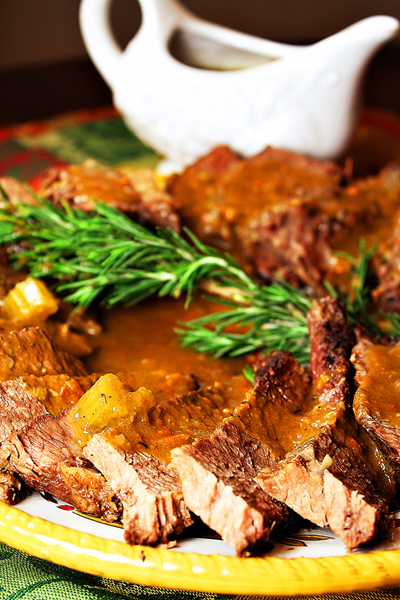 Traditional Yankee Pot Roast
Ingredients
1

3- to 5-pound top round or chuck roast

tied with butchers twine

Kosher or sea salt

Freshly ground black pepper

2

Tbsp.

vegetable oil

1

cup

red wine

1

large onion

diced medium-size

2

carrots

diced medium-size

4

garlic cloves

crushed

1-1/2

cups

beef stock

2

Tbsp.

cornstarch

4

Tbsp.

water
Equipment needed
Large Dutch oven

I used a 5-1/2 quart Le Creuset

Immersion blender or food processor
Instructions
Heat oven to 325 degrees. Season meat to taste with salt and pepper on all sides.

In a Dutch oven on high setting, heat oil and sear roast on all sides. Remove roast and set aside. Deglaze pot with red wine, scraping up any browned bits from the bottom.

Add vegetables to the pot, including garlic, and return roast to pot. Add stock and cover pot. Roast 2-1/2 to 3-1/2 hours (my roast just under 4 lbs. took 2-1/2 hours), until tender.

Remove roast and cut off string. Tent with foil.

Whisk cornstarch with water until well mixed, to create a slurry, and set aside. With an immersion blender, or in the bowl of a food processor, puree vegetables and braising juices. Add the slurry, stir well and simmer for just a few minutes. The juices will thicken into a nice gravy. Salt and pepper to taste.

Slice the roast. Serve with gravy on the side or poured over the meat.

Enjoy!