In just seven days, so many exciting things have happened! My sister-in-law moved to San Francisco to start graduate school, my husband finally returned from his week long business trip in Texas, and I taught myself to sew a few decorative pillows!
One of the most exciting things that has happened this week, though, is the opportunity I was given to contribute a guest post on one of my favorite blogs, More Than a Mount Full, by the talented and terrific Chef Dennis Littley. If you're in the dark about Dennis, let me educate you: He is an executive chef who heads a culinary program at Mount St. Joseph's Academy, a girls' school in Pennsylvania. His blog is a culmination of his 35 years of cooking experience, and he tells magnificent stories with his photography and food. Not only is he supportive and attentive of his readers, but he is an invaluable source of culinary know-how for all home cooks, including myself.
My post on Dennis's blog, featuring this scrumptious, simple milk chocolate soufflé (recipe included below), is now up and running at this link. I would love it if you could take a look and share your thoughts with me!
Craving more? Keep in touch on Facebook, Twitter, Pinterest and Instagram for new post updates and more. You can also check out my FAQ page, or contact me with any questions or inquiries!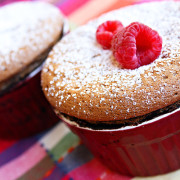 Ingredients:
3 tablespoons butter
2 tablespoons unsweetened cocoa powder
3 ounces (6 tablespoons) semisweet, bittersweet or milk chocolate
1/2 teaspoon vanilla extract
2 egg yolks
2 egg whites
2 tablespoons sugar
pinch salt
pinch cream of tartar
Directions:
Heat oven to 375° F. Use 1 tablespoon of the butter to grease one 16-ounce or two 8-ounce ramekins. Coat the ramekins with the cocoa powder, tapping out the excess.
In a large bowl, over a pan of simmering water, melt the chocolate and remaining butter. Stir occasionally until smooth. Remove from heat and add the vanilla. Whisk in the yolks one at a time until smooth. Set aside.
In a clean bowl, beat the egg whites with the sugar, salt, and cream of tartar until stiff, glossy peaks form. Gently fold the egg white mixture into the chocolate. Spoon into the ramekins, about 3/4 full. (The recipe can be made to this point up to 1 day ahead. Cover with plastic wrap and refrigerate.)
Bake until puffed and set, 40 minutes for a 16-ounce soufflé, 15-20 minutes for two smaller ones. (If baked directly from the refrigerator, add 5 to 10 minutes.) Serve immediately.
Enjoy!