Last week, my husband and I made our first-ever roasted turkey. The meat was tender and juicy, the skin delicate and crisp. It was perfect! But then, after we cleaned our plates and the kitchen mess, there was a problem. WHAT were we going to do with all those leftovers?!
I needed some creative ideas, and fast, so I headed to a favorite online source, Simply Recipes, and found this hearty, delicious turkey chili with a list of ingredients that I already had in my fridge and cabinets.
After about an hour of simmering and filling our home with the warm smell of simmering tomatoes, peppers, stock and turkey meat, we dug in. Topped with a dollop of sour cream, a few sprigs of cilantro, and a sprinkle of freshly shredded Monterey cheese, it was like a hug in a bowl. And couldn't we all use a few more hugs?
If you have some leftover turkey to play with, I couldn't recommend this scrumptious chili enough. It was just so, so good and EASY, and I can't wait to make it again!
Serve it with a side of jalapeno or honey cornbread, tortilla chips and lots of napkins, and you'll be warmed up in no time!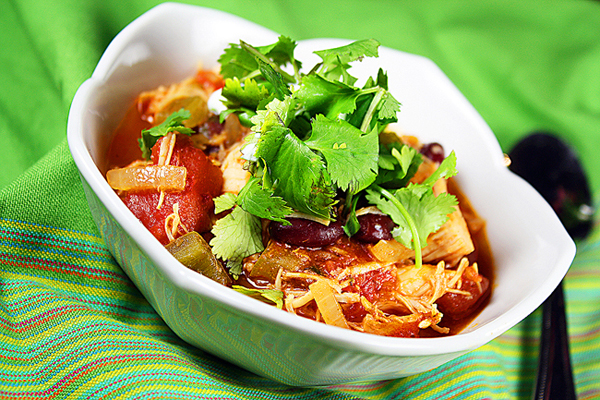 Turkey Chili
Ingredients
1/4

cup

olive oil

2

cups

chopped onion

1

cup

chopped green pepper

4

garlic cloves

chopped fine

2

Tbsp.

chili powder

or up to 4 Tbsp. if you like it really hot

1

Tbsp.

ground cumin

1

Tbsp.

dried hot red pepper flakes

2

15 oz. cans stewed tomatoes, crushed

2

Tbsp.

tomato paste

3/4

cup

chicken or turkey stock

2

15 oz. cans kidney beans, drained

1

teaspoon

dried oregano

1

Tbsp.

salt

plus more if desired, to taste

1/2

teaspoon

black pepper

3 to 4

cups

of shredded cooked turkey meat

Sugar

Shredded cheese, cilantro, chopped red onion, sour cream for optional garnish
Instructions
In a large, thick-bottom pot, add olive oil and cook the onion and green pepper over medium high heat, stirring, until golden, about 5 minutes. Add the garlic, chili powder, cumin, and red pepper flakes and cook, stirring, for a minute or two more. Add a bit more olive oil if needed.

Add tomatoes, tomato paste, stock, beans, oregano, salt, pepper, and cooked turkey meat. Bring mixture to a simmer and reduce heat to low. Simmer, uncovered, for an hour, stirring occasionally.

Salt to taste. Add 1 to 3 teaspoons of sugar to take the edge of the acidity of the tomatoes, if desired.

The chili may be made in advance and chilled for 2 days, or frozen for 2 months.

Serve with shredded cheddar cheese, cilantro, chopped red onion, and/or sour cream. Serve alone, over rice, or with corn bread.

Enjoy!