I hope you all had a wonderful Thanksgiving in the company of family or friends. My husband and I ate, drank and laughed the night away with our close friends' family, and it couldn't have been a nicer way to spend the holiday. We left stuffed, full of stories and with plans for a small New Year's Eve party, for which I'm already dreaming up a delicious menu.
Now, onto the gnocchi: These thick, soft dumplings are a nice diversion from the heavy, hearty fare which everyone gobbles up (no pun intended) this time of year, but still make for a warm and delicious fall meal.
Gnocchi is most commonly mistaken for a kind of pasta, but in fact, it is a small Italian dumpling, usually made from potatoes or bread crumbs. Homemade bread crumbs share the spotlight here, and they're both easy and essential to tasty spinach gnocchi.
In this vegetarian recipe, the sauteed spinach in the gnocchi dough is pepped up with a dash of olive oil and topped with grated Parmigiano Reggiano for a simple, light and flavorful pairing. You could also serve these gnocchi as a side dish, or as the main course for lunch or dinner. For a different taste, toss them in a meat sauce or with a little butter and sage.
Making gnocchi at home is very easy and requires no special equipment, just your hands. It takes only minutes to prepare them, and you can refrigerate them earlier in the day and then cook once you're ready.
If your tummy full of turkey is craving something light, fresh and flavorful, look no further than a delicious plate of spinach gnocchi. Give these a try and you'll impress even yourself!
Craving more? Keep in touch on Facebook, Twitter, Pinterest and Instagram for new post updates and more. You can also check out my FAQ page, or contact me with any questions or inquiries!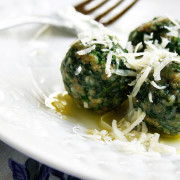 Spinach Gnocchi
Yield: Makes about 10 -12 gnocchi
Ingredients:
10 ounces fresh spinach
1/3 cup flour
1 egg, beaten lightly
1/4 teaspoon sea salt
a few grindings of pepper
1/4 cup freshly grated Parmigiano Reggiano Cheese *
1/2 cup freshly grated bread crumbs *
Directions:
Thoroughly wash the fresh spinach and place in a steamer basket. Steam until wilted. Remove and place in clean towels and wring out as much liquid as you can. Chop finely.
Place all ingredients in a bowl and mix thoroughly. Shape the mixture into balls and place on a cookie sheet or any prep pan. The mixture will be very wet. Flour your hands or roll the gnocchi in a little flour to shape them into balls a little smaller than the size of a walnut. At this point, you can put them in the fridge until you are ready to cook them later.
Bring a pot of salted water to a boil. With a slotted spoon or a handled strainer, place a few gnocchi at a time in the simmering water and cook for about 2 minutes. Remove with the slotted spoon to a serving dish and keep warm by tenting with a piece of foil. Repeat with remaining gnocchi.
You can dress these gnocchi with just some olive oil, sea salt and some more grated cheese. This is my favorite way to eat them.
Enjoy!
* Be sure to use freshly grated Parmigiano Reggiano cheese - pre-grated cheese in the grocery store will not work as well.
* Make your own fresh bread crumbs for this. Just take any bread and grind it in your food processor. Fresh bread crumbs! It makes a difference.