I love a good family recipe as much as the next person, but sometimes, even family keeps their best recipes under lock and key. Such was the case with my Uncle Chris: Married to one of my mom's four sisters, unafraid to wear fuschia and white to my wedding, and completely unwilling to give me his family-wide famous "chowdah" recipe.
Well, as mothers often do, mine came to the rescue with her own delicious, classic New England clam chowder recipe. And boy, am I glad she did.
Thanks for the recipe, Mom!
Thick, creamy and full of fragrant carrots, onions, celery, chunky potatoes and soft clams, it was just as rich and flavorful as I remember. Served in a warm sourdough breadbowl, like all true New Englanders have to have it, my husband and I were instantly transported back to Boston, where we used to sit every cold winter weekend in Quincy Market, gobbling up breadbowls of hot chowder with our heavy coats and gloves still on.
It may not be bone-chillingly brisk in California, but you can bet it is in Boston. So, if you need an excuse to make this delicious chowder, just dedicate it to the New Englanders freezing their fannies off and enjoy your heaping spoonful with a big hunk of warm bread.
This recipe is easy, requires basic ingredients that you can find in any grocery store, and it is the creamiest, most delicious chowder you will ever eat! I hope you give a try sometime this fall or winter, and if you do, please let me know how it turns out for you! I'll be sure to thank my mom on your behalf.
Craving more? Keep in touch on Facebook, Twitter, Pinterest and Instagram for new post updates and more. You can also check out my FAQ page, or contact me with any questions or inquiries!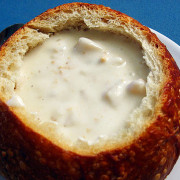 Mom's New England Clam Chowder
Yield: Makes about 8 servings
Ingredients:
3 (6.5 ounce) cans minced clams
1 cup minced onion
1 cup diced celery
2 cups cubed red potatoes
1 cup diced carrots
3/4 cup butter
3/4 cup all-purpose flour
1 quart half-and-half cream
2 tablespoons red wine vinegar
1-1/2 teaspoons salt
Freshly ground black pepper, to taste
Directions:
Drain juice from clams into a large, deep skillet over the onions, celery, potatoes and carrots. Add water to cover vegetables, and cook over medium heat until tender, about 30 minutes.
In a large, heavy saucepan, melt butter over medium heat. Whisk in flour until smooth. (Essentially, a very large roux.) Whisk in cream and stir constantly until thick and smooth. Heat through, but do not let it boil. Stir in vegetables and liquid.
Stir in clams just a few minutes before serving. If they cook too long they get tough. When clams are heated through, stir in vinegar, and season with salt and pepper. Good idea to make this a day ahead - it will naturally thicken overnight in the refrigerator.
Serve with oyster crackers or crusty bread on the side, or in a sourdough bread bowl.
Enjoy!