The Best Chocolate Chip Cookies Ever
Until a year ago, I was still pouring from mix from the bag and following the just-add-egg method for my "homemade" chocolate chip cookies. It wasn't such a bad solution at the time. But, now that I've begun religiously making my own chocolate chip cookies, my past is downright shameful.
I will never, ever go back to just-add-egg after these babies. No, thank you.
Some people like to play around and add coffee, toffee, and all sorts of silliness to their chocolate chip cookies, but I find that this is one recipe that needn't be messed with. It's one of the best chocolate chip cookies I've ever had, not because they're unique, but because this is the way they tasted when I was a kid and snatching them hot off the cookie sheet.The edges are perfectly crisp, the center soft and chewy, and in each and every cookie you can taste the buttery medley of warm vanilla, brown sugar, gooey chocolate chips, and a hint of sea salt. Best of all, since this recipe makes a lot of dough, you can portion some of it and store it in the freezer for up to three months, like I sometimes do.
Even if you've got your own tried-and-true method for this classic cookie, I highly recommend you try these. I know that if you don't think these are THE best, you'll definitely say they're one of the best chocolate chip cookies you'll ever taste.
And, hey, if you think you've got a strong contender, feel free to share!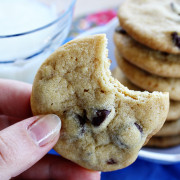 The Best Chocolate Chip Cookies Ever
Yield: Makes about 4 dozen cookies
Ingredients:
1 cup (2 sticks) salted butter, softened
1/2 cup sugar
1 1/2 cups brown sugar
2 eggs
2 tsp. vanilla extract
3 cups all-purpose flour
1 tsp. sea or table salt
1 tsp. baking soda
1 1/2 tsp. baking powder
2 cups/16 oz of semi-sweet chocolate chips
Directions:
Preheat oven to 350 degrees. Cream butter, sugar and brown sugar until very creamy (If using an electric mixer, beat 4 minutes on medium speed).
Add the eggs and vanilla and beat until very creamy, about 2 minutes. Add baking soda, baking powder, salt and flour. Cookie batter should be somewhat thick. Finally, add chocolate chips and mix well. If you want, refrigerate the dough for 30 minutes to harden it a little and make it easier to work with.
Drop about 2 tablespoons of dough two inches apart onto a baking sheet lightly sprayed with nonstick cooking spray, or lined with parchment paper.
Bake for 12-14 minutes, until the edges are golden brown.
Transfer cookies to a wire rack or a cool surface. Wait about 5 minutes before serving.
Enjoy!