Around this time of year, when fall is just around the corner, I start seriously craving the smells of cinnamon, vanilla and nutmeg. I don't know why; Maybe it's because I'm a cold-weather person and the aromas remind me of wearing sweaters and crunching leaves under my boots. All I know is, the smell is in my oven, in the cinnamon-scented candle on my coffee table, and even on my clothes (love this vanilla-scented perfume)!
So, while we're on the topic of cinnamon, let's talk carrot cake. Not everyone likes it (ahem, husband), but I can't get enough of the delicate, rich cake swirled with all those warm fall flavors and topped with heavenly cream cheese frosting. It's just so good, and it makes me feel like a big wood fire is burning and the sweaters have come out from under the bed!
If you love carrot cake, you will love this recipe. Each cake is so moist and flavorful, and the cream cheese frosting makes for a sweet and velvety-rich topping. Also try adding walnuts or raisins to the cake batter before baking. And of course, please share with me how it turns out if you too want to indulge in a little fall flavor and try this delicious cake for yourself!
Craving more? Keep in touch on Facebook, Twitter, Pinterest and Instagram for new post updates and more. You can also check out my FAQ page, or contact me with any questions or inquiries!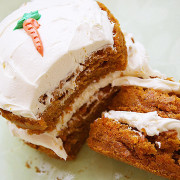 Mini Carrot Cakes
Yield: Makes 6 mini cakes
Ingredients:
For Carrot Cake
1 3⁄4 cups all-purpose flour
1 3⁄4 tsp. baking powder
1 tsp. ground cinnamon
1⁄2 tsp. ground nutmeg
1⁄2 tsp. baking soda
1⁄2 tsp. salt
2 jars (4 oz. each) baby food carrots
2 ⁄3 cup grated fresh carrots
3⁄4 cup orange juice
3⁄4 cup sugar
1⁄4 cup canola oil
1 large egg
1 tsp. vanilla extract
For Cream Cheese Frosting
8 oz. cream cheese
1⁄2 stick (1⁄4 cup) unsalted butter, softened
1 tsp. vanilla extract
1 1⁄2 cups confectioners' sugar
For Decorating
Orange and green food coloring
Directions:
Heat oven to 375ºF. Line a 13 x 9-inch baking pan with heavy-duty aluminium foil, extending it over sides; coat with nonstick cooking spray.
Whisk flour, baking powder, cinnamon, nutmeg, baking soda and salt in a medium bowl to mix.
In another medium bowl, whisk baby food, fresh carrots, orange juice, sugar, oil, egg and vanilla.
Stir wet ingredients into dry ingredients, just until blended. Spread into prepared pan. Bake 20 minutes, or until wooden pick inserted in center comes out clean.
Cool in pan on wire rack 10 minutes. Using foil, lift cake from pan and cool completely on wire rack.
Frosting: In a bowl with electric mixer on medium speed, beat cream cheese, butter and vanilla until creamy. On low, beat in confectioners' sugar. Beat until fluffy.
Using foil, lift cake onto work surface. With a 2 1⁄2-inch round biscuit cutter, cut out about 12 rounds from cake. Place 1⁄2 cup frosting in a cup and tint orange. Place 1⁄4 cup frosting in another cup and tint green.
On half of the cake rounds, spread 1 Tbsp. frosting each; top with remaining rounds. Frost each top with 1 1⁄2 Tbsp. frosting.
Decorating: Place orange and green-tinted frosting in separate quart-size ziptop bags. Snip off tip from each bag; pipe orange carrots and green tops on cakes.
Enjoy!