I love a simple plate of cheese and crackers as much as the next person, but when I have time to plan before people come over, I like to make something to munch on that's homemade and from the heart.
These ham and cheese pretzel bites are a fun little cocktail-type food I have been wanting to try for a while, especially since the Soft Pretzels I baked on a whim turned out so tasty. So, when my husband Mark invited our friend Chris over, I knew it was the perfect opportunity to make a chewy, gooey snack that the men were sure to love.
Well, not only did they love the little bites, but they kept coming back for more! Who could blame 'em, what with all that melted cheddar cheese and chunks of chopped up ham wrapped in blankets of soft, salted pretzel dough. Yum!
These finger foods were definitely good enough to keep going back for, but I'm already dreaming up different variations – Maybe next time I'll fill them with Italian sausage and peppers, or maybe chicken, black beans and monterey jack cheese. Oh, the possibilities!
The bites took a little time and effort, but there's nothing better than seeing your friends smiling and satisfied with something you made. I may still put out a plate of cheese and crackers once in a while, but I'll definitely be making these – or some variation of them – again and again!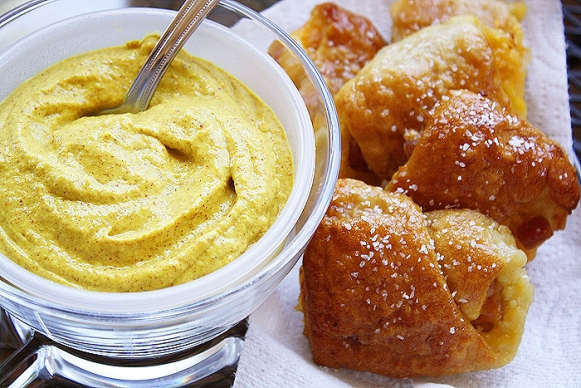 Ham & Cheese Pretzel Bites
Ingredients
1

package (1/4 oz.) active dry yeast

or instant yeast

2

tbsp.

plus 1 tsp. packed brown sugar

divided

1/4

cup

warm water

1

cup

warm milk

2 1/2 to 3

cups

flour

1

cup

finely chopped ham

1/2

cup

shredded cheese of choice

I used cheddar

6

cups

water

4

tsp.

baking soda

4

tbsp.

unsalted butter

melted

1-2

tbsp.

coarse salt
Instructions
Combine the yeast, 1 tsp. brown sugar, and warm water in a large bowl. Set aside until foamy, 5-8 minutes. (If using the instant yeast, you can skip this step and just add it to the flour.) In another bowl, stir together the remaining 2 tbsp. brown sugar and warm milk until dissolved.

Add 2 1/2 cups flour and milk mixture to the yeast. Stir with a wooden spoon until a soft dough forms. Add the remaining flour as needed. Turn the dough out onto a lightly floured surface and gently knead a few times, forming a smooth ball.

Brush the inside of a large, clean bowl with olive oil. Transfer the dough to the bowl and cover tightly with plastic wrap. Allow to rise in a warm, draft free area for about 2 hours (such as an unheated oven), until dough has doubled in size.

Turn out the dough onto a lightly floured surface. Divide into 4 equal pieces. Lightly dust your hands and rolling pin with flour. Roll one of the four sections into a 12×4-inch rectangle. With the long side facing you, gently press 1/4 of the ham and cheese into the bottom third of the dough, and roll as tightly as possible, starting with the end that has the filling. Cut into 12 2-inch pieces and transfer to a sheet pan lined with parchment paper. Repeat with the remaining 3 portions of dough.

Let rest, uncovered, at room temperature for 30 minutes. Meanwhile, preheat oven to 400˚F.

Bring 6 cups of water to boil. Add the baking soda and reduce heat to a gentle simmer. Boil pretzels in batches, cooking about 20 seconds each, turning once. They should be slightly puffed. Use a slotted spoon to transfer them back to the baking sheets.

Bake until puffed and golden-brown, about 15 minutes.

Brush warm pretzel bites lightly with melted butter and sprinkle with salt. Serve warm or at room temperature.

Enjoy!