Everyone has a certain way they like certain foods. For example, I like my steaks still moo-ing but my burgers blackened, and my mom and mother-in-law both agree that the blue M&Ms "just taste…different." Until recently, though, no one was more stubborn than my husband and the way he liked his macaroni and cheese. For him, it had always been the Kraft blue box or bust, but I was determined to make a mac that would change his mind and convert him from to "just-add-cheese-product" to homemade.
The weird thing is, I remember making plenty of delicious, warm and gooey macaroni and cheese dishes prior to this one, but for Mark, THIS was the one that hit the spot. We both gobbled up every last morsel of macaroni and crispy crumb topping, and later had trouble packing up the leftovers without sneaking another spoonful or two!
When you make macaroni and cheese, you should make sure that the pasta is cooked al dente, or "firm to the tooth", because the hot cheese sauce will continue to cook the pasta the rest of the way. If the pasta is already fully cooked, you'll end up with overcooked pasta that doesn't hold its shape.
I know we're still in the middle of summer, but there's nothing like a little warm comfort food to welcome the upcoming fall season (I can't wait for cool weather already!).
I really hope you give this a try, because even if you're a devotee to the Kraft blue box, this macaroni and cheese will make you weak in the knees!
Craving more? Keep in touch on Facebook, Twitter, Pinterest and Instagram for new post updates and more. You can also check out my FAQ page, or contact me with any questions or inquiries!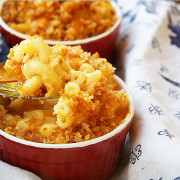 Classic Baked Macaroni & Cheese
Ingredients:
1/2 pound elbow macaroni
3 tablespoons butter
3 tablespoons flour
1 tablespoon powdered mustard
3 cups milk
1/2 cup yellow onion, finely diced
1 bay leaf
1/2 teaspoon paprika
1 large egg
12 ounces sharp cheddar, shredded
1 teaspoon kosher salt
Fresh black pepper
3 tablespoons butter
1 cup panko bread crumbs
Directions:
Preheat oven to 350 degrees F.
In a pot of boiling, salted water cook the pasta to al dente.
While the pasta is cooking, in a separate large pot, melt the butter. Whisk in the flour and mustard and keep it moving for about five minutes. Make sure it's free of lumps. Stir in the milk, onion, bay leaf, and paprika. Simmer for ten minutes and remove the bay leaf.
Temper in the egg. Stir in 3/4 of the cheese. Season with salt and pepper. Fold the macaroni into the mix and pour into a 2-quart casserole dish, or individual ramekins. Top with remaining cheese.
Melt the butter in a saute pan and toss the bread crumbs to coat. Top the macaroni with the bread crumbs. If using ramekins, place them on a baking sheet.
Bake for 30 minutes. Remove from oven and rest for five minutes before serving.
Enjoy!