For some reason, it's perfectly fine if I have the same breakfast of cereal and orange juice every Monday through Friday for years, but I can't stand to see my husband suffer from breakfast boredom. So, after he had been eating these Savory Breakfast Muffins for weeks, I wanted to change it up and introduce something sweet, simple and full of juicy, plump fruit.
Over the weekend, I mixed up a batch of these scrumptious apple cinnamon muffins, and as they baked the cinnamon aroma filled our apartment and made me SO eager for my first bite!
Fortunately for my waistline, Mark took the rest of the muffins to the office, but after a few "test bites" each, we were in total apple-cinnamon heaven. Big chunks of fresh apple rested inside the muffin, surrounded by warm, fluffy cinnamon-sugar dough and topped with a crumbly butter-sugar mixture.
These muffins were even so good that he didn't mind the frilly pink cupcake liners!
I love to try delicious, homemade breakfasts for my guy to take the office instead of shake-and-pour oatmeal, and it looks like we found a winner in these muffins! They give him the warm, filling morning meal and apple-cinnamon flavor he loves, and they're super simple for me to make the weekend before.
If you have any ideas or links you'd like to share for portable, yummy breakfast recipes, feel free to share them with me in the comments, and I just might give 'em a try!
Craving more? Keep in touch on Facebook, Twitter, Pinterest and Instagram for new post updates and more. You can also check out my FAQ page, or contact me with any questions or inquiries!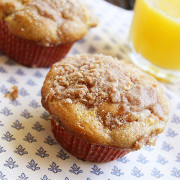 Apple Cinnamon Muffins
Ingredients:
2 cups all-purpose flour
1 cup sugar
3 teaspoons baking powder
1 1/4 teaspoons ground cinnamon
1/2 teaspoon baking soda
1/2 teaspoon salt
2 eggs
1 cup sour cream
1/4 cup butter or margarine, melted
1 1/2 cups chopped, peeled tart apples
1/4 cup sugar
3 tablespoons all-purpose flour
1/4 teaspoon ground cinnamon
2 tablespoons cold butter or margarine
Directions:
Preheat oven to 400 degrees.
In a large bowl, combine dry ingredients. In another bowl, beat the eggs, sour cream and butter. Stir into dry ingredients just until moistened. Fold in apples.
Spray paper muffin cups with nonstick cooking spray and fill cups to the top.
For topping, combine sugar, flour and cinnamon. Cut in butter until mixture resembles coarse crumbs. Sprinkle a rounded teaspoonful over each muffin.
Bake for 20-23 minutes, or until a toothpick comes out clean. Cool for 5 minutes before removing from pans to wire racks. Serve warm.
To store: Place in an airtight container in the refrigerator. Reheat one muffin in the microwave for 10-15 seconds, if preferred warm.
Enjoy!