Bikini season may be just around the bend for most, but with weekends bringing the heat, it has made it's official arrival here in sunny Southern California. That being said, my husband Mark and I have decided that it's officially time to peel our eyes off the T.V. after dinner, our hands off the wine and beer, and get our bums in gear!
Not only have we been cutting down on the drinks, but we've been starting to walk two-and-a-half miles after dinner most nights, and it's done wonders already! I feel healthier and happier, and every morning I wake up feeling refreshed and ready to tackle the day.
So, since we got moving again, it was time to try and tempt our taste buds with a delicious drink other than beer and wine… Enter this perfectly sweet and sin-less sparkling strawberry lemonade!
Strawberries have high water content, so they're great for mixing up in drinks, and they add that perfect balance of tang and sweetness. The lemon and sparkling water are refreshing compliments, and topped with a strawberry and a few ice cubes, this drink is the perfect healthy, homemade solution to your next barbecue, or for just lounging around the house on a hot summer day or night. And, if you do decide to add a little liquor, the drink would still be very good I'm sure!
Thankfully, I don't have to worry about slipping into swimwear this weekend, as Mark and I are leaving for five days in Chicago, starting today. Once we get back, we'll be back on our healthy kick, but hopefully we'll be doing more than enough walking around the city to make up for the loaded hot dogs and deep dish pizzas!
Craving more? Keep in touch on Facebook, Twitter, Pinterest and Instagram for new post updates and more. You can also check out my FAQ page, or contact me with any questions or inquiries!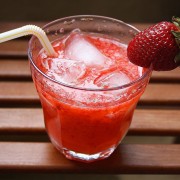 Sparkling Strawberry Lemonade
Yield: Makes six 1-cup servings
Ingredients:
1 1/2 cups freshly squeezed lemon juice (from 4 lemons)
10 ounces fresh or frozen strawberries, pureed
Directions:
Combine lemon juice, water, and 3/4 of the strawberry puree in a large pitcher. Add sugar (about 3-5 tablespoons) until you have reached the desired tartness/sweetness.
Add strawberry puree until the strawberry/lemon taste balance is about equal.
Enjoy!